A lot of news coverage on driverless vehicles concentrates on the far-off world autonomous computer-controlled cars aimed and consumers. But right now and very soon on the tech horizon, driverless vehicles are ferrying people around some of the world's top cities......(and Milton Keynes).
They're not fast (most go less than 15 mph) and with some exceptions, they don't travel particularly long routes. But these small projects are important first steps towards our autonomous future because these vehicles are designed for mass transport (nothing against those other robot cars noodling around town getting in human-error fender-benders). A few programmes have started public testing although they're not taking passengers just yet, and we've included that below. I'm sure there are more: See a public self-driving vehicle on city streets that we didn't include? Let us know.
Milton Keynes (2018)
Public trials have begin for this ambitious plan to outfit Milton Keynes, Buckinghamshire, into an autonomous wonderland. The cute little LUTZ Pathfinder vehicle will be an "on-demand, publicly run system of 30 to 40 driverless two-seater pod cars, which will allow residents to travel between any two points in the city's downtown without navigating or reacting to obstacles themselves", according to a NextCity report. The system should be fully up and running by 2018.
---
Lausanne, Switzerland
Until June of this year, six of EasyMile's EZ10 shuttles drove a 1.5-mile dedicated track that helped deliver students and and professors from the local metro station to different corners of campus. No incidents were reported during the six-month trial.
---
Trikala, Greece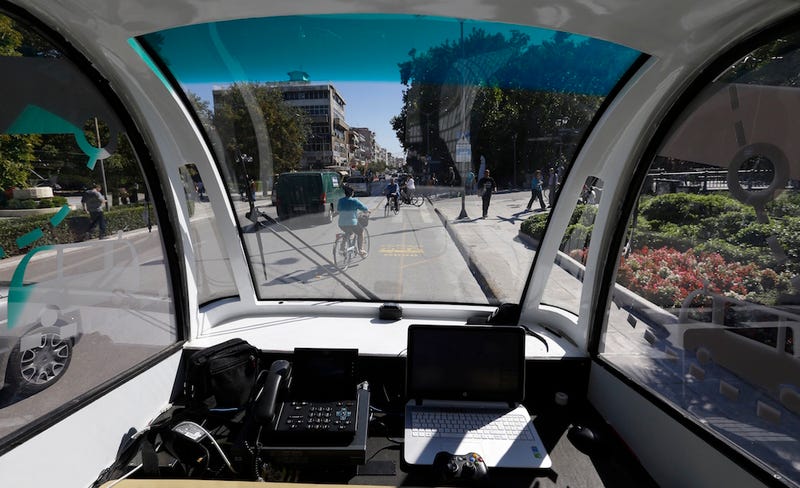 If you find yourself in Northern Greece, head to this tiny city of 80,000 which is the first place to test the French CityMobil2 system in actual real-life traffic. The 10-person electric buses travel along a 1.5-mile route that's on dedicated lanes in some parts of the city, but otherwise is sharing the street with cars, bikes, and people, part of an EU initiative to reduce emissions and get cars off the road.
---
Zhengzhou, China
The Chinese bus company Yutong is testing a self-driving city bus along a 20-mile route from the cities of Zhengzhou to Kaifeng. Amazingly, this bus travelled at speeds up to 40 mph, changed lanes, and stopped at lights without any driver interference (although there was a driver sitting on board) Here's a photo of the driver, looking bored. Yutong says passengers will be climbing onboard soon.
---
Wageningen, Netherlands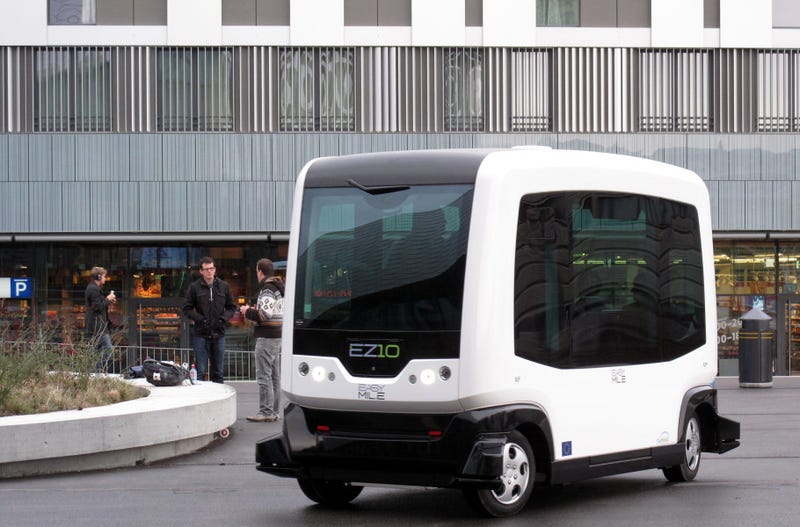 WEpods, a modified version of EasyMile's EZ10 bus, will soon shuttle six passengers at at time from Wageningen to Ede, in the central part of the Netherlands. The 17-minute drive will mark the first time a bus travels on completely public roads with no purpose-built infrastructure. You can watch some of the footage from tests to see what the computer onboard sees.