On Saturday man in Kalamazoo, Michigan, shot eight people at random, killing at least six of them. The shootings took place in three different locations and terrifyingly, the suspect was an Uber driver who allegedly picked up at least one fare in the middle of his five-hour massacre.
Police believe that the shooter was Jason Dalton, a 45-year-old man with no prior criminal convictions. Local news channel WOOD TV8 has confirmed that Dalton is an Uber driver. The police are now investigating a Facebook post that was allegedly made by the fiancé of one of the passengers that Dalton picked up in between the initial murder locations and the shooting at a Cracker Barrel in Texas Township.
Dalton is said to have shot and injured a woman in Richland Township and then made his way to a Kia dealership where he killed a father and son. Then the shooter killed four people and injured one in the parking lot of the Cracker Barrel, but not before picking up at least one fare and driving his passenger to a Fairfield Inn. [Update: Dalton allegedly tried to pick up even more passengers after killing four people at Cracker Barrel. See below for details.]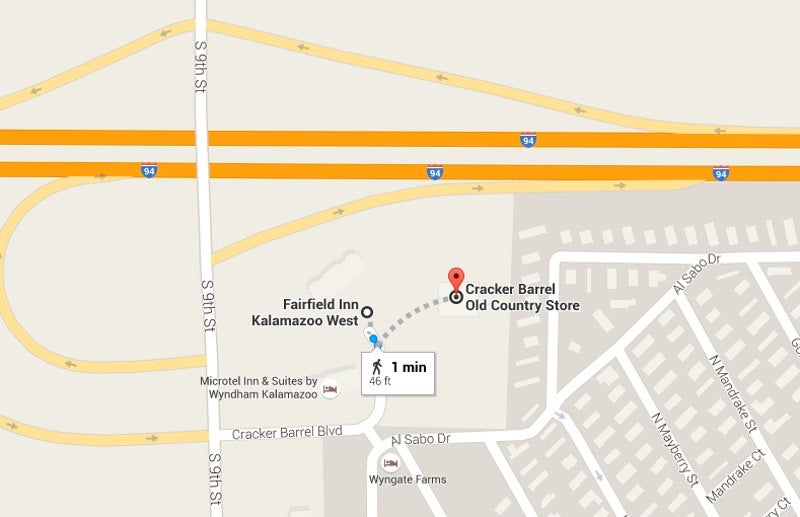 Map showing how close Dalton's Uber drop-off was to the Cracker Barrel where Dalton would kill four people (Google Maps)The Facebook post about the Uber driver included the photo of Dalton seen above on the left. The post, which now appears to be deleted or set to private, alleges that he was driving erratically:
ATTENTION kzoo peeps!!!! This uber driver named JASON drives a silver Chevy Equinox is NOT a safe ride! A little bit ago my fiancé got a ride with him and he was driving VERY erratically. They sideswiped a car blowing through the stop sign at Henderson castle and West Main Hill, and the driver continued driving. Then this man proceeded to drive 80mph down west main swerving in and out of oncoming traffic. Despite Matt pleading with this driver to pull over he refused. Finally when he slowed down the vehicle, Matt was able to get out. He was acting completely normal throughout all of this erratic driving!! Please share if you are in the kzoo area. Stay safe! 911 was called but surprisingly they didn't seem all that concerned I'm thankful that no one was hurt yet. Hoping this man will be arrested or hospitalized soon if he has a medical condition causing his behavior.
The post was allegedly published around 6:00pm, roughly around the same time that the shooter began killing people in the parking lot of Cracker Barrel. [Update: The time of the Cracker Barrel shooting was around 10:24pm local time, and the alleged Facebook post is now private or deleted. Gizmodo could not independently confirm what time the Facebook post went up nor whether it was a hoax.] As you can see from Google Maps, the location of the passenger's alleged drop-off point (the Fairfield Inn) is right next door to the Cracker Barrel.
Dalton was finally apprehended during a traffic stop in Kalamazoo around 12:40am Sunday morning, after police spotted a car matching the description given by witnesses. A semi-automatic gun was found in his vehicle.
Update: Uber has not responded to Gizmodo's request for comment, but has given a short statement to a local NBC affiliate in Los Angeles:
Uber's chief security officer, Joe Sullivan, said Dalton had passed a background check to become a driver. The company was "horrified and heartbroken" and had offered to help investigators, he said.
Update: Michigan State Police have released the names of the four people killed at the Cracker Barrel restaurant, all in their 60s and 70s:
Mary Lou Nye, 63 years old
Mary Jo Nye, 60 years old
Dorothy Brown, 74 years old
Barbara Hawthorne, 68 years old
Update: A reporter with WZZM13 in Grand Rapids, Michigan has spoken with a woman who claims that she hailed an Uber shortly after 11pm last night. Her driver was allegedly going to be Jason Dalton (people using the app can see the name and photo of their driver) but she canceled her ride so that she and a friend could finish a glass of wine.
If her story and timeline are true, that would mean that Dalton continued to try and pick up passengers even after he allegedly killed four people at Cracker Barrel at 10:24pm.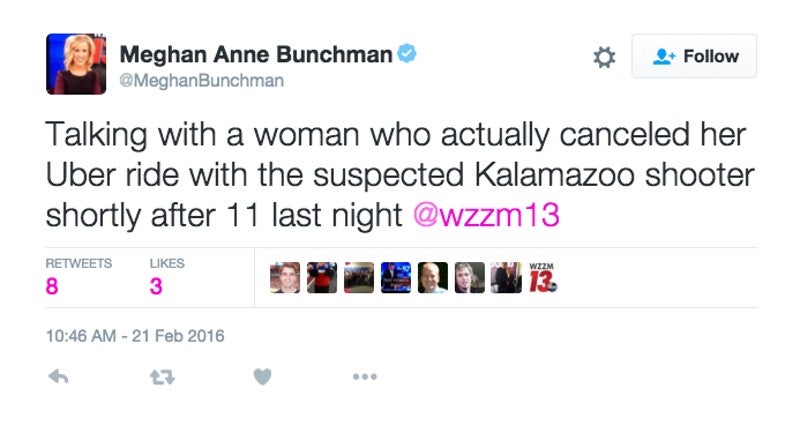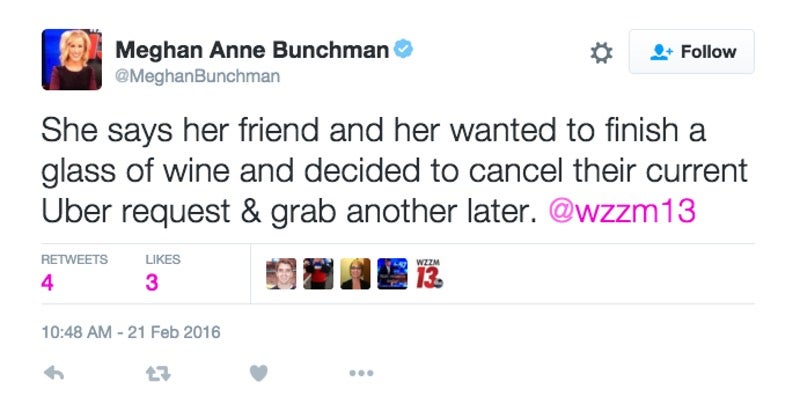 This is what we think the timeline looks like based on the information we have so far:
5:42pm: 1 wounded
10:08pm: 2 killed at Kia dealership
10:15pm: Dalton allegedly drives Uber
10:24pm: 4 killed at Cracker Barrel
11pm: Dalton allegedly drives Uber, though it's not clear if he picked up any passengers
12:40am: Police apprehend Dalton
[Update] One of his last passengers before Dalton was arrested even joked, "You're not the shooter, are you?"
A man from Indianapolis who was visiting the Kalamazoo area talked with the local news and wished to be known only as "Derek". He, his wife, and his in-laws were at a restaurant, Bell's Eccentric Cafe, when they heard about the shootings. They decided that they'd be safer using Uber than walking. They were picked up at 12:12am, roughly a half hour before Dalton was arrested.
"My father mentioned from the back seat, you know, the situation with the shooter," Derek told Wood TV-8. "I kind of jokingly said to the driver, 'You're not the shooter, are you?' He gave me some sort of a 'no' response… shook his head…'"
At that point, nobody knew that the alleged shooter was an Uber driver, but for some reason Derek pushed him for another response.
"I said, 'Are you sure?' And he said, 'No, I'm not, I'm just tired,'" Derek told the local news. "And we proceeded to have a pretty normal conversation after that."
Derek and his family were dropped off at 12:19am and Dalton was arrested roughly 29 minutes later. Derek provided the news channel with his receipt as proof that he was likely Jason Dalton's last passenger that night.
Previously it had been reported that the ride he gave to one man between Dalton's alleged murder of two people at a Kia dealership and the Cracker Barrel shooting was chaotic and frightening. Derek said that Dalton seemed calm during their entire ride. [Wood TV-8]