Mattel's BOOMco line already has the rights to turn Halo's iconic weapons into toy blasters. But there's nothing stopping Hasbro and Nerf from making blasters that only happen to look like they're from the Halo universe, which probably explains its new Alien Menace line.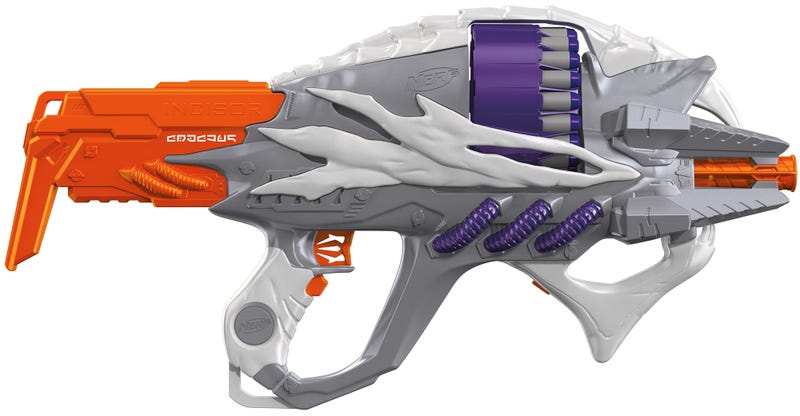 The more expensive of the two models, the $40 (around £28) Alien Menace Incisor blaster, available later this year exclusively from Toys 'R Us (exact UK price and availability TBC), features a motorised spinning 16-dart drum powered by four AA batteries that shouldn't add too much weight to the toy.
The blaster's design looks like a hybrid of human and alien technology, making it the perfect way to take out the next extra-terrestrial you find stealing your sweets.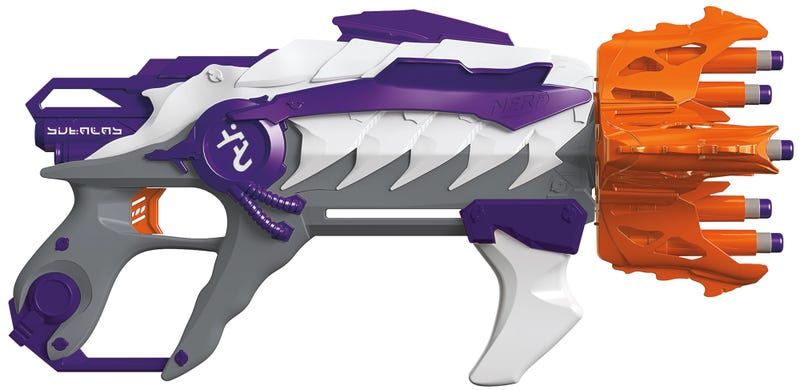 The cheaper $30 (around £21) Alien Menace Ravager also looks like a hacked together mashup of human and alien weaponry, with a funky-looking rotating eight-shot barrel on the front that fires special Alien Menace foam darts — which is another way of saying they're grey and purple.
Unlike the Incisor, there are no batteries needed for the Ravager, which fires a single shot after each manual pump of its handle. But like the Incisor, you'll only be able to get the Alien Menace Ravager at Toys 'R Us when it's finally available closer to the autumn. [Nerf via Nerf.About.com]