After almost a year in space aboard the International Space Station, NASA astronaut Scott Kelly last night began his descent back to Earth along with Russian cosmonauts Mikhail Kornienko and Sergey Volkov. You'll be pleased to hear they made it back to Earth safe and sound.
NASA has announced that the trio landed in Kazakhstan at 04:26am GMT on March 1st, or 10:26am on March 2nd in Kazakhstan time after plummeting 250 miles at speeds of up to 17,000 miles per hour.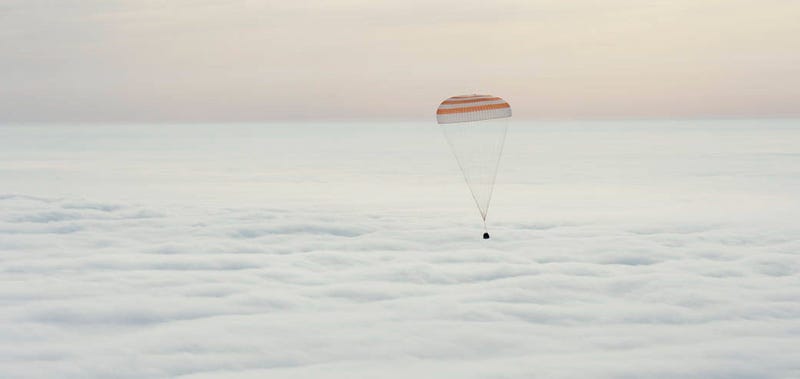 The Soyuz TMA-18M carrying Scott Kelly, Mikhail Kornienko and Sergey Volkov drifts safely back to Earth. (Image by NASA/Bill Ingalls)
The safe arrival back on Earth sees Kelly set two American records, having chalked up the most consecutive days in space, at 340, and most days in space cumulatively at 520. Meanwhile Kornienko has racked up 516 days in space and Volkov an impressive 548.
These sustained missions are being used to investigate how the human body responds to long-term visits to space. That will include direct comparisons between Scott Kelly and his twin brother ex-astronaut Mike Kelly. [NASA]