Janet Knox's home is now just a shell of its former self. The recent floods in Louisiana have forced her to tear out the waterlogged walls of her house and begin the rebuilding process. But Knox has had at least one pleasant surprise during the clean up. She found a time capsule dating back to 1942 stuffed inside one of the walls in her home. But there's something that doesn't add up.
The time capsule includes a newspaper dated June 21, 1942, some children's silverware, and some toys — like a Disney figurine, a tiny rusted out metal boat, and a baby doll. The newspaper, of course, is largely focused on the World War II effort, with the Allies fighting against the Axis powers in both the European and Pacific theatres of war. But there's a curious twist to the time capsule, especially when you take a closer look at the toys.
The items inside all appear to date from the 1940s. That is, all aside from one object: a Dale chipmunk doll made by Disney.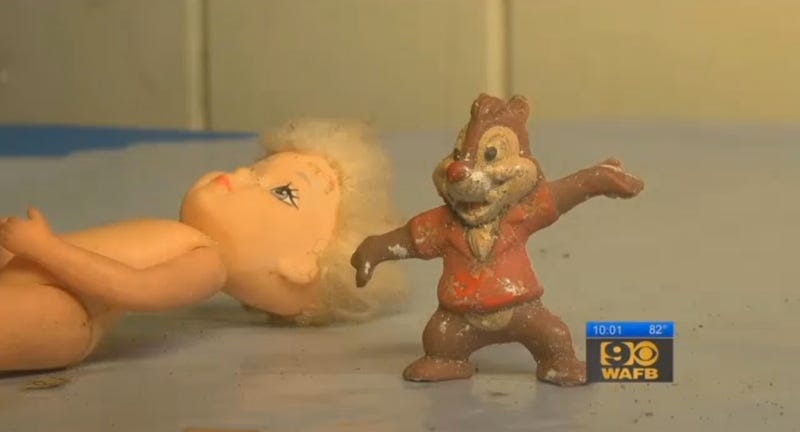 Any Disney history nerd knows that Dale didn't get his red shirt until the 1980s. And to make things even weirder, Dale wasn't even a character until 1943, a year after the date of the newspaper in the time capsule.
After a little searching online, I found a similar Dale chipmunk doll was released as a Kellogg's breakfast cereal prize in 1991. They appear to have the same pose and everything. It looks like a match.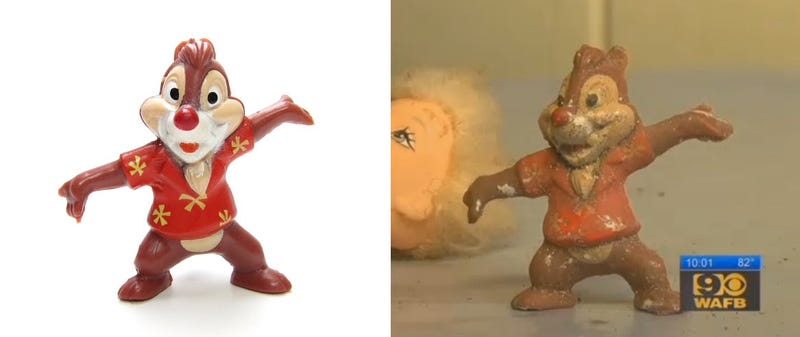 Dale figurine from a Kellogg's cereal promotion circa 1991 (left) Dale figurine found in a time capsule from 1942 (right)
Chip and Dale were first introduced as Disney characters in April of 1943. They made their screen debut in the short film Private Pluto, smack dab in the middle of World War II. And frankly, the chipmunks from that first film don't look anything like the design of the Chip and Dale characters that would come in later years.
Just take a look at the screenshot from Private Pluto below.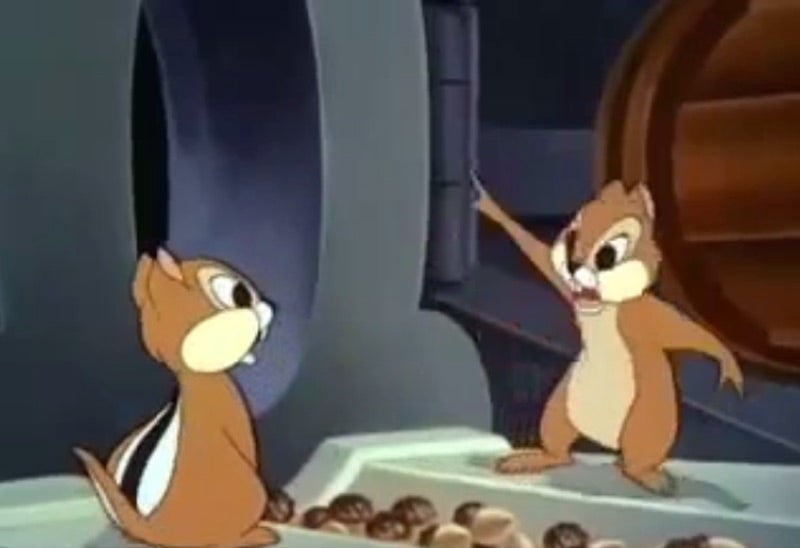 Disney's Chip and Dale in their first short film Private Pluto, from 1943 (Screenshot)
What are the possible explanations? One is that Janet Knox is playing a hoax on local media in Louisiana. But that seems highly unlikely. If you were going to insert a random object into a 1940s time capsule, you'd probably choose something of higher value or more historical significance. The most likely explanation? This is probably an example of what I've come to call a leapfrog time capsule.
Leapfrog time capsules are capsules that are opened intermittently (either planned or unplanned) and people add things from their own time to them. My best guess is that someone from the early 1990s discovered this time capsule in their home, added the Dale figurine (maybe even accidentally, if you imagine scenarios where kids were involved), and then resealed the entire thing in the wall.
I've reached out to Janet Knox to see if she knows anything about the previous owners of the home and will update this post if I hear back.
Or maybe it was time travel. Who knows? Either way, this is definitely a cool find, even if the Disney figurine is a bit out of place. But nobody said time capsules had to adhere to some specific set of rules. Adding things to time capsules is perfectly acceptable, just as it's perfectly acceptable to use non-traditional boxes or open capsules after incredibly short periods of time if you feel like it. There's no time capsule police to stop you, despite what time capsule shamers might say. [WAFB]