Ever since NORAD's Cheyenne Mountain underground facility became fully operational in 1966, it's been America's command and control centre for the nuclear apocalypse. But photos from inside the top secret bunker, even historical ones, are incredibly rare. Yesterday the folks over at Memory Hole 2 helped make them a bit less rare by uploading some hard-to-find NORAD photos published in 1970.
The largest batches of photos from the Cheyenne Mountain facility appear in just two spots: a 1966 official NORAD report by David W. Shircliffe, which is available online, and a 1970 book titled NORAD Command Post: The City Inside Cheyenne Mountain by Henry W. Hough. The book is out of print, and only available at 27 libraries around the world. So the good folks at Memory Hole 2 have scanned and uploaded the photos.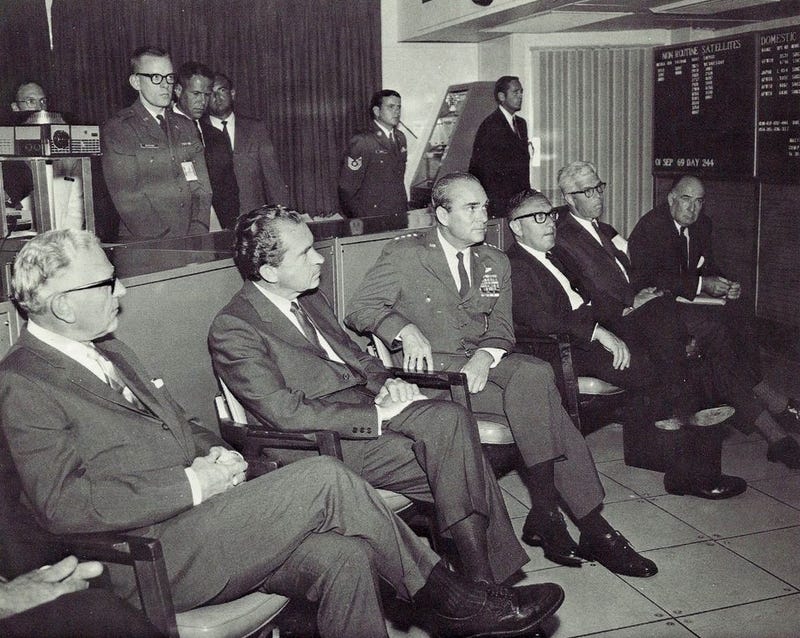 Original caption from 1970: DISTINGUISHED VISITORS - Richard M. Nixon is September 1969 became the first U.S. President to visit the underground command post of the North American Air Defense Command. He is shown here in NORAD's Space Defense Center being briefed by General Seth J. McKee, commander in chief of NORAD. Left to right are: Gordon Allott, U.S. Senator from Colorado; President Nixon; General McKee; Dr. Henry A. Kissinger, Presidential assistant; Peter H. Dominick, U.S. Senator from Colorado; and John N. Mitchell, U.S. Attorney General. (Photo scanned by Memory Hole 2 from the book NORAD Command Post: The City Inside Cheyenne Mountain by Henry W. Hough)
There are other historical photos here from the NORAD facility that haven't appeared in the Shircliffe report and the Hough book. But these scans from the Hough book are a great contribution to this gigantic learning machine we call the internet. There's also more recent footage from the facility, as NORAD has occasionally allowed news organisations (like USA Today) inside, which you can find if you type the right magic words into the Google box.
But wasn't everything so much simpler in the olden days? We hear it from our parents and politicians all the time. Back in the good old days everything was so much better—like the constant threat of nuclear annihilation from the Soviet Union, for instance.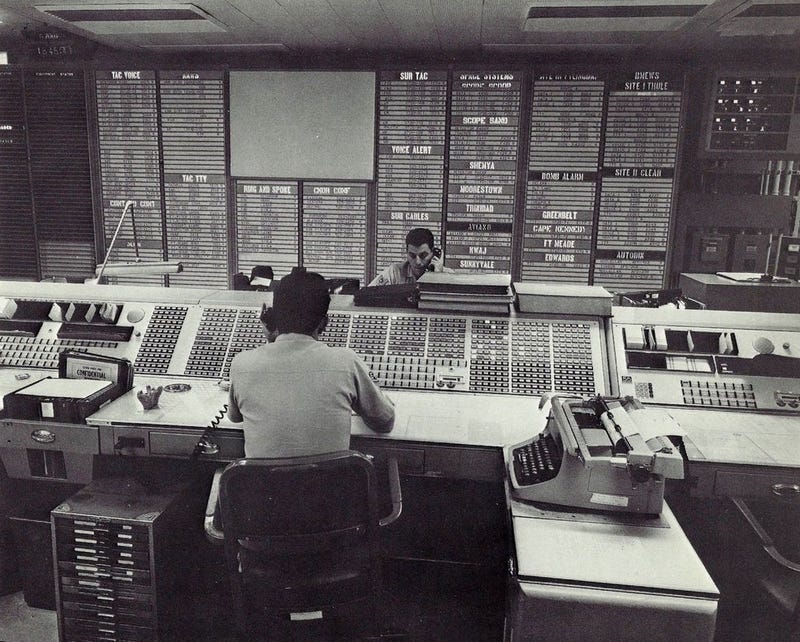 Original caption from 1970: PATHS OF A SATELLITE - Deep within Colorado's Cheyenne Mountain are large display screens which show what is going on in space. These screens in the NORAD Combat Operations Center can show the routes space satellites will take as they circle the earth, such as the ones here charted by a computer. By pushing buttons the battle staff members can see the paths a satellite will follow for as many as twelve revolutions in the future. While guarding the continent against air attack, the command is also responsible for keeping tabs on space objects orbiting the earth. (Photo scanned by Memory Hole 2 from the book NORAD Command Post: The City Inside Cheyenne Mountain by Henry W. Hough)