I thought February was a big month, then March came along and beat it into a pulp: We got a nice shiny £1 coin to distract us from the government's maniacal schemes; Chromecast finally got a UK launch, and UK editions of Kotaku and LifeHacker were unveiled.
Of course, chronicles of Flight MH370 have been dominating the news amidst much speculation, and there doesn't look like there will be a happy ending.
But try and cheer up, here are the month's best apps for you to sink your teeth into:
---
Cloak: Styling itself as Incognito Mode for real life, Cloak is a fantastic anti-social-network for those of you who don't want to be disturbed in public. Cloak scours the realms of Instagram and Foursquare to keep track of people in your life who you'd rather not run into: whether it's a disgruntled ex, the dodgy bloke in the pub that you owe money to, or people you just plain don't like. [Free]
---
Firechat: Here's an interesting one, a messaging app that is "off the grid" -- i.e. it works when there's no data or phone coverage available. Before you get all excited this isn't the kind of app that will let you converse with your mates in Australia, this is restricted to the local area. But if you're in an area with sketchy signal, like a festival or a sports stadium, then it's a rather useful (and easy) way to stay in touch with your friends. Of course you can always start conversations with randomers, whatever floats your boat. [Free]
---
DocuSign Mobile: Gone are the days when paperwork had to be filled in by hand, we have computers for that now. Sadly, paperwork has not caught up and often still requires a signature -- causing you to print it out, sign it, and scan it back in. DocuSign lets you do that on your phone and saving you that hassle, regardless of the format or source. The new version has rebranded the app (formerly DocuSign Ink), but is still a fantastic tool to have -- especially if you have to sign forms far too often. [Free -- with optional subscription]
---
GIFwrapped: In the modern world, simple text-based emoticons just don't cut it. You want to convey an emotion or expression that's far more specific than anything a colon/punctuation combo can offer. GIFwrapped is a way for you to collect the best reaction gifs on your phone ready to be sent via iMessage, or posted online. [Free]
---
Read our updated list of essential iOS apps here.
---
---
Web PC Suite: Everybody hates wires. They get in the way, and use up valuable USB ports. But USB cables are the only way to mass organise your device's data, aren't they? Not any more. Web PC Suite allows you to connect your device to your computer wirelessly with the magic of QR Codes. We saw something similar a few weeks ago with Superbeam, but that was limited to file transfer. Web PC Suite lets you access and organise all of your device's files from a browser without the need for an annoying wires. All you need is a Wi-Fi network and you're good to go. [Free]
---
mac.remote: This one is designed to be easy to use, but at the same time providing a great user experience. Straight out of the box you can control a number of programmes on your Mac, including iTunes, VLC, Spotify, Quicktime, and iPhoto. But customisation is key, and you can add control to other programmes, or custom commands. mac.remote is free from ads for five days, after which you can purchase the ad-free version or submit to a sometimes-necessary-evil. [Free]
---
Link Bubble: A mobile browser specifically designed for mobile devices and makes opening links much much easier than it is in some browsers. Have you ever opened a link from an app and had to sit and wait for it to load? Link Bubble will load it in the background so that you can continue doing whatever you're doing until it's ready. Find an embedded YouTube video? Link Bubble will redirect you to the native YouTube app. If you've ever found mobile links to be a pain then this is one for you. It even totals how much time you've saved. [Free]
---
Telegram: It's been available on iOS for a while, but the official Android version is now here. Telegram is aiming to fix problems that have been plaguing similar messaging apps that are available. Their prime motivation seems to be not having gaping holes in their security and providing a fast, efficient service. It's definitely one for those of you who are worried about Facebook's acquisition of WhatsApp. Plus they're offering unlimited cloud storage, so you can access your message archives from any of your devices. All that, and it has no ads. Bargain! [Free]
---
Read our updated list of essential Android apps here.
---
---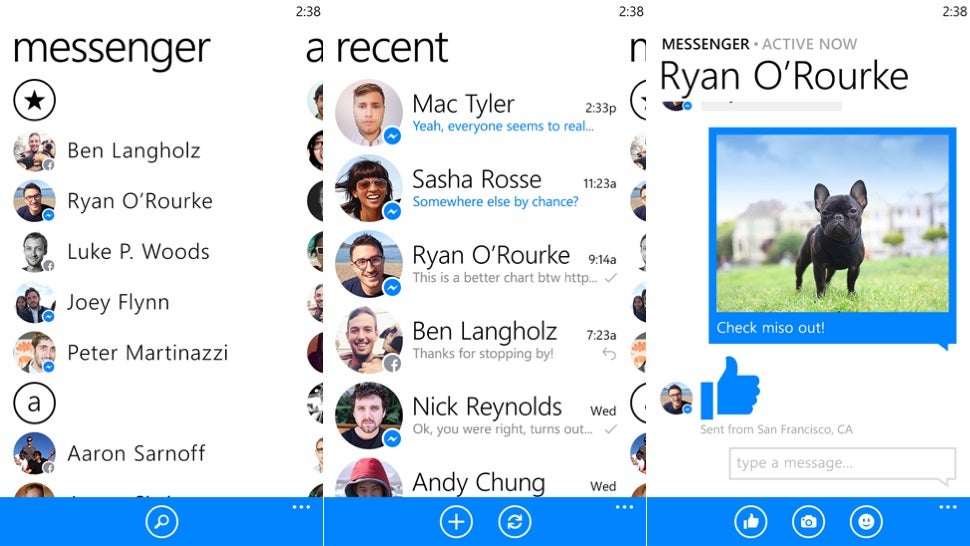 Facebook Messenger: This one has been out on iOS and Android for a while, and now it comes to Windows Phone. I know Facebook Messenger had previously been built into a large number of devices, but this sort of wait is not uncommon for Windows Phone apps -- What gives? Anyhoo, this is fairly self explanatory -- a messaging app that lets you get in touch with your Facebook friends far more easily than you could via a browser or the Facebook app. [Free]
---
Superpages: A handy Yellow-Pages-esque app that gives you a great glimpse into the businesses and services for your local area. Search by city, phone number, or name, and get in touch directly from the app. A perfect way to find whatever service you need. [Free]
---
Office Lens: Designed to act as a scanner you can carry in your pocket, Office Lens is used to take picture of your surroundings and then turn them into an editable document. Whether it's a brainstorming board in a business meeting, a classroom blackboard, or even something as simple as a shopping list -- Office Lens and OneNote integration will make sure you always have them with you. [Free]
---
CloudSix for Dropbox: Dropbox is one of many services that hasn't officially made the leap to Windows Phone, so people have to make do with the offering of third party developers. Cloudsix has everything you want from a Dropbox app: view and manage your files, as well as backing up the ones on your phone. [Free]
---
Read our updated list of essential Windows Phone apps here.
---