Spaceship Apple is freaking huge: A 2.8 million square-foot orb on a 176-acre parcel serving 12,000 employees in oh-so-suburban Cupertino. While talking to Architectural Record, architect Norman Foster defended the headquarter's massive size and weird shape, and revealed some intriguing new details.
With 12,000 employees on site, just think of it like a college, says Foster: "You could compare that with a typical university of the same size." In fact, Steve Jobs was inspired by the Main Quad on the Stanford campus, and the scale of the building was modelled upon it. Except, instead of a dozen buildings arranged like a college (or the HP campus that existed), there will just be one big building.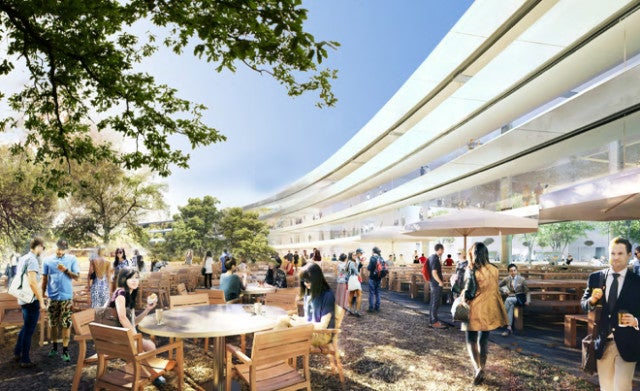 For more inspiration, Foster looked at the squares of London, where a ring of multi-storey buildings surround a park. "These studies finally morphed into a circular building that would enclose the private space in the middle—essentially a park that would replicate the original California landscape," he says. But the building will only cover 13 per cent of the site, so it won't compare to the density of London.
In addition to The Circle, there's also a wellness centre, which will serve all the Apple employees in the greater Cupertino area (a total of 20,000 people), plus a presentation centre, so they won't have to rent out theatres in San Francisco for product events anymore. And all the journalists in SF will have to truck it down to Cupertino. Maybe they'll have an Apple bus or something?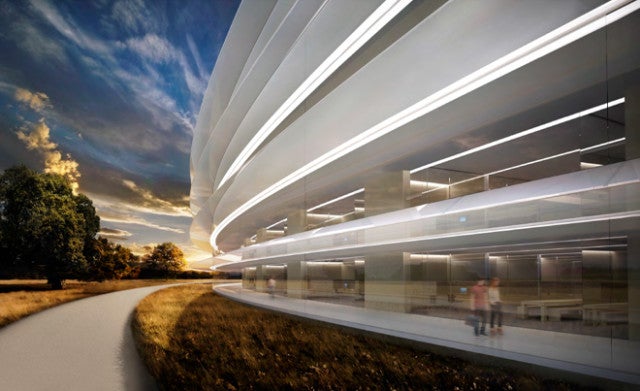 The doughnut shape will make it easier to move around in one large building as opposed to multiple buildings, says Foster: "Although in the extreme cases the distances might be large, they are not really when compared with a conventional campus." This I do buy; it will probably be easier to walk from one place to another. Way-finding, however, along those identical white curves, is gonna be a bitch.
"The proximity, the adjacencies are very, very carefully considered," says Foster. "You have got an enormous range of skills in this building—from software programmers, from designers, marketing, retail." This makes sense, although it could have just as easily been done in a skyscraper. This part, however: "You can move vertically in the building as well as horizontally."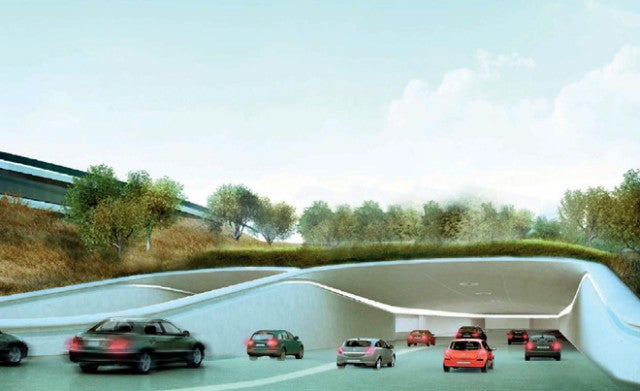 "You won't look out of your window and see row after row of parked cars," says Foster, who is burying the parking below the structure. "The car would visually be banished, and tarmac would be replaced by greenery, and car parks by jogging and bicycle trails." Yes, Apple will have its own bike share, he says: More than a thousand bikes will be kept on the site.
Foster points to one almost-too-incredible-to-be-believed feature, which will allow the restaurant to open up completely to that park-like landscape: "You have four-storey-high glass walls, which can literally move sideways and just open up into the landscape." Apple has done wonders with glass to be sure, but even that seems, like, impossible? I guess we'll have to wait and see. [ArchRecord]