Alongside the upcoming release of the Hue Lux and Hue Tap smart lighting products, Philips has also today shone a light on its new Luminaires, a range of premium, 3D-printed lamps and lighting fixtures.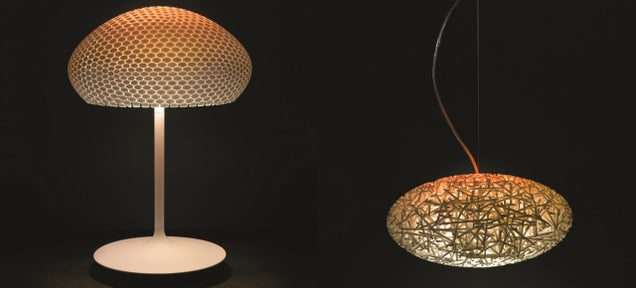 The 3D-printed lamps are equal parts modern art and modern technology. Designed by teams from WertelOberfell and Strand+Hvass, the Luminaires act as both conversation pieces and functional lighting.
"We liked the idea of using the geometry seen in the eyes of crustaceans and insects then reversing them so they become light emitting cells rather than light gathering cells," said Jan Wertel of the €2,999 (£2,473), bifurcated pendant lamp. Gernot Oberfell added, "This is a complex design that could not have been produced before 3D printing. The result is an exquisite light effect that transforms a lifeless living space into a colourfully lit ode to nature."
The €2,499 (£2,061) table version from Strand + Hvass is "inspired by shadows you see when the spring sun shines through naked branches," according to Christina Strand. "This was translated into a complex design, only possible when 3D printing is combined with Philips hue. Over 3,000 sticks are intertwined around the hue light source, re-creating a captivating scene from nature."