Spotify has started rolling out a new darker redesign. It's the biggest stylistic change we've seen since service launched its web-based player in autumn 2012. The new look ditches the old app's overcast greys for a sleek black facade—and it's so much more beautiful and useful for it.
I spoke with the Spotify design team about the new look, and they emphasised that the goal was to make the album art pop as much as possible. To the same end, Spotify slimmed down and simplified its typography, and introduced new circular vignetting inside icons that point to artist or people profiles.

The circle versus square contrast makes the distinction between organic human things and the art they make clearer.

Besides the new aesthetics, the UI has been improved, especially on the web player. The browse section is now more graphical than before, making the icons feel more like buttons than playlists.

The new design on the web changes the "Playlists" listing to a much more robust "Your Music" section. Rather than just viewing a simple listing of all the random playlists you've accumulated, the section now has some sub-categories which show a listing of items you've queued up from the "discover" and "browse" sections. Over the last few years, Spotify has drastically improved it's ability to surface music you might like. This UI tweak makes it easier to manage all the good stuff Spotify suggests.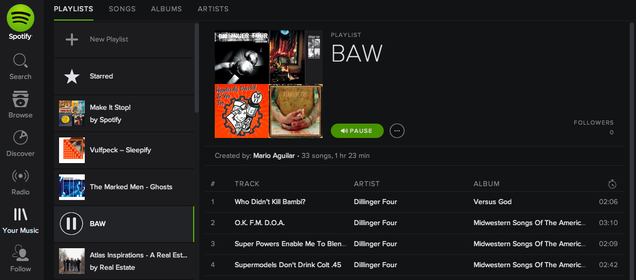 I've been trying out the Spotify redesign for the last week, and I find it's a striking change that doesn't evolve the overall UI too much. It's a comfortable evolution. There are lots of little touches that are noticeable throughout the app's web, desktop, and mobile iterations.
That said, some of the interface quibbles from before linger. Navigation between each of the broad categories could use a little more consistency. What's more, there's still no small player you can use on your desktop; the new look, like the old one, is designed specifically for full screen viewing, which isn't great for multi-taskers.
All in all, though, kudos to the Spotify design team for making listening to great music look this good. The new design will be slowly rolling out to iPhone, desktop, and web starting today, with the refresh hitting broader platforms soon.