Getting  work crews out to patch roads is sometimes more trouble than its worth. It snarls traffic for hours at a time, costs councils hundreds of thousands of pounds annually, and typically only fixes the problem for a short time. But this gravel-blasting utility truck aims to make the permanent patch process faster than firing a gunstick.
The £200,000 "Dalek" is currently on trial in central Bedfordshire. The truck totes around a supply of tar-like glue and asphaltic emulsion material that works in below-freezing temperatures. The operator controls an extendible robotic arm from the cab to first blast away loose gravel and debris in the hole, then spray alternating layers of tar and gravel into the void until it is filled. The entire process takes two minutes on average, 1/30th the time it would take a human crew.
"The product is a liquid that's 35 per cent water," Kent County Road Commission Maintenance Director Jerry Byrne told ABC 7 (station WXYZ) recently, "So that water needs to come out of the product like a latex paint, if you will, and in cold temps and damp conditions, the wait that you have for is slowed considerably."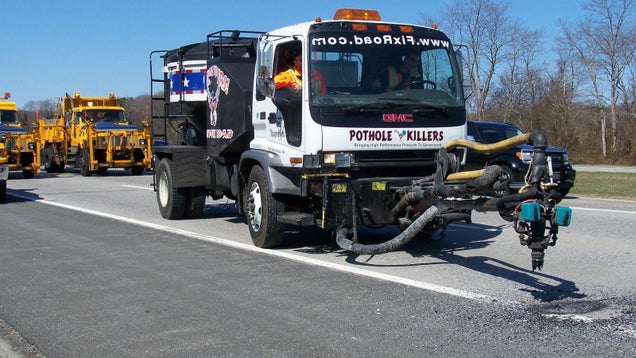 Stateside, these machines are more commonly known as Pothole Killers and are widely used throughout the US. Built by Patch Management Inc out of Fairless Hills, PA, the system costs roughly $130,000 (£77,484) for a three month contract. Hopefully the truck operators are obligated to continually yell "EXTERMINATE!" during the filling process, too. [Pothole Killers - Daily Mail - Ubergizmo]