Here is a selection of state-of-the-art bike infrastructures, which pave the way for a better biking world.
Well-developed cycling infrastructure is a fundamental and crucial layer of every city, where thousands of people commute by bike on a daily basis. This not only means that we need separate bikeways not available to cars, but much more: bridges, tunnels, and secure parking places.
---
The Don Burnett bicycle pedestrian bridge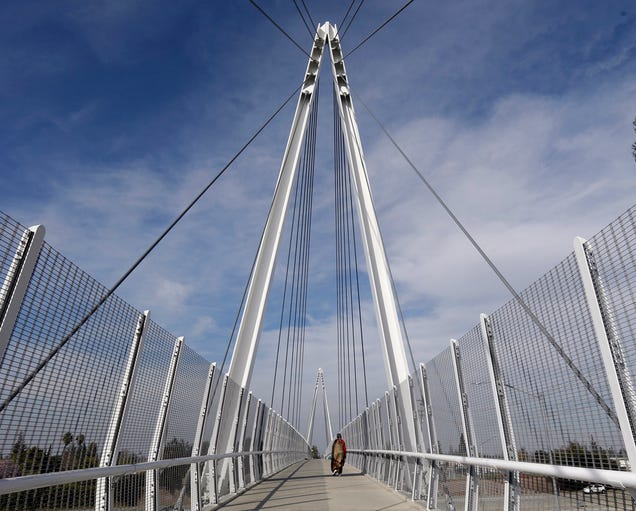 Photo: Marcio Jose Sanchez/AP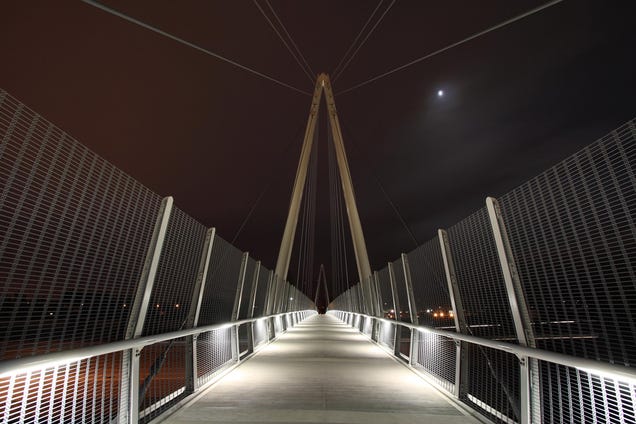 Also known as Mary Avenue Bridge in Cupertino, California; it was opened in 2009.
Photo: John Loo
---
The Big Dam Bridge, Arkansas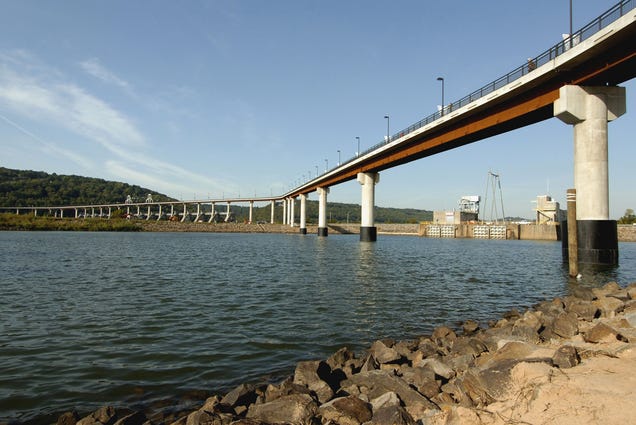 This bridge crosses the Arkansas river, in North Little Rock, Arkansas, and opened in 2006. At 0.8 miles in length, it is the longest bridge in North America built for pedestrian and bicycle use only.
Photo: David Quinn/AP
---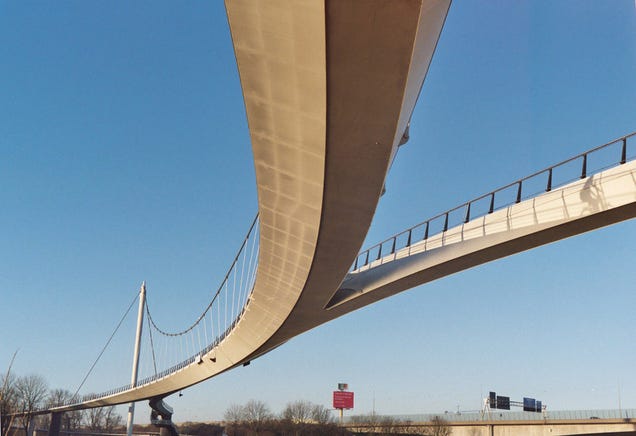 Photo: The Botster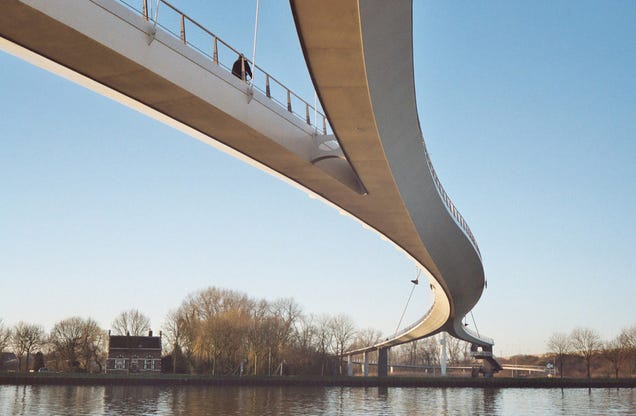 The Nesciobrug (Nescio Bridge) is the longest cycle bridge in the Netherlands. It was completed in 2006.
Photo: The Botster
---
Central station bike garage, Amsterdam.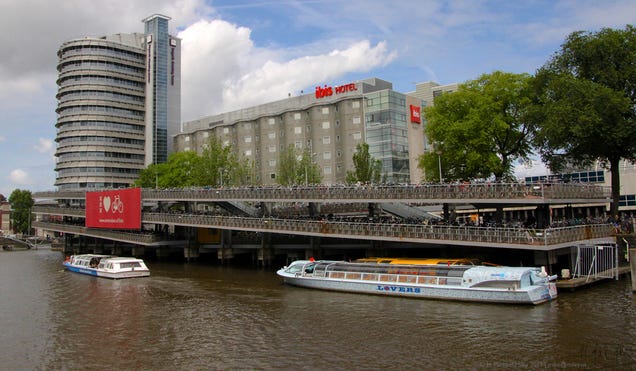 Photo: H. Michael Miley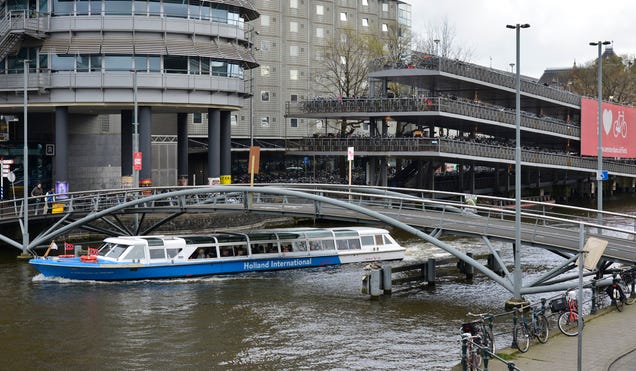 Photo: Stephane Mignon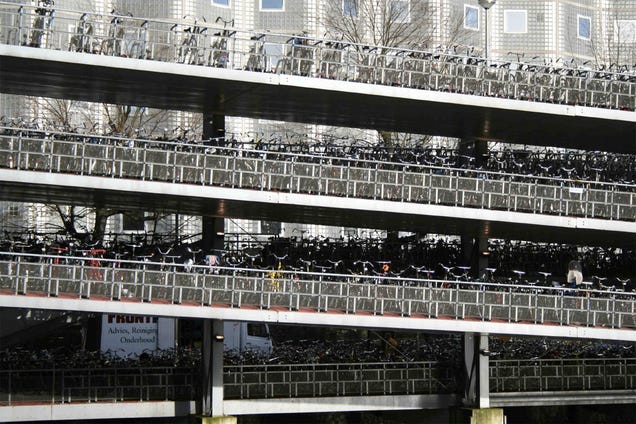 Opened in 2001, the voluminous multi-storey garage can accommodate 2,500 bikes.
Photo: Paul Joseph
---
Bikedispenser, Eindhoven, Netherlands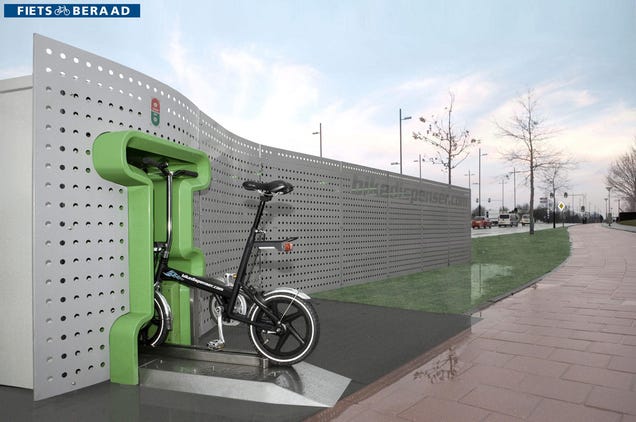 Bikedispenser is an automated system for storing and sharing rental bicycles.
Photo: Fietsberaad
---
The Hovenring Eindhoven, Netherlands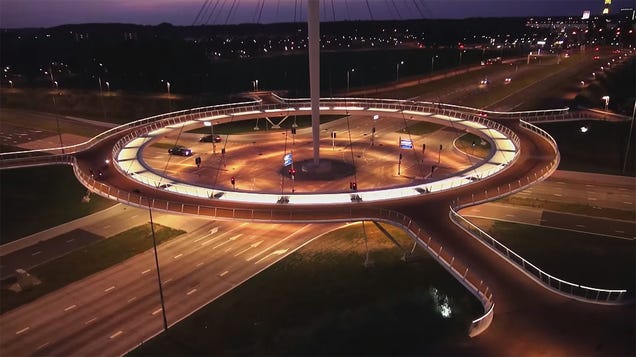 Photo: Ipv Delft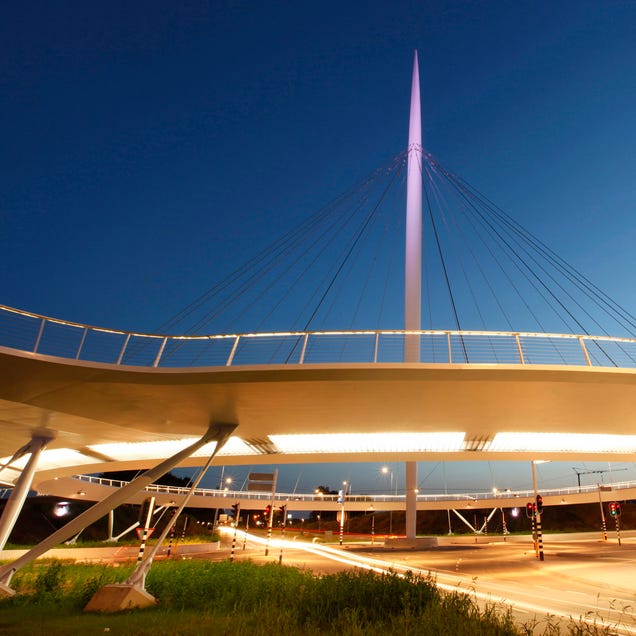 Designed by Ipv Delft, the Hovenring opened in 2013. This spectacular circular bridge is a suspended bicycle and pedestrian path roundabout in the province of Noord-Brabant in the Netherlands, and the first of its kind in the world.
Photo: Ipv Delft
---
The Weerdsprong Bridge, Venlo, Netherlands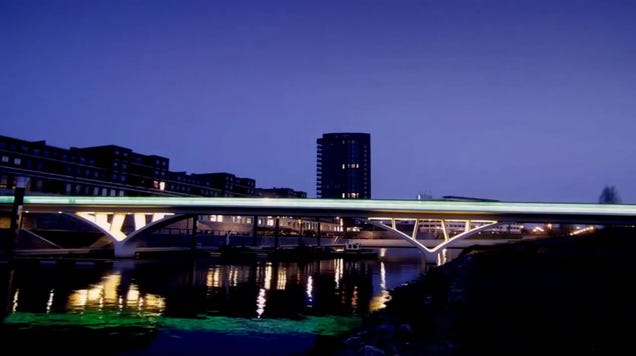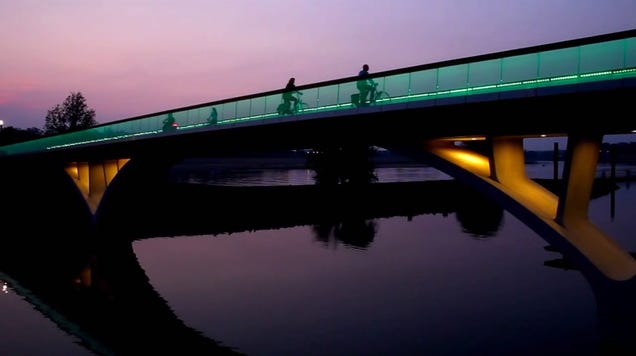 The Weerdsprong is a bicycle and pedestrian bridge in Venlo, also designed by Ipv Delft.
Photo: Ipv Delft
---
Auke Vleerstraat, Enschede, Netherlands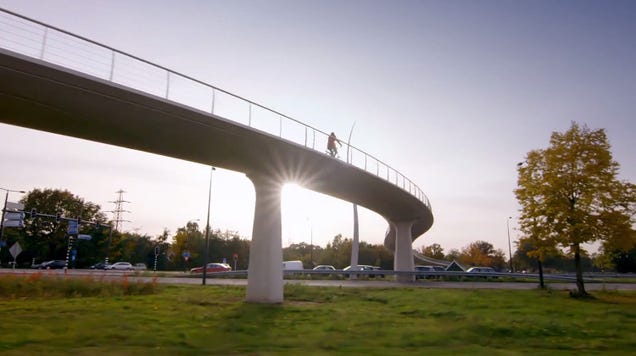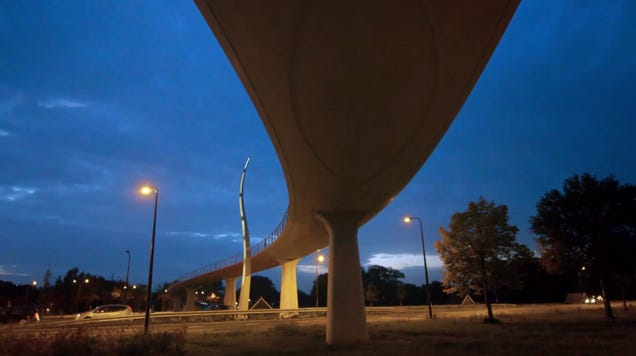 This Bike bridge over the wide and busy Auke Vleerstraat in Enschede has been in use since 2011. It is another example of design by Ipv Delft.
Photo: Ipv Delft
---
Bicycle tunnel in Zwolle, Netherlands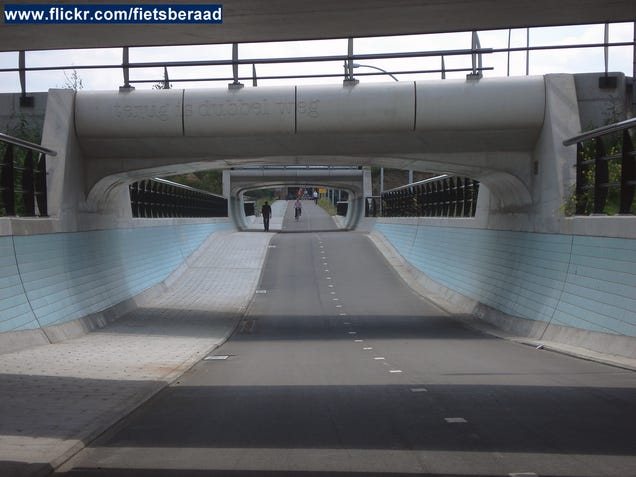 The Zwolle bicycle tunnel takes cyclists safely under busy roads. Such infrastructure led to Zwolle being named Best Cycling City of the Netherlands 2014 by cycling blog Bicycle Dutch
Photo: Fietsberaad
---
Bike garage, Zoetermeer, Netherlands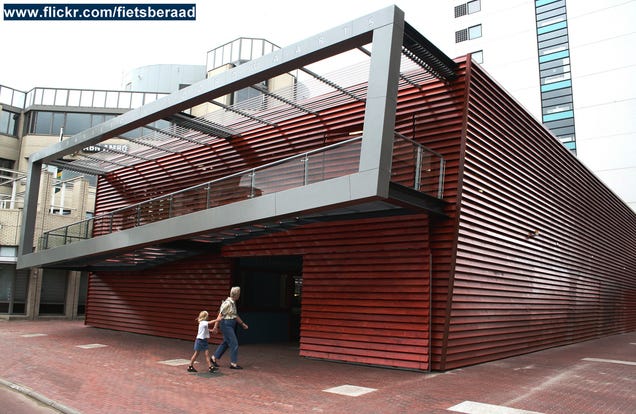 Photo: Fietsberaad
---
Bicycle box, Copenhagen, Denmark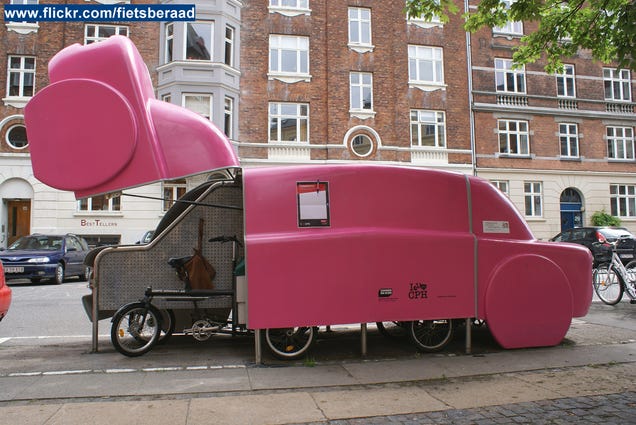 This intriguing structure is designed for storing cargo bikes, and, naturally, takes the form of a pink car.
Photo: Fietsberaad
---
The Second Heinenoordtunnel, Heinenoord, Netherlands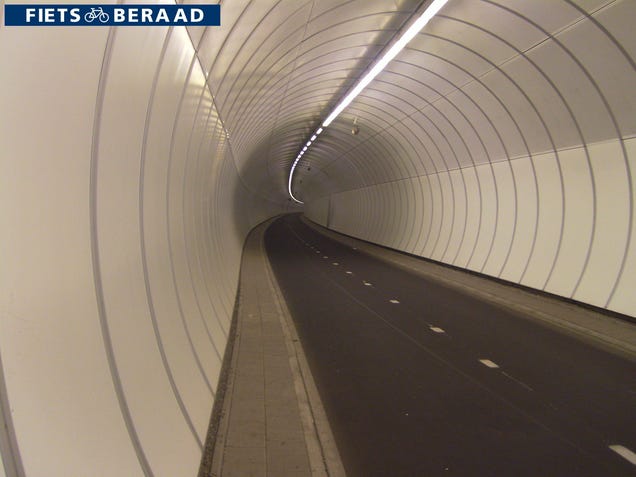 The Second Heinenoordtunnel, a slow road tunnel from Heinenoord to Barendrecht for cyclists and pedestrians under the Oude Maas River.
Photo: Fietsberaad
---
 Bike rack on a bus in Vancouver, Canada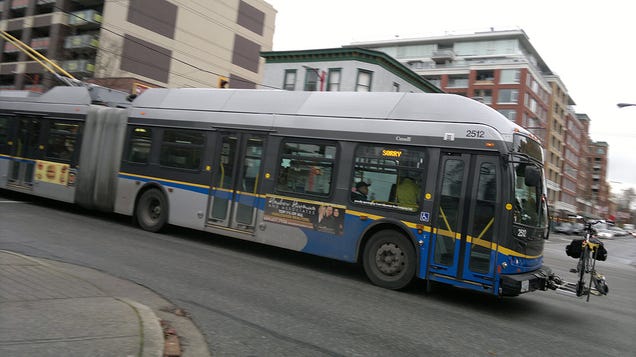 Victoria Regional Transit introduced bike racks mounted to the front of their buses to assist in longer commute and is designed to hold up to two bikes at once.
Photo: Roland Tanglao
---
Eco-cycle underground bike parking, Japan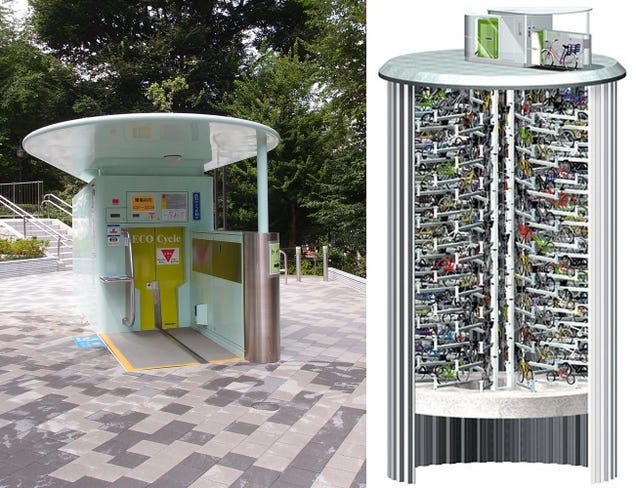 Eco-cycle, designed by Giken Ltd. is an underground bike parking system that serves as well-needed storage for the 13 million residents of Tokyo, Japan; many of whom are taking to two-wheels instead of overcrowded public transport.
Photo: Guilhem Vellut/Giken
---
Eco-cycle above-ground bike parking, Japan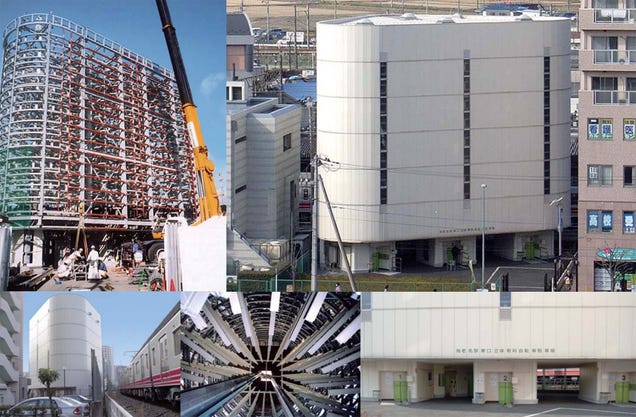 The above-ground sibling to Tokyo's below-ground parking system, this structure holds 720 bicycles in Ebina City, Kanagawa Prefecture, Japan.
Photo: Giken
---
Top shot by Joel Ryan/Invision/AP