The Williamsburg Bridge has spanned New York's East River since 1903, connecting what's now Brooklyn's most notoriously hip(ster) neighbourhood to Manhattan. In the 1980s, the bridge was in serious disrepair—and architects wanted to replace it with a mirror-finish masterpiece topped with a restaurant. Imagine the view!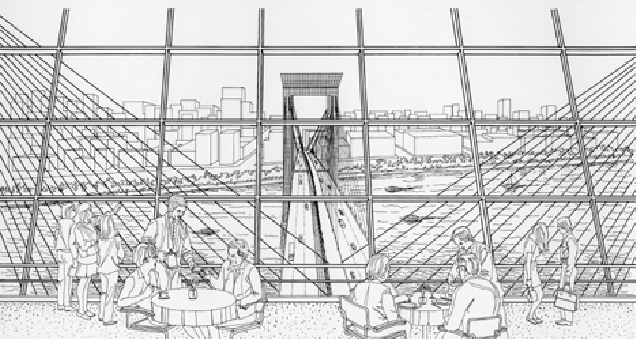 DRC Consultants Inc., Parsons Brinckerhoff Quade & Douglas Inc. and Der Scutt, architects, teamed up to create the design. It envisioned a bridge with towers wrapped in reflective panels, "giving the appearance of a warm, cinnamon-colored reflective jewel in the East River, bringing a new elegance and new life to the surrounding areas in Manhattan and Brooklyn." Inverted triangle structures atop the bridge's 456-foot towers would house a two-story restaurant on the Brooklyn side, and a bridge museum on the Manhattan side.
The plan was never realised: rather than replacing the bridge, city leaders decided to refurbish it in a series of construction projects that continue to this day. But it's fascinating to imagine what it would've been like to have lunch on top of the Williamsburg Bridge.
I bet the folks living in Williamsburg would love it. I'm told they're crazy about stuff from the 80s. [Der Scutt Architect via Gothamist]
Images: Der Scutt Architect