I can't believe April is over already, it's scary how fast time goes isn't it? Well the Tube staff went on strike (again) making travel through London more annoying that it already is; UK editions of Kotaku and Lifehacker launched; we found out about an Attenborough documentary for Oculus Rift, and the Apple/Samsung court battle still hasn't ended.
It's also been a great month for mobile apps, and I've dug through my weekly lists to find you the very best.
---
Notability: A note-taking app that covers all the bases to make your note-taking as easy and natural as possible -- whether it's typing, writing, doodling, annotating, or audio. The new update includes new features for audio recording that includes tying it in with notes and annotations so they appear together in real-time, and different playback speeds so you can transcribe at a pace that's comfortable for you. [£1.99]
---
Breeze: Most fitness-logging apps are focussed on exercise regimes and monitoring in the short term. Breeze will monitor you all the time, automatically, making it simple for you to keep track of how active you really are. It's designed to not drain your battery life, as well as making improving your fitness far more interesting. [Free]
---
Mingleton: Mingleton is an app designed around breaking the ice and getting touch with people nearby. Designed to let someone anonymously know that you're willing to mingle, you can find out if they're willing to mingle as well. Once you're interacting you can find out which mutual friends you have, what interests you share, and so on. A great way to meet new people, especially if you're at a party and don't know anybody. [Free]
---
Snupps: If you have lots of things, and stuff (things and stuff Cooorl!), Snupps is a great way to organise those things, and let you keep track of the masses of stuff that you own. Things. Stuff. Stuff. Things. While this may seem like a hoarder's wet dream, it does have practical applications. Whether you're moving home, taking business inventory, or you have a large collection of comics that you need to catalogue (guilty), it's an awesome way to keep track of everything you own. [Free]
---
Read our updated list of essential iOS apps here.
---
---
IFTTT: Another app that has finally made it to Android from iOS. IFTTT lets you create "recipes," which are basically commands that let you do cool things with your phone. Maybe you want all your Instagram photos automatically shared to Flickr, or a text message whenever you get a Twitter notification -- well IFTTT will do it for you. Fantastic tool to make your device a little bit more interesting. [Free]
---
Chrome Remote Desktop: Nice and simple, this one will let you access your computer (provided it's online) from your Android device. No messing around and no games; all you need is the app on both your phone and your computer. [Free]
---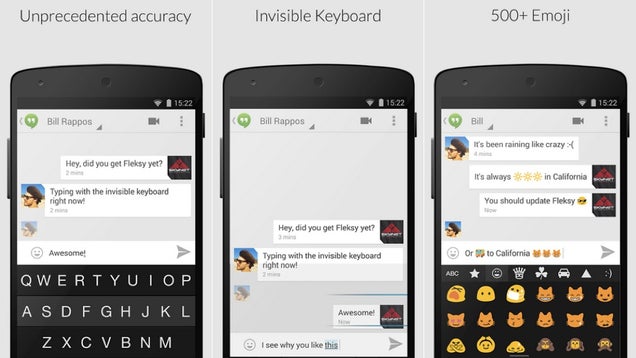 Fleksy Keyboard: An alternative keyboard to the standard built-in keyboard app, Fleksy is designed to learn your typing habits and intelligently determine what you meant to type, even if you hit the wrong keys. There is also gesture control, and customisable options to make it better suited to your typing style. The goal is to ensure that you can type accurately without having to look at your screen -- handy, eh? The latest version also brings in more keyboard layouts including DVORAK and Colemak. [Free]
---
Javelin Browser: Now this is one I like, so much that it's become my default Android browser. Javelin is a mobile specific browser with one very important function -- it has an ad blocker built in. You could install the AdBlock app, but that involves using the Amazon App store which can be a hassle. Javelin also includes a reading mode, which removes all the useless clutter on webpages, and One Touch navigation for everything. Honestly, you can't go wrong with this. [Free -- with optional proxy subscription]
---
Read our updated list of essential Android Apps here.
---
---
Nokia MixRadio: Nokia's music streaming service which promises to be free, personalised, and devoid of any dreaded ads. The new version will automatically refresh your offline mixes, lets you search for new mixes, and recommends new ones based on your profile. [Free -- Lumia Exclusive]
---
SoundCloud+: A third party app that gives you full, and unlimited, access to SoundCloud. Everything you can do in a desktop browser, you can do in SoundCloud+. Whether it's browsing, listening, liking, and in some cases downloading. You can craft your own playlists, and even pin tracks and playlists to your phone's home screen. [Free]
---
imgura: Everybody's (read: Reddit's) favourite image hosting service, Imgur actually offers more than that. Imgur has its own community which Windows Phone user can now be a part of with imgura. Upload your own images, browse existing submissions, comment, get into arguments, and more. Everything you can do on Imgur is there on imgura. [Free]
---
RingGo: Paying for parking is a pain, especially if you forgot to bring some change with you. RingGo is a pay-by-phone service that is currently in use at over 4,000 parking sites across the country, put in place by 60 local authorities and numerous private parking companies. In-app, you can register your vehicles, pay, and top-up. [Free]
---
Read our updated list of essential Windows Phone Apps here.
---