Does cycling in London scare you from even attempting it? No bother. Ever wanted to cycle the hills of San Francisco or cruise the avenues of Manhattan? Done and done. Searching for some Euro flair on your pushbike? Eindhoven, Copenhagen and Amsterdam are at your mercy – and you don't even have to move from the sofa.
The following videos come courtesy of Cyclodeo, a Netherlands-based start-up that's geo-tagging POV clips of urban rides.
The maps highlight clickable, recorded paths, each of which offers additional stats like distance and elevation.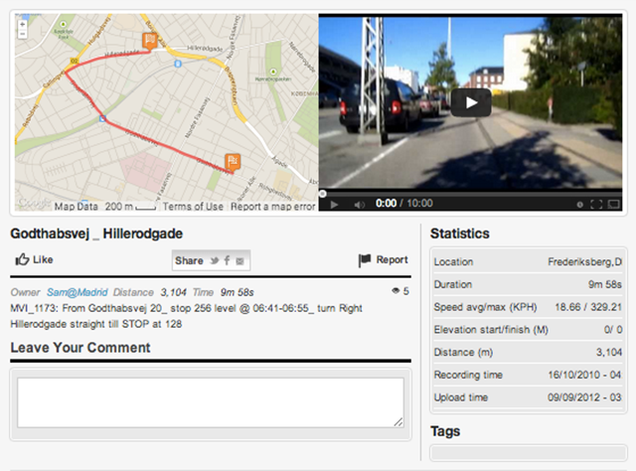 The quality of the actual clips varies (quite a bit): some have been dubbed over with pretty cheesy beats, and some are largely unremarkable in terms of immediate wow-factor.
But! The concept is a ton of fun, and it's a neat way to catch up on someone else's regular roll. Because hey, it's easy to get complacent with the roads you ride every day: the sights are familiar, you know every pothole and crack in the pavement, and the process of getting from here-to-there is more perfunctory, less discovery. This allows for a little vicarious, cross-continental magic. Plus—how neat to be able to scout out a plan for the next time you take a trip to one of these spots? Toss one of these guides in your bag and you're super sorted.
---
Cranbourn Street -> Coventry Street -> Piccadilly Circus -> Regent Street -> Langham Place, London, England

---
Eighth Avenue then Central Park West, New York, New York

---
Cycling Back on the Golden Gate Bridge, San Francisco, California

---
Cycling in Vondelpark, Amsterdam, the Netherlands

---
Vestdijktunnel Veldmaarschalk Montgomerlyaan, Eindhoven, the Netherlands

---