Meet AndroidTV: a new TV platform, like the failed Google TV. It's a brand new UI but it's the same SDK as regular Android.
Here's what's up: it's a UI that gives you a unified view of your channels. It's a pretty relaxed way to watch TV. For example, you can use voice search to look up actresses or shows. And it uses the power of Google search you already know and love.
Horizontal bars of cards will recommend content, apps, games, etc.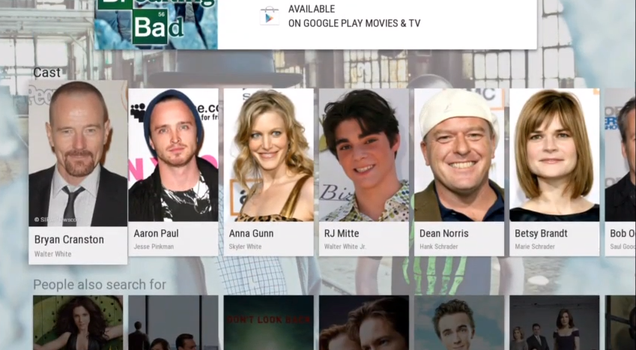 You have a remote, but you don't have to use said remote. If you lose it, you can use your Android Wear watch instead. You'll also have direct access to Google Play games, all from your teevee.
Already familiar with Chromecast? Great. Android TV includes full Google Cast support, so you can use it in the same way you use your little dongle, sending content directly from your phone or tablet.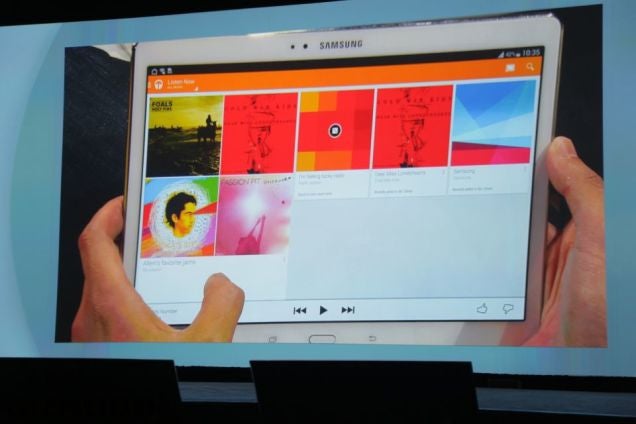 Android TV will work for TVs, set-top boxes, streaming boxes, and consoles. And at the end of the year, it will come on new televisions from Sony and Sharp. You can also expect products from LG and Razr, which could be set-top boxes, but that remains to be seen.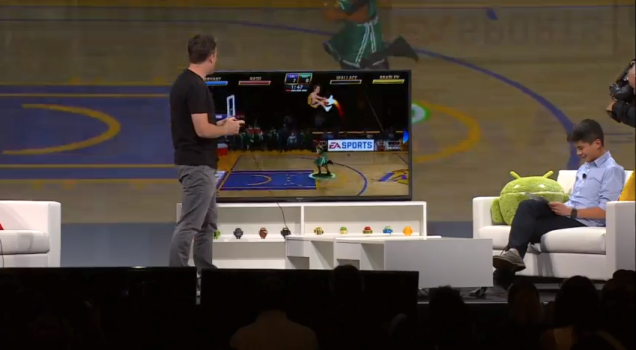 Now, while this is different and seemingly better than Google TV, in that it's integrated with other Android stuff, it's sort of weird that Google is taking yet another stab at a TV platform. Especially considering that Google TV and the non-starter Nexus Q were big 'ol failures. We'll learn more when we actually see Android TV up close and personal.
---
See everything Google announced at I/O here
---