Today is the start of E3, the biggest event of the gaming calendar. My Twitter followers may be relieved to hear that I won't be able to spam their feeds by live-tweeting the entire event this year. It's a tradition that I'm sad that I can't continue, but I'll be helping out at Kotaku UK so will be too busy for glib one-liners. But enough of my woes, it's apps time.
iPhone Apps
---
ESPN FC Football & World Cup: You might be thinking "What, another World Cup app?" and to be fair I have included a few over the past few weeks, and they do offer the same sort of thing. ESPN is different because, while it does offer the same news and stats as other apps, it includes live studio commentary of the Cup's matches. None of the others seem to be doing that (as far as I've seen). Sadly for football fans out there, there is no video coverage because the rights to that are held by someone else. But if you're in a place where watching football is a taboo, like work, then this is the next best thing. [Free]
---
MatchCut: Promising to be the fastest video editing app on the market, MatchCut allows you to create 30 second videos on your phone. It also promises to automatically splice together new and existing videos so you don't have to. One of the great things, though, is that MatchCut has a full library of full licensed indie music that is absolutely free for you to use. [Free]
---
Morpholio: This is one for the creative types out there. Morpholio is a portfolio app for those of you who create your own photography, art, and design work. With a minimalist design and multi-device synchronisation, it's a hassle-free way to be able to show off your hard work. [Free]
---
Watch Up: There are plenty of personalised news apps that deliver you written content, but can you think of any that offer video news? I can't, but I might just be being thick. Anyway this is Watch Up, a personalised news app that brings you video content from around the world. There's even a loading bar so you can do something else while keeping track of the loading times. [Free]
---
YouCam Snap: A quick and easy way for you to turn the likes of documents or presentations into PDF documents on your phone. The app will scan, digitise, as well as automatically enhancing and prettifying your images so you can save them for later. Handy, especially if you have to look at a lot of presentations. [Free -- with in-app purchase]
iPad Apps
---
Skyforce 2014: A 10th anniversary remake of the classic mobile game Skyforce, Skyforce 2014 is a standard sci-fi shoot-em-up game. With 3D graphics, and intuitive touchscreen controls that go along with boss fights, and ship upgrades, it's a perfect dose of mobile gaming nostalgia. [Free -- with in-app purchases]
---
Momondo: Momondo is a service that lets you find cheap flights and hotels across the world with minimal fuss. This is a brand new version that includes a price graph, 'Matrix View' for packaging flight and hotel prices together, and a shiny new UI. [Free]
---
Brainbean: A brain training app suitable for anyone from the ages of nine to 109. Eight games are available, based on various scientific exercises, with the aim of challenging your brain to the full. Four games are free and the others can be unlocked by purchasing them in-app. [Free -- with in-app purchases]
---
Stache: A companion app for the Mac app Stache, this one is a way of organising and cataloguing your bookmarks into an organised, functional library. The best part is that your bookmarks sync via iCloud, meaning you'll be able to have access to your bookmarks across all of your devices. [£1.49]
---
The New York Times Crossword: The official crossword app for the New York Times newspaper. With a brand new iOS 7 design, brand new puzzle packs (and more coming every eight weeks), and web syncing, this is a great little app for the crossword aficionados out there. [Free -- with in-app purchases]
Android Apps
---
Hodor Keyboard:  Hodor hodor hodor hodor. Hodor hodor hodor, hodor hodor hodor. That's what your text will look like if you use Hodor Keyboard. It will allow you to live out the life of Game of Thrones's loveable giant in a small way. [£0.59]
---
Flynx Beta: You'll never have to worry about waiting for pages in a browser to load anymore. Flynx will take that page and load it in the background while you do something more productive than stare at your screen in anticipation. But don't worry, it'll tell you once it's done. [Free]
---
Phono Paper: This is a cool one that was covered a couple of weeks ago on iOS, but it's now available on Android. Basically the app is able to read markings on paper convert them into sound. The markings can either be hand drawn, or printed from the app itself. The audio can be anything you like: voice, music, background noise, you name it. It might not seem particularly useful, but it certainly is a cool feature. [Free]
---
Mobile Compare: Looking to buy a new phone but don't know what to look for? Comparisons are great but you might not be able to find the right one for you. Fortunately, Mobile Compare is there to make sure you're informed. The best part is it'll transform those confusing technical details into something you understand. [Free]
---
Audio Visualiser Live: Want to add some visual flare to what's going on around you? Audio Visualiser Live will use your microphone to capture the sound around you and turn it into a digital acid trip on your device's screen. There are four different visual modes to choose from, so you can mix it up from time to time. [Free]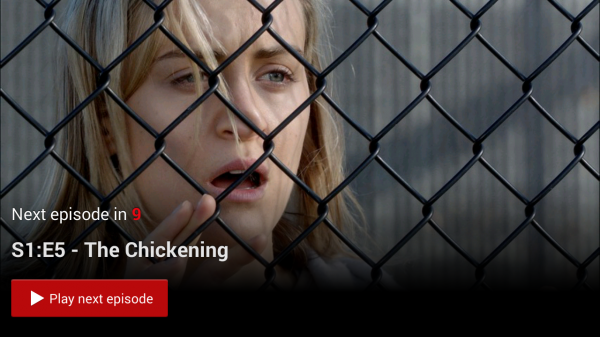 Netflix
Not a new app, rather an update to the existing Netflix app: they've added in Post-Play for Android. It works for both TV shows (phones and tablets) and movies (tablets only). At the end of an episode, the app automatically queues up the next one and starts playback unless you choose to pause or stop. For movies, three recommendations are offered to try next. You can dismiss Post-Play by simply tapping on the video. Users of Netflix on the Playstation and web platforms will already be acquainted with this feature.
Windows Phone Apps
---
TED: The official app of the TED conference, giving you access to over 1,700 TED videos and audios, which are updated weekly. With talks on the likes of tech, music, science, business, and education, it's a great tool to expand your horizons. [Free]
---
Survival Run With Bear Grylls: An endless runner starring everybody's favourite piss drinker Bear Grylls. The game includes running, base jumping, sledding and kayaking. There's not much to differentiate it from the rest of the endless runners out there, but it's a nice change from Temple Run. [Free]
---
Time of My Life: Ever wonder where the day went? What exactly did you spend your time doing? Time of My Life is designed to log where you've spent your time, and how you've spent it. With daily, weekly, and monthly graphs, it's a handy little way to visualise how you're spending your time. [Free]
---
Hotel Tonight: Everybody knows that hotels don't like leaving rooms empty, so they offer discounts at the last minute. Hotel Tonight is an app designed to let you search for the best last minute deals and get yourself a room without the high price. [Free]
---
Sozoom LITE: Nice and simple, Sozoom lets you add zoom bubbles to your pictures that zooms in on a particular point. Use it to highlight something interesting, or just to have some fun. Who knows, maybe you'll uncover something cool in the background? [£1.49]