Money For Nothing by Dire Straits is a song remembered for many things: a dirty hook to kick things off; background vocals by Sting; a cool, early-VR-style video; and the inevitable Weird Al parody. It was a successful single on Brothers in Arms, a successful album that was one of the first major hits on those shiny, new-fangled compact discs.
A refresher:
Dave Simpson at the Guardian interviewed two research scientists at Philips who helped develop the nascent tech in the late 1970s, when vinyl and cassettes were at a crossroads and it seemed that a standardised, digital option could really change the musical landscape.
Their discussion of the tech's progression is great—seriously, go have a read!—but there's also a fascinating tidbit about how Brothers in Arms came to be such a massive, record-setting hit on this emerging format.
Jacques Heemskerk says:
We needed to do a lot of advertising and knew pop music would be the largest market, but we couldn't start with anything extreme, like punk. So we made a deal with Dire Straits to promote it: their music was all put on CD, and they appeared in posters and advertisements. When Brothers in Arms became the first million-selling compact disc, we knew we'd underestimated how quickly it would become the dominant format. The vinyl album was so established, and in the US it seemed unthinkable that the cassette would disappear. But after that, things changed very, very quickly.
Indeed!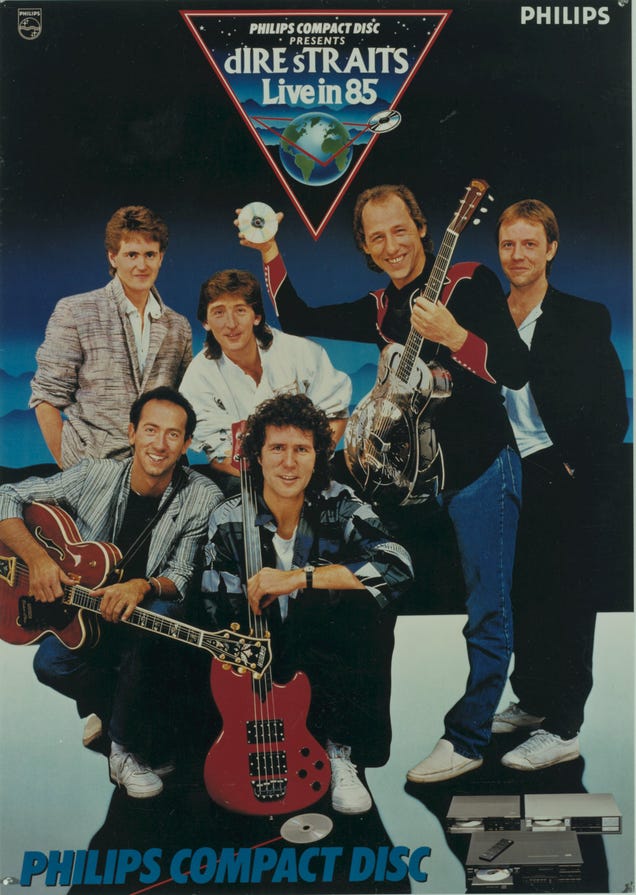 It would be interesting to see a list of what other bands were considered for the push that would have undoubtedly changed their future. Could Frankie Goes to Hollywood or Katrina and the Waves have transcended one-hit-wonder status with a major nudge from the manufacturer? [The Guardian]