Novels aren't going to write themselves, you know. But when they don't, simply turn to Twitter. A new book features tweets by would-be authors who are totally working on their novels, but had to stop working on their novels so they could post something to Twitter about working on their novels.
Working On My Novel, by artist (and Giz-favourite) Cory Arcangel plucks 144 pages-worth of tweets from the popular Twitter feed, @WrknOnMyNovel, which RTs some true gems by people who say they are working on their novels.
Late night working on my novel. I'm determined to finish it this year. Full speed ahead.

— shay cleckley (@1educatedworld) July 13, 2014
As you can imagine, the resulting book is pure literary entertainment, with excellent curation by Arcangel. I am still not sure if it is a book that delights or horrifies me, but I am completely and utterly fascinated by the fact that there are these many tweets by people who needed to tell the world that they were indeed working on their novels.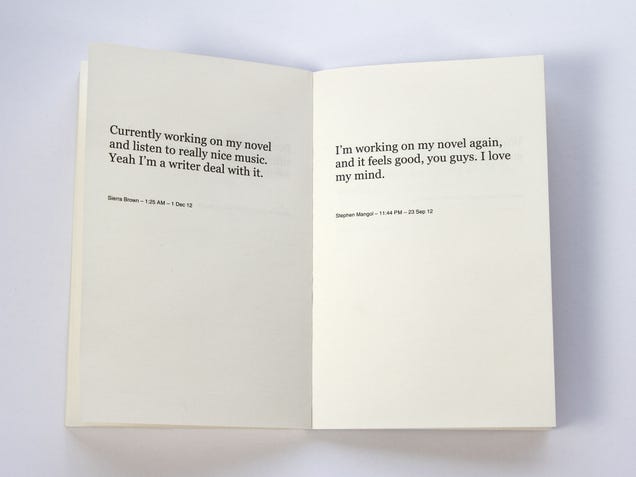 On one hand it is a straightforward investigation of the creative process — I've turned to Twitter at least three times just while writing this post — but any content that has anything to do with the writing or not-writing of novels is so damn naturally pretentious. Come on. I LOVE MY MIND?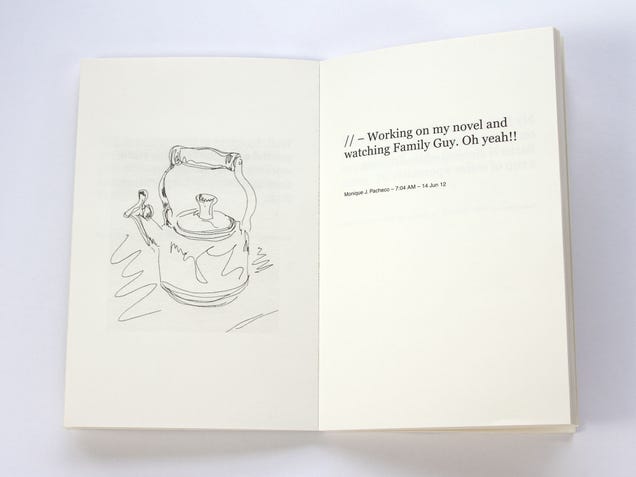 Then, of course, there are the far more relatable tweets, the ones that veer far from the #humblebrag and #blessed variety and more towards an honest portrayal of chronic procrastination. I mean, watching Family Guy, who hasn't been there?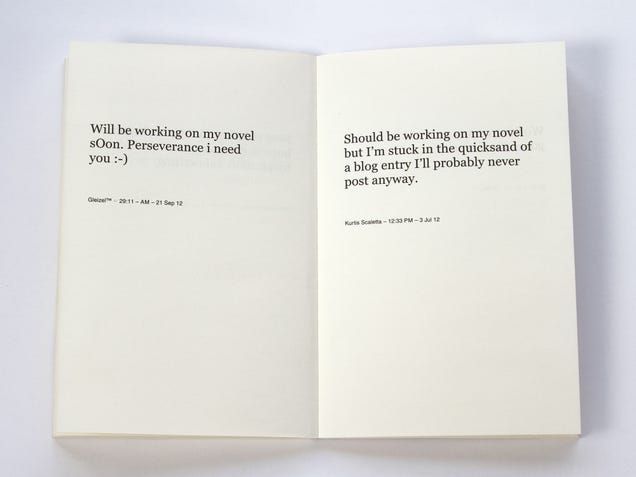 My biggest question is how many people featured in this book do you think actually finished their novels? I am going to guess less than one in three. And that's judging by the number of tweets by those who probably shouldn't be writing novels. At all.
If you're as intrigued as I am, or you just need something else to distract you while you work on your novel, you can buy your copy here. [The Fader]