Last week, we got a pretty revealing look at the Samsung Galaxy Alpha's iPhone-esque exterior. Now, a new leak from TecMundo is giving us a glimpse inside that iFacade.
If you can't make out the fine print on the image above, here are a few highlights:
4.7 Super AMOLED Display

12 mega-pixel rear camera and 2.1-megapixel front camera

2GB of RAM, 32GB of Storage (64GB rumoured to be available), No MicroSD

1,860 mAh (marked with a big ole TBD)

Fingerprint sensor, heart rate monitor, nano SIM, USB 3.0, 4G LTE

Android 4.4
These specs are also tinged with a touch of Apple—specifically the nano SIM and no MicroSD card bits—and TecMundo's anonymous source also hints that Samsung will pack in its own octo-core Exynos chip. That spec could be region specific much like the rumoured Galaxy Note 4.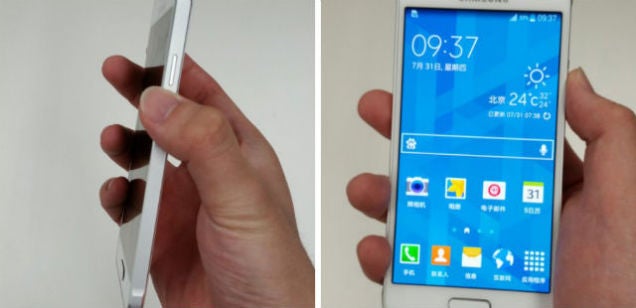 SamMobile recently spotted a Samsung Alpha event held in Russia, which points to the phone being primarily targeted for international markets or perhaps even a mea culpa for that botched Tizen release last month.
So with its looks and specs pretty thoroughly fleshed out, does Samsung have a device that can beat back the swelling sales of iPhones and iPhone knockoffs? [TecMundo via SamMobile]