The Galaxy Note 3 is a monster, both in size and importance. It was the best-selling device in Samsung's Galaxy lineup last year, and more importantly made phablets something you'd actually want to use. But with Apple potentially about to enter the biggie-sized smartphone space, the upcoming Note 4 has a whole lot more riding on it.
It's also not just important for phablet fans; Samsung's mobile business is plunging into the revenue abyss. It's lost smartphone supremacy in India and China and its golden boy, the Galaxy S5, arrived with an underwhelming reception.
In other words, Samsung really needs the win and, at the very least, show off that they've been the leader in phablet-sized, pen-friendly devices for a reason. Here's how it looks like they're going to do it.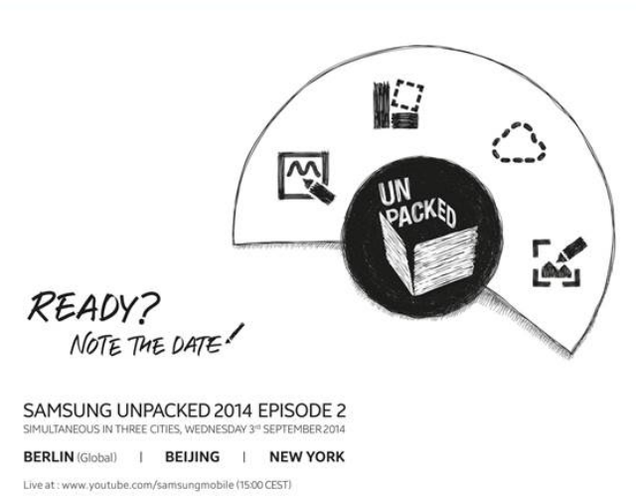 Availability
When it comes to Galaxy Note releases, Samsung follows a predictable pattern. The phone launches in late August/early September and hits stores about four weeks later in the dying days of September. We'll most likely see a similar release schedule with the Note 4, especially since the announcement is all but confirmed for September 3rd.
There's a chance Apple could throw a spanner in the works, as the iPhone seems almost certain to be available mid-September. If Samsung wants to beat the rumoured iPhablet to market, it could push the Note 4 out sooner than usual. Either way expect pre-orders for the device to come as early as its Unpacked announcement.
Design
The Galaxy Note has remained pretty consistent from year to year, but that may be about to change. Korean news source ET News leaked the possible existence of not just one but two versions of the Galaxy Note 4. The first would be the familiar brick-ish Note we know well, complete with faux leather back and plastic edges. However, a second rumoured model might flip the script and come with a metal body and also a curve, much like the Galaxy Round. So basically imagine this phone but metal and pen-wielding.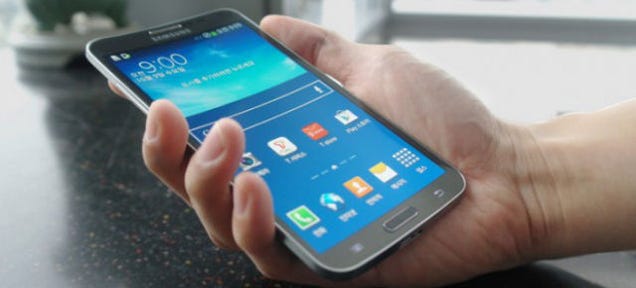 Of course, the word "metal" at this point is basically synonymous with the world "premium", which translates to more money out of your pocket.
TechRadar also mentions that this metal Galaxy Note could be a Korea-only release, which I really really really hope it isn't – but what can you do.
@evleaks confirmed that the Note 4 should be using the same Note 3 colour options: Charcoal Black, Copper Gold, Electric Blue, and Shimmery White.
Usually, this is the time we'd post some heavily-watermarked images with terrible composition, but Samsung has kept a pretty tight lid on the new Note. There are some weirder "leaked" images circulating, but they all seems far-fetched. Time to exercise that imagination, though this incredibly short leaked video claims to offer the briefest of glimpses at the phone:
One of the stranger rumours concerning the phone details an "ultrasonic case" for the visually impaired. The case would work by using soundwaves to detect nearby objects so it can warn its user and prevent them from walking into anything. It's a bit of a strange move considering a smartphone's featureless screen isn't exactly blind-user-friendly, so treat this snippet with some skepticism.
Display
The Galaxy Note 3 came equipped with a Super AMOLED display, cranking out 386 pixels per inch (for reference, the iPhone 5S display has 326 ppi). However, it seems likely that the Note 4 will instead adopt the pixel drunk, quad-HD AMOLED display seen on the Galaxy S5, which will make that huge screen even more envious. We definitely loved it in the S5, and can't image the Note 4 will engender any disappointment.
As for the physical size of the screen, I think we can rest easy knowing things will hold steady at 5.7-inches.
Camera
Android cameras are chronically hit or miss, usually missing much more than hitting. This time around, we think that the Galaxy Note 4 will have a 16-megapixel camera like the Galaxy S5, though the International Business Times mentions a possible focus on picture quality by downgrading the Note 4's camera to 12 megapixels but with a higher-quality lens.
We were fans of the 13-megapixel camera in the Note 3, with its major advantages being sharp photo and video in sunlight and also decent depth-of-field. The Note 4 is also rumoured to have dual LED flash and optical image stabilisation.
Megapixels aren't everything when it comes to camera performance, but a small boost in specs would encouraging, as long as the sensor size, lens, and Samsung's often-irritating bloatware doesn't muddy up the experience.
According to SamMobile, the Galaxy Note 4 will also come with what is known as a "Smart Touch" button, which is basically a little sensor on the bottom right-hand side of the phone. Tapping the sensor once the camera app is open will take a picture so you don't have to go faffing around with the touch screen.
Battery
We haven't heard much on the battery side, though that's not uncommon. Specifics on mAh, especially estimated battery life, are usually leaked right before the event, if they're even leaked at all. The Note 3's Super AMOLED energy requirements pushed Samsung to include a 3,200mAh lithium ion battery, which when we tested, easily got us through a day-and-a-half of moderate use.
With a more powerful screen sucking down more energy, we could see a small uptick in battery size, but the Qualcomm 805, the most likely chip to power the Note 4, is built for 4k screens. According to Trusted Reviews, improved thermal management should make the onboard SoC more efficient. So an improved chip might mean Samsung won't need to mess much with the battery at all.
Operating System
There seems to be a small hope that Android L will be ready for the Note 4 when it inevitably launches, but we'll most likely be seeing Android 4.4 KitKat, which will probably give Samsung more time to TouchWiz-ify Android's new software in any way they see fit before rolling out an update.
The Note will obviously be skinned in some way and also include the must-have pen features, such as the Air Command menu. SamMobile also notes a potential name change for one function from "Download Booster" to "Multi Network Booster", a service that combines 4G and Wi-Fi for quick downloads.
Using Android. 4.4.3 as a base, Samsung also reportedly tested services called "Aqua Capture", "Smart Fingerprint" and "Swipe to Launch Motion Launcher". If they make it to the device, we can pretty much check off water resistance, fingerprint scanner, and, as SamMobile says, an HTC-inspired "Motion Launch" control allowing users access to certain features from the off screen. It would presumably look a lot like this:
Here's a brief refresher on the look of Air Command menu and its core features, such as Action Memo, Scrapbook, and Pen Window (or watch this somewhat lengthy video).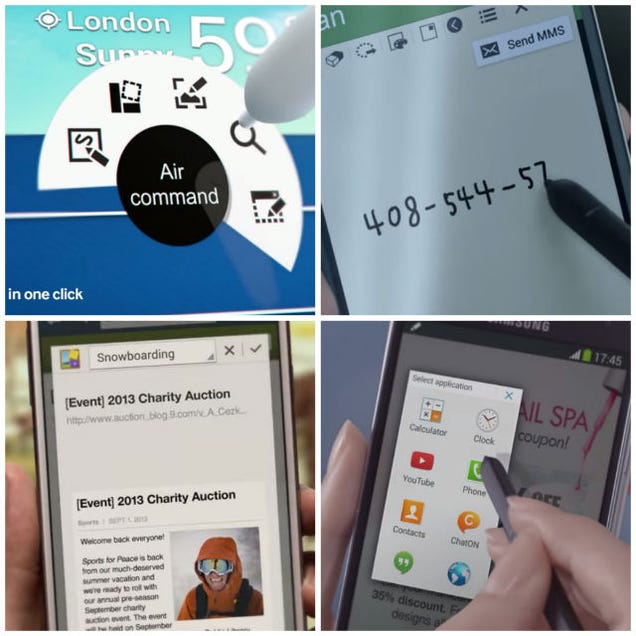 Top left, clockwise: Air Command Menu, Action Memo, Pen Window, and Scrapbook.
Guts
Even if only half the rumours mentioning the specs of this phablet mammoth turn out to be true, this thing will still have sensors on top of sensors on top of sensors. But first let's talk about the processors. Spec leaks suggest that the Note 4 will have a Qualcomm 805 processor or an octo-core Exynos processor. Both were spotted in benchmark testing earlier this month, but SamMobile reports that the Exynos won't likely go to North America or other select countries. The Snapdragon 805 could bring advanced LTE to the Note 4, much like it did for the S5 in the S5 LTE-A model in the Korean market.
The Snapdragon 805 is a more dramatic leap forward in terms of processing than say from the 800 to the 801. The chip was designed for 4K and enhanced image signal processing with capabilities for cameras up to 55 megapixels. Trusted Reviews has a great in-depth overview of the chip's pros and cons. Spoiler: it's mostly pros. It's an all-around improvement, and one you might actually notice on the Note (if we're lucky enough to have it included).
Samsung might also pack in a UV sensor that will be integrated in the S Health app to track UV Index and warn you of possibly harmful conditions as well as a fingerprint scanner for extra security.
The rest of the specifications get a little wishy-washy. Some leaks suggest we'll see anywhere from 16, 32, and 64 GB models with 3 GB or 4 GB RAM, microSD storage up to 128 GB, and also microUSB 3.0.
Networking connectivity
If the Note 4 does comes with the Snapdragon 805, then we can cross our fingers and hope for advanced LTE, which increases data rates and app capacity. Other than that, it'll pretty much be business as usual with Wi-Fi, NFC, Bluetooth and other connectivity options that are near ubiquitous on premium devices.
Price
Expect something around $800/£475, which was the Note 3's original asking price.