Converse's All Star Chucks are such an iconic design that they can even be paired with a formal suit without fashion critics batting an eye. Unfortunately they're mostly designed for casual wear, nothing adventurous, but that's why Converse is releasing a couple of limited edition pairs that have been upgraded with Polartec fabric that lets the canvas trainers easily shrug off a soaking.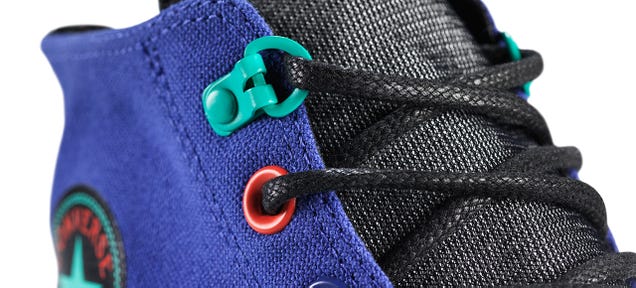 The waterproof fabric actually sits between the outer canvas layer and inner lining to keep rain and snow out, while still letting moisture escape so your feet can breathe. You'll actually be able to wear them no matter what the weather's like outside, which is a feature your standard pair of Chucks can't boast.
Unfortunately they are only going to be available in the US to begin with, and with a premium price-tag. Both the high-top and low-cut versions of the shoe will retail at $110 (£68), in a handful of shoe shops in New York, San Francisco, Vancouver, and Toronto. They will no doubt turn up on eBay, if you are really keen to get your hands on some but are not in the US.
[Converse via Gear Culture]