HP has just revealed a pair of incredibly cheap laptops, the 11.6-inch and 13.3-inch HP Stream. These two machines join the Stream 14 as HP and Microsoft attempt to offer full Windows at a Chromebook price, and we just snagged a hands-on at a NY press event.
The 13.3-inch and the 11.6-inch models have been confirmed to retail at a truly reasonable price, coming in at £199 and £179 respectively. They are completely fanless thanks to their low-voltage Intel Celeron processors, and each come with 32 GB of storage, 2 GB of RAM and a low-res 1366x768 display. Around the sides, you'll find the usual array of ports: USB 2.0 and 3.0, HDMI, an audio jack and an SD card reader.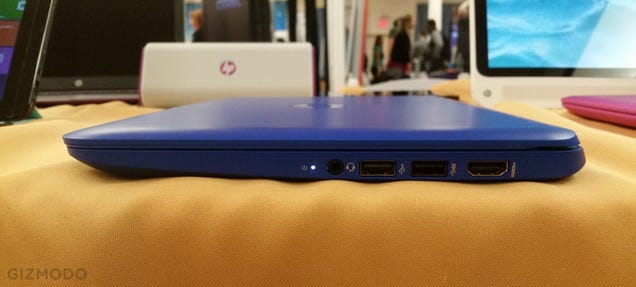 The blue and magenta colours are your only choices at this price point, but they're definitely eye-catching machines, and clearly trying to appeal to the younger crowd who might consider a Chromebook as their first computer.
The keyboard itself is painfully plastic and not exactly a joy to type on, but considering the price, it could've been much worse. The trackpad was a little sticky and hard to click and easily the Achilles' heel on both the devices. It maybe wouldn't be such a big deal on a modern Windows machine, but unless you opt for the optional touchscreen you'll put that trackpad through its paces, and it might not be pleasant.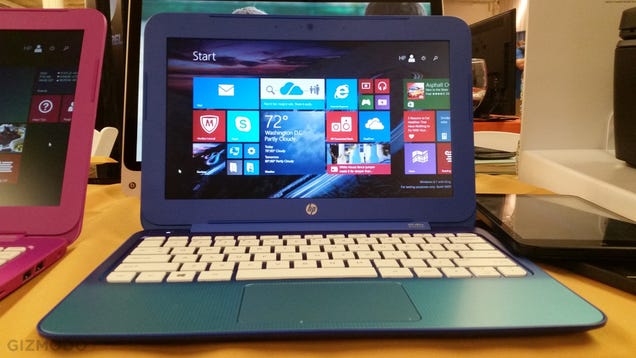 Unsurprisingly, Windows is the draw here. Manoeuvring through the OS was surprisingly responsive, transitioning among applications and menus without stutter. Unlike its Chromebook competitors, these laptops don't rely on an internet connection and can run full Windows applications. You also get a free year of Office 365 and 1 TB of OneDrive (to help bolster the measly 32 GB stock option).
On first impression, if you're seriously considering a low-cost Windows machine, you might consider bumping up to the Stream 14, or just consider looking somewhere else entirely. But if you know a kid in need of a computer or just want something cheap that gets the job done, these new laptops might be worth a look.