HP has a few power-ups planned for Christmas that are worth getting excited about. Specifically, its newest 14-inch Chromebook will be getting a fancy Tegra K1 chip, and the Envy X2 detachable is going to get a serious powerboost from Intel's Core M Broadwell.
The new 14-inch HP Chromebook packing Tegra K1 inside boasts an impressive 9+ hour battery life according to HP, a bit longer than the what the 13.3-inch Acer Chromebook 13 that's repping the same guts can dish out in practice. HP isn't saying what the resolution of that big ol' screen is yet, but a lower resolution could explain the extra longevity. It would also explain the cheaptastic starting price of $300 (£184) for the base model. The new 14-incher is slated to hit shelves in the US on October 22nd of this year with four embarrassingly-named accent colour options: Smoke Silver, Sorbet Orange, Ocean Turquoise, or Neon Green. UK specific pricing and release dates have not been revealed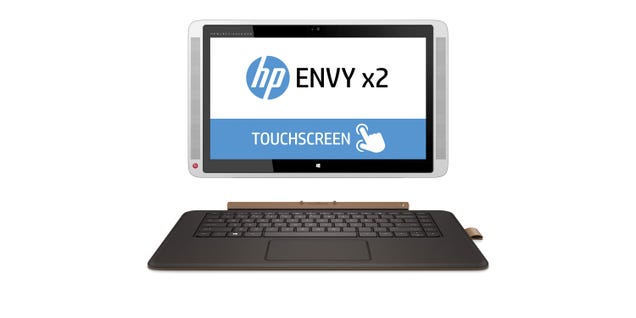 Meanwhile, HP's new Envy X2 detachable will be repping Intel's new Core M Broadwell chips, which should give it a hell of a lot more horsepower than previous models' Atom processors. The full Windows 8.1 tablet-desktop hybrids will come with options of a 13.3-inch size and your choice of 1366 x 768 or 1080p resolution, or a 15.5-incher (resolution TBA).
We've been burned by detachables with questionable performance before, but get ready because Core M might make these things finally worth a damn. The 13.3-inch is due to hit stores on October 29th, starting at $1050 (£643), and the 15.5-incher on November 5th for $950 (£582). Once again these are US specific, and UK details have not been revealed by HP.