Qatar, the 2022 host of the World Cup, is not a large country, with a population just over 2.1 million. So to prepare for the millions who'll descend on the country eight years from now, it's going to great lengths—including building an entire new city from scratch.
It's called Lusail, and it's set to be completed in 2020 and cost billions of pounds. That's an incredibly short schedule, considering that six years is how long it takes some cities to build a new sports stadium, and it's a fantastical plan—evoking images of a utopian, technologically-advanced urban development that seems straight out of the 1960s.
But specific questions remain about how Lusail is being built, and more specifically, by whom. Reports investigating human rights abuses inside the construction sites of World Cup projects have some arguing that Qatar should be stripped of its host duties, while incredibly high summer temperatures have others suggesting it should be moved from summer to winter. Allegations of bribery within FIFA don't help either. The World Cup 2022, in short, is embattled.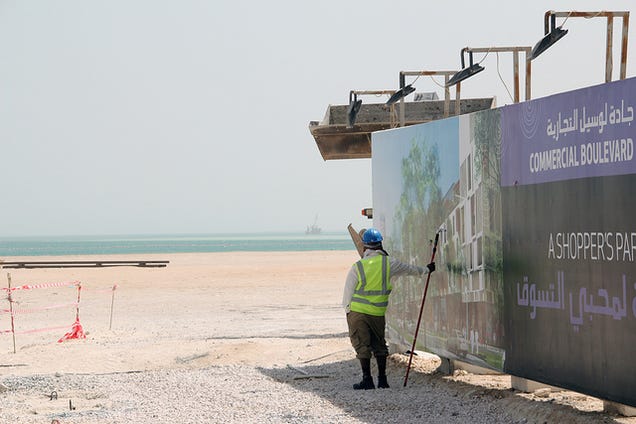 Image: Cassim Shepard.
Manmade cities, islands, and even clouds...
There are several hundred thousand guest workers in Qatar, all of them on visas sponsored by their employers—a system called kafala, which allows the employers to detain workers, even if they try to exit the country. Though dozens of projects are in the works around the country, the biggest by far is Lusail: An entire new city being built for 450,000 residents near the capital of Doha.
On this 14-square-mile patch of land, Qatar is spending £27 billion to build a new city within a matter of years. It will be a "smart, peaceful and inspirational environment," in the words of Lusail Real Estate Development Company. "A futuristic project which will create a modern and ambitious society." It will be a luxury-oriented hub surrounded by crystal-clear Gulf waters, home to dozens of brand-new neighbourhoods and whiz-bang infrastructural systems.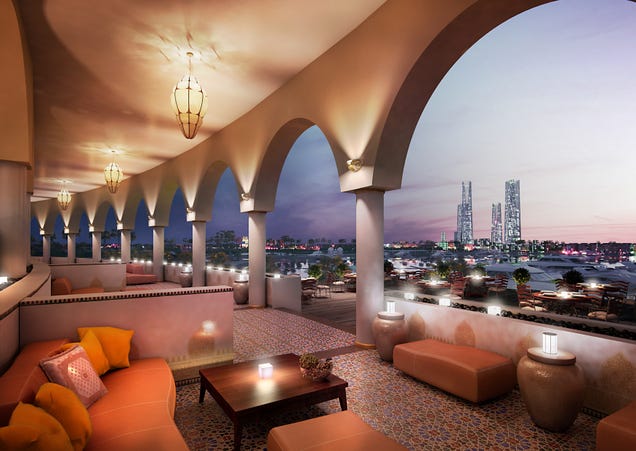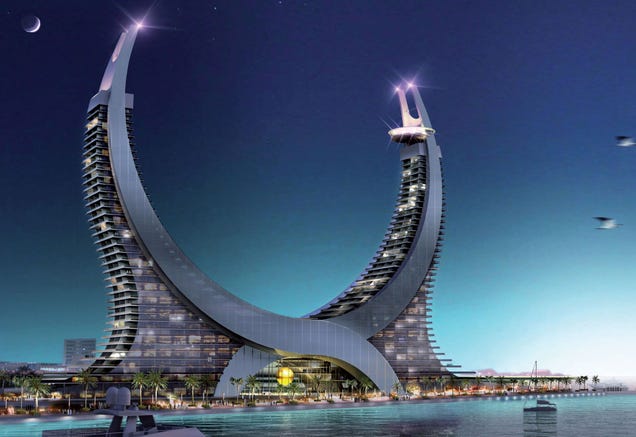 Images: Lusail.com, BDOnline.
With 19 individual districts, four "exclusive" islands, residential neighbourhoods, commercial districts, and plenty of amenities, it will also serve as the crux of the World Cup—the greeting card that Qatar is betting on sending to the rest of the world. The picture it projects, if all goes according to plan, will be one of technologically-enabled ease, leisure, and efficiency.
And at the centre of all this newness is the Lusail Iconic Stadium—one of ten being built around the small country in preparation for the World Cup. Designed by the venerable British architect Norman Foster, the 86,000-seat stadium will have zero carbon footprint and be entirely solar-powered and employ a series of £307,000 devices called "manmade clouds" to shield it from the sun. Floating high over the stadium, these carbon-fibre sun shields will be kept afloat by several solar-powered motors.

Image: Wikimedia.
The city of the future's grim present
Last week, two human rights activists investigating migrant worker abuse at World Cup construction sites went missing in Qatar. The two men reported that they were being followed by the police, and then went silent—days later, Qatar confirmed that it had arrested the men on unspecified charges.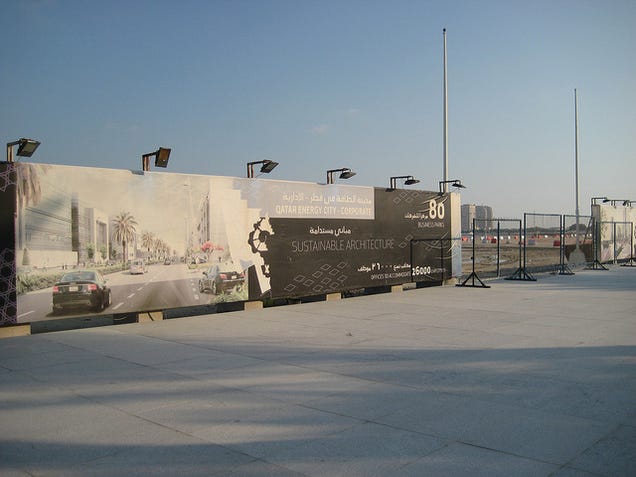 Image: Paul Trafford/CC.
There's a simple reason why two activists investigating World Cup construction would be of such interest to the government. Based on report after report from human rights watchdogs and investigative reporting, amidst the glittering stadium renderings and hopeful language is a single, unavoidable truth: These projects are being built by migrant workers who are routinely abused. The reports, which have come in periodically over the past year, are staggering.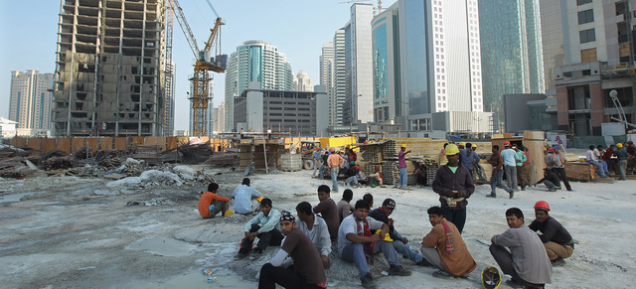 Image: Sean Gallup/AP.
One report from the International Trade Union Confederation says that as many as 4,000

workers could die

before the World Cup due to the poor and unsafe working conditions.

A 2013

Guardian report

showed how 44 Nepalese workers had died over a three month period on site, half due to "heart attacks

heart failure or workplace accidents."

According to

Businessweek

, the Qatari ministry's response to questions about the huge number of heart attacks was terse: "t

his question would be better suited for the relevant health authorities or the government of Nepal."

Meanwhile, in May, the Qatari government admitted that almost 1,000 migrant workers had died there in 2012 and 2013, 246 of them from "sudden cardiac death," most likely from the physical stress of manual labour in temperatures often over 110 degrees.

Another

Guardian

report from late June reports that migrant workers on World Cup executive offices have gone unpaid for a year, living in "

cockroach-infested lodgings," unable to return home, and left without food for months at a time.

A documentary from inside the worker camps reveals how employees may have no access to clean water, no toilets, no food, and other basic human necessities.
Perhaps worst of all is the fact that workers have no agency in their own lives—thanks to their employer-sponsored visas, they are unable to change jobs or leave the country without express permission. All to build a brand-new city big enough to house what amounts to over a quarter of Qatar's current population.
A steep price for the games
If Lusail sounds like Sochi on steroids, that's because it is. Though most World Cup and Olympic host countries have ramped up on investments for each respective event in recent years, Qatar is looking to dwarf the billions that Russia poured into its Olympics.
In light of the sheer capital required to pull off such a scheme, other cities are quickly dropping their bids to become the next host for the Olympics. And only countries that have the billions needed to pull it off are still jockeying for position.
The Olympics and the World Cup, two events held up as beacons of international cooperation and urban development, are increasingly limited to the realm of nations who have the power—and thus the cash—to actually afford to host them. As one Russian activist put it last year, after human rights abuses were reported amongst migrant workers at Sochi, these events are "like drugs for dictators."
To a certain extent, whether or not these abuses continue depends on whether or not the world keeps showing up for these events. It's easy to be outraged right now, but in the end, it all comes down to those two weeks in 2022. Ultimately, it's the audience itself that has to decide what kinds of abuse they're willing to stomach for a sport.

Lead image: Cassim Shepard.