The people of Williamsburg, Virginia, have a problem: the neighbourhood's become so popular so quickly that some fear that local infrastructure will buckle under the exploding population. But that's nothing a few crazy people and cable cars can't solve.
The East River Skyway is a plan to connect Williamsburg and the Lower East Side with a cable car system that could shuttle over 5,000 people in either direction per hour. The trip would take just four minutes and would create zero emissions. Eventually, the plan calls for additional phases to add skyways between Midtown, through Queens and down to Williamsburg as well as a line that would stretch from Brooklyn Navy Yard, through Dumbo and over to the South Street Sea Port. Just imagine the views!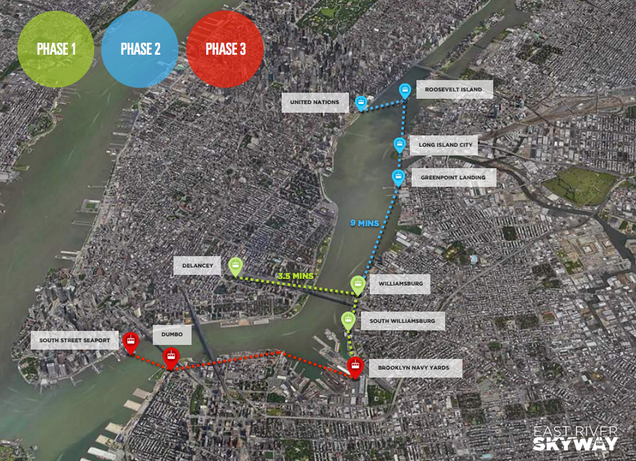 This cable car idea's starting to sound pretty good, huh? Well, here's the real kicker: It's super cheap, at least compared to expanding the train system. It can cost a city about $400 million per mile to run an underground line, according to Michael McDaniel, who's helping to design a cable car plan for Austin. By contrast, the aerial ropeways needed to run a cable car cost as little as $3 million to install per mile. Apartments in Williamsburg cost more than that these days.
Urban cable cars are actually becoming a bit of a trend. Austin is looking at installing a 35-mile-long cable system called "The Wire" to connect its downtown. Portland, Oregon already built one back in 2007 to connect its downtown with a nearby university.  Cable cars are also all the rage in Latin America, with an ever-expanding system in La Paz, Bolivia, systems in Caracas and Rio de Janeiro, a couple in Colombia, and one more planned for Santiago, Chile. In 2012 Mayor of London Boris Johnson opened London's Emirates Air Line in Greenwich, crossing the Thames. It has, though, been criticised as being a 'white elephant' project.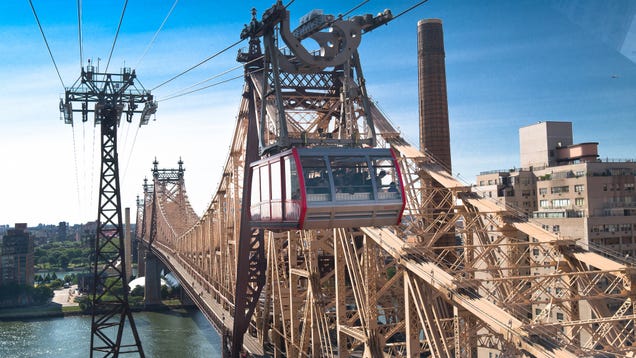 Oh and guess what? New York City already has a cable car system. The plan for an East River Skyway is actually built on the success of the Roosevelt Island Tram, which the city renovated in 2010. Demand for that skyway will only increase as Cornell finishes building its satellite campus on Roosevelt Island in a few years.
It's unclear how far along the East River Skyway plan is, but it's important to highlight that it is just a plan. The project designers are currently building support from locals and surely enjoying some exposure in the press. Of course, this is a long game for them, as they're eying the Domino Sugar Factory project as an impetus to build the skyway. That project is decades away from completion.
Anyone who's waited for more than three overstuffed trains to pass by, unable to hold any more passengers, during their morning commute will tell you that this is not a pleasant problem. A skyway sounds like a delightful solution. Plus, what could be hipper than taking a cable car to work?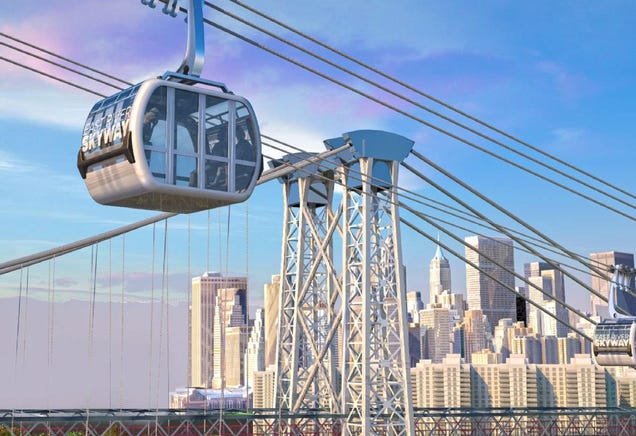 Images via East River Skyway / Flickr