Induction stove tops might be more energy-efficient than electric or gas burners, but it can be hard to know what temperature you're cooking at; a red-hot burner is hard to mis-interpret. So for its new Chef Collection Induction Slide-in Range, Samsung is introducing a clever new feature that uses LEDs to project fake flickering flames onto the side of a pot.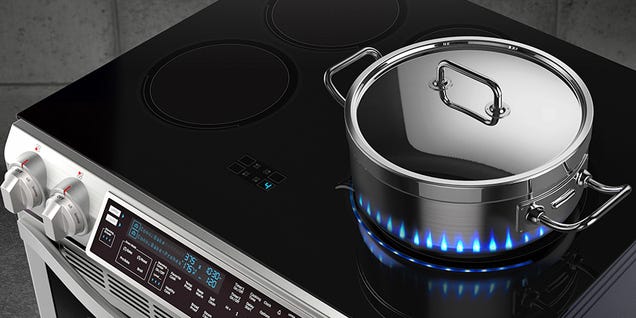 The faux-flames aren't just for show, either. Samsung's Virtual Flame Technology uses a ring of blue LEDs embedded below the glass cooktop to cast the flame-like glow, and the brightness indicates how hot the induction burner has been set. The brighter the flames get, the more heat is being applied to what you're cooking. It's a simple trick that's surprisingly functional for when you're hectically bustling around the kitchen.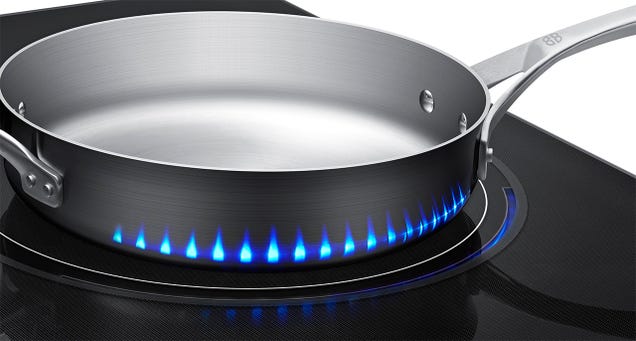 There's some fun technology inside the Chef Collection Induction Slide-in Range's 5.8 cubic foot oven, too. Using a removable divider it can be split into two separate upper and lower sections, each with a different temperature for cooking multiple dishes at once. And the two sections remained sealed to prevent strong flavors from one dish infiltrating another.
Understandably, the Rolls Royce of kitchen appliances comes with a hefty price tag: $3,700 (£2,300). So you'll definitely need to know that you'll want to need to know how hot your stove is, if you get me? [Samsung]