A bathroom-supplies company over in the US held a competition to find the nation's best bog. Well, today they announced the winner, and somewhat ironically, it recreates nature around those who are answering calls of nature.
After months of public voting, the winner is the toilet inside Longwood Gardens, a botanical garden outside of Philidelphia. It was once a farm owned by William Penn and later became a public garden after the land was bought by the industrialist Pierre S. du Pont. Yep, the same guy who made DuPont into the mega-corporation it would become, and eventually went on to run General Motors. Anyways, du Pont made the gardens into more than 1,000 acres of public gardens. He actually ended up leaving much of his extensive fortune to the gardens.
In 2010, the garden's administrators hired the British architect Kim Wilkie to design interior bathrooms for visitors, and it's actually very cool. The individual bathroom are accessed through doors on a long, curving wall inside the greenhouse. Each door leads to an individual "cabinet" that looks almost like a grain silo, lit from above, and that Wilkie says are designed to capture rain water and re-use it in the gardens.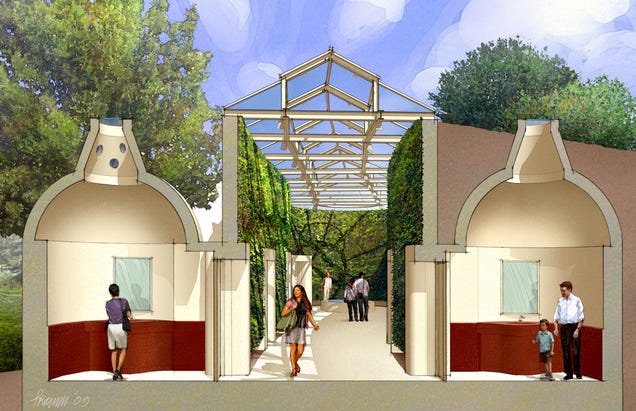 Image: Ambius.
The wall along the entrance is actually one of the largest green walls in the country: It has almost 50,000 individual plants and 25 species, including orchids and ferns, and according to Philly's Daily Local News these plants scrub "15,500 pounds [seven tonnes] of dust and harmful toxins " from the air annually. According to the gardens' admins, it's become a big point of interest for visitors, and Longwood's chief marketing officer calls it "the only restroom with its own docents."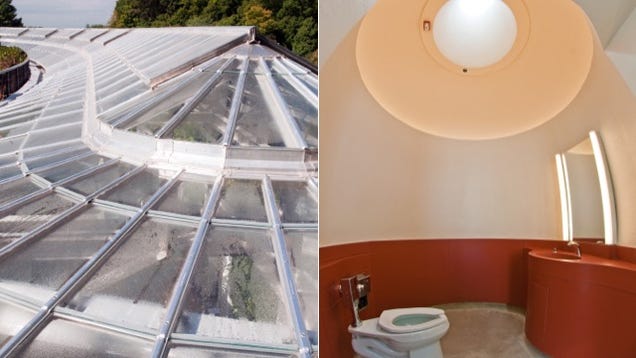 So there you have it. I had my poop jokes locked and loaded for this announcement, but this is a sincerely cool bathroom, and apparently the internet agrees.