It's an interesting time for tablets. Ubiquitous yet stagnant, we love grubbying those shiny personal screens yet our general uses of them haven't stretched much beyond the read/create/play functions that earlier generations are still perfectly capable of. This means upgrade cycles are pretty slow, and slowing.
So we thought we'd look at the iPad Air 2 through this prism, in terms of a tablet in its own right but also as an upgrade over its predecessors. Not so much the original Air, as an annual tablet switcherroo is surely too much for anyone, but more the third generation iPad, where many are currently happy to sit, thank you very much. How far has the iPad come?
Well, with screen sizes just about set, lightness and thinness are the obvious evolution points away from faster innards. But while it's a given that our gadgets get thinner every year, the iPad Air 2 crosses a threshold where thin actually makes a difference.
Last year's iPad Air may have done it in name, the leap from two-handed, full-size iPadding to one, yet it never felt that way in practice, too unwieldy for a single mitt. This new 444g, 6.1mm-thick iteration is different, the old Air's whole extra nine grams and relative lack of rigidity palpable.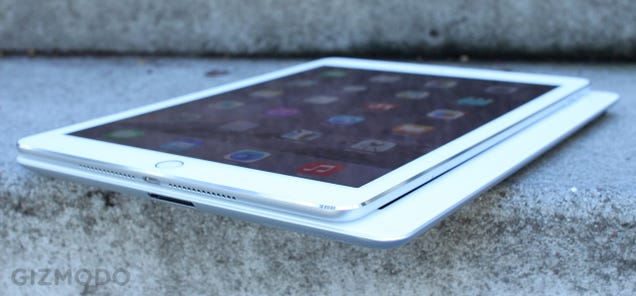 Of course, the new Air has raised its game in other areas, too, as we covered in our hands-on. The camera is better, the Wi-Fi faster, the processor more potent and it can now read your fingerprint with Touch ID for payments and password bypasses. The pick of the tech bumps, though, is the anti-glare screen, which while still not quite pulling off the ebook thing in direct sunlight, cuts down on reflections noticeably. Late-night, sofa-bound bouts of Zen Pinball's South Park table are now a double chin-free pleasure.
Screen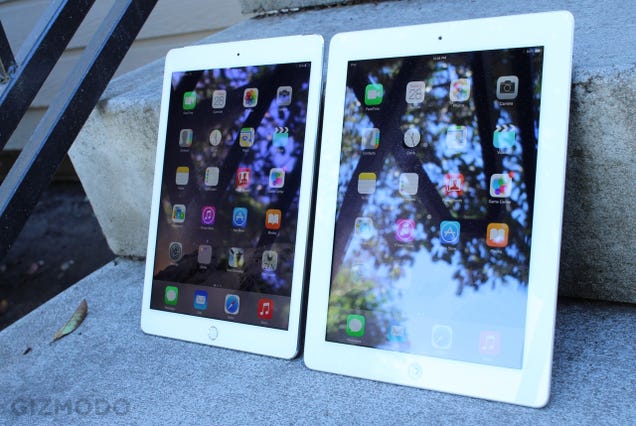 There's no easy way to say it, but the iPad Air 2 has the best iPad screen ever made. That's it next to a third-generation iPad above. As well as the reduced glare, it's also laminated, getting rid of the pesky air gap between the glass surface and the actual display, so when you reach out and touch icons, it feels more like you're actually touching those icons more than ever before. Cosmic.
That said, the 3.1 million pixels underneath that glass are identical to the ones in that third-generation iPad above. So while that beautiful high-res screen may be one of the best reasons to buy an iPad (or a Galaxy Tab S for that matter), it's not worth the upgrade alone.
Performance
The iPad Air 2's A8X chip is a bit of a beast. Enough noticeable grunt to convince anyone to upgrade from the A7 processor in the previous iPad Air? Probably not. But compared to the ageing A5X, it's like driving in the fast lane. With a Bugatti Veyron. Compared to, say, a Ford Mondeo in the middle lane. Or something. Sometimes it pays to look back, and the iPad has come a long way in a few years.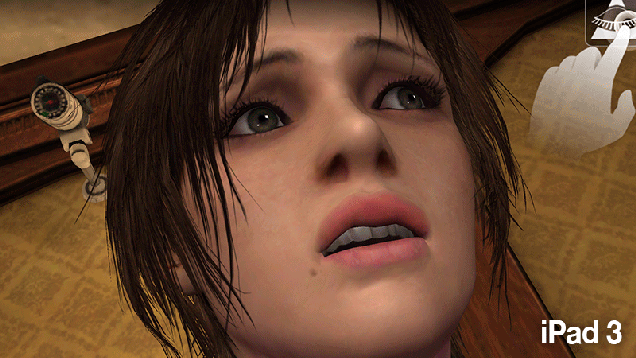 Games are the biggest difference. It's easy to think that any iPads from the third generation and beyond run games decently enough. With a few recent exceptions like BioShock, there's certainly not like there's anything on the App Store you couldn't play if you wanted. But firing up intensive games like Republique, Dead Trigger 2 and Grand Theft Auto: San Andreas on the new tablet shows just how much of a performance push the iPad Air 2 gives.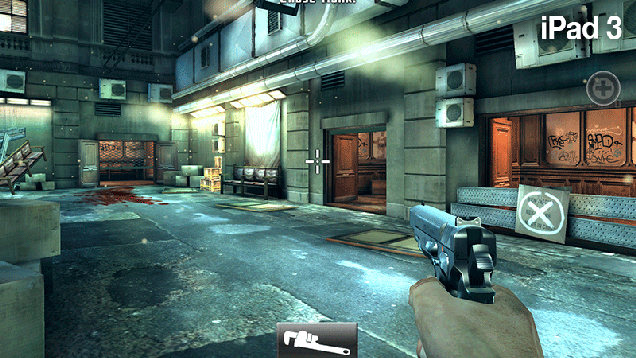 While the GIFs above illustrate a huge difference in the level of detail you can see in these games, they don't tell the whole story, because performance is boosted considerably, from stuttery and slow to buttery and responsive. Grand Theft Auto looks exactly the same on both tablets, without any graphical upgrades, but on the Air 2 it felt like a game you'd actually want to play. It goes without saying that the iTunes App Store is still the first, best place to get mobile games, too.
Touch ID
The inevitable fingerprint upgrade works as we've come to expect, analysing your digit so that you, and only you, can access whatever you've got inside it. It's clever, slick tech and the implementation of it in third-party apps is widening. We find it's at its best when bypassing lengthy passwords, not just four-digit entry ones, although having to enter your iTunes password once a day anyway is irritating, if secure.
That said, it's not something we were crying out for in terms of security. We typically use our tablets at home. Sure, they're often in the bag, shipped around all day as if we're some kind of gadget chauffeur, but it's rare they're exposed. We also don't tend to naturally work on tablets, so there aren't any top-secret files to protect. We're not afraid of people seeing that our Netflix queue includes schlock horror and age-inappropriate anime, either.
Camera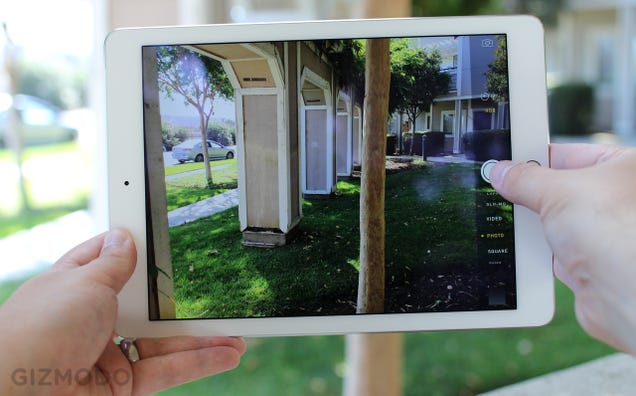 We're still not 100 per cent sure physical tablet photography actually exists as a thing outside the occasional smart-flap-wielding uncle at a wedding. If it does, cool, but the iPad Air 2 still wouldn't be enough for us as anything more than a very swish viewfinder. Now that we've tried the excellent camera in the iPhone 6 Plus, which makes taking decent pictures easier than any camera we've used, it's just so cumbersome.
But if you do want to take pictures with a 10-inch camera, the Air 2's eight-megapixel snapper is actually pretty damn decent. And, again, compared to 2012 vintage, of course, the differences are night and day.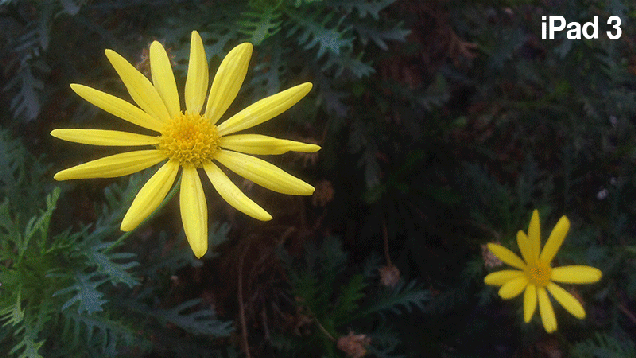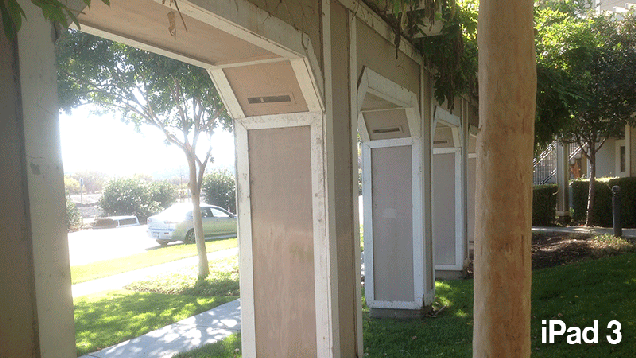 You will see a lot more detail in good light and even more in low light. We would never have used an iPad's camera previously for anything at all, but this is definitely a valid backup in a very tight pinch.
Apple SIM
There's one last major potential reason to upgrade to the iPad Air 2, and that's if you plan to buy the cellular version with integrated LTE. That's because the new iPad comes with an Apple SIM that can let you change carriers whenever you want – or literally have pre-paid plans from multiple carriers at the same time, and switch between them when one has better reception than the other. Or when your data runs out. Or if you're overseas and don't even have domestic carriers to fall back on. Or... you get the idea.
This is likely to be a slow burn, with much government involvement in this potential state of perpetual roaming and, indeed, EE is currently the only network it supports at the moment. If you're travelling to the US, though, you have more options to the tune of one in T-Mobile and Sprint…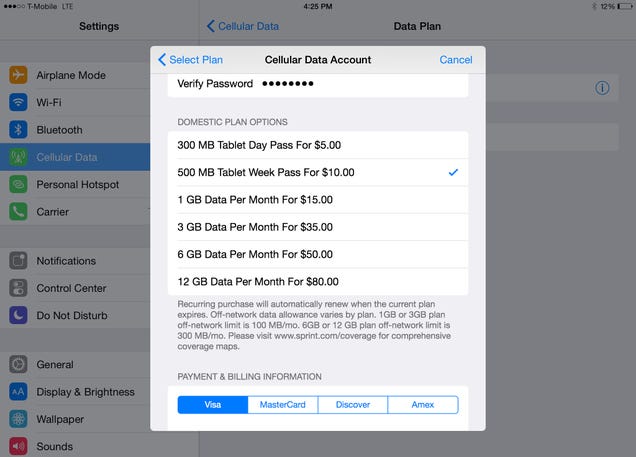 And in principle, the beauty of the idea is how little you have to do to get started. We signed up for a Sprint service in the US on the iPad itself, for just $10, without ever having to go into a store, speak to a rep, or do anything really. (We tried the same with T-Mobile, but glitches lead us to tech support.)
You do have to enter in your address and credit card information, of course, but it was still so little hassle that if it evolves to take on enough carriers inside the UK and out, we could see ourselves skipping monthly plans and just buying week-long data passes whenever needed.
Indeed, if you've never had an LTE-equipped tablet before, you really must try one, too. It's still something special to walk away from your home and still be able to surf your favourite tech site. Or play, say, Hearthstone, which requires a constant connection to fuel its multiplayer matches but only sips gingerly at your data plan as you zap opponents with spells. We clocked just 300KB of use for 15 minutes of ownage.
Like
It's an iPad. Seriously, that sounds funny, but it does come as a mark of a certain quality. It means it's a very finely crafted tablet with an app store filled to bursting with the latest mobile games and utilities. And this one is more powerful, thinner and lighter than ever before, as you would expect.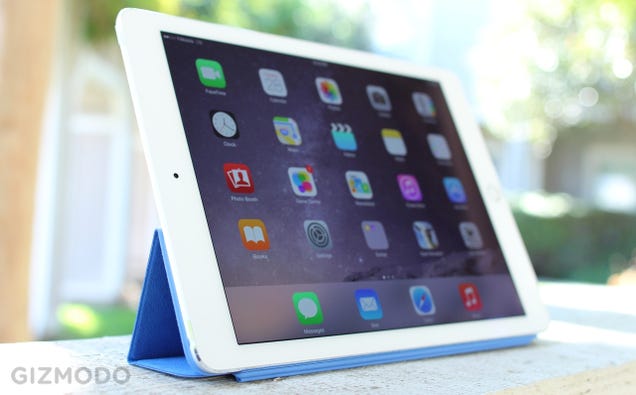 The cellular version will actually make a lot of sense once Apple SIM takes off, too, because it's totally unlocked and you can switch between carriers. Right now, that might not mean much, but it's definitely one to watch.
The battery charges fast and still feels like it will last all day, with hour-long episodes of TV shows only making slight dents. You'll barely see any dip whatsoever if you leave it sleeping, too, unlike many Android and Windows tablets we've tried.
No Like
Is it possible to make a tablet too beautiful? Maybe we're neurotic, but these are versatile, multi-tasking devices – is that always best served all dressed up in your Sunday best? We do feel like we have to smother its waif-like aluminium in a chunky case the minute it has to do any kind of travelling, poor thing.
Touch ID is also a tough sell until it trusts our fingerprints enough not to require a password ever again, while Apple Pay isn't supporting bricks-and-mortar retail payments in the US yet, let alone the UK where we're still waiting for the invite altogether.
It's inevitably expensive, too. The 64GB cellular model we used sets you back £579, or you can take that down to £479 if you're not overtly keen on slinging LTE data. There's a 16GB version for £399, but trust us, you don't want it – storage fills up fast and it's still a major pain to upgrade operating systems or selectively back-up apps in iOS.
Oh, and a small gripe, but why does Apple still not have multiple user profiles for iPads, either? Apple's Family Sharing assumes that each of us will have our own Apple devices, rather than just their own collection of purchased apps.
Should I Buy It?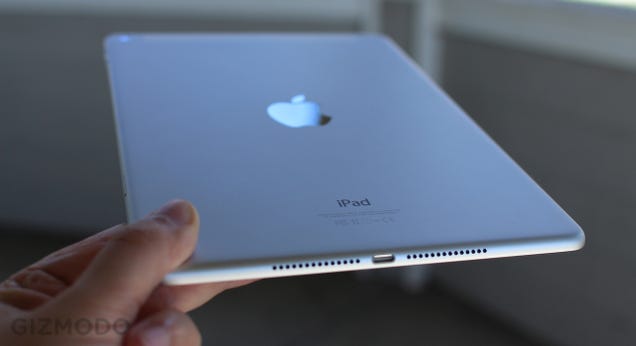 In simple terms, if you don't have an iPad and want an iPad, this is the best iPad. It's meaningfully better in terms of portability – light, thin, rigid, glare-resistant – than the previous iPad Air, so goes straight to the top of the wanted list. But for £359, the previous 32GB iPad Air will suit most just fine, or the 32GB iPad Mini 2 (not the Mini 3) for £279. There are options.
And we reckon, if you don't yet have a tablet and want a tablet, you probably want an iPad. Unless, of course, you're looking for a Windows 2-in-1 with a nice keyboard dock or a stylus or something, which obviously you won't get here. Sure, you can do work on the iPad, but it's not made for the serious stuff in the traditional sense. We still wouldn't trust ourselves to edit Gizmodo reviews in mobile Safari, for instance. Maybe next time.