Lego has finally confirmed the partnership with Ferrari, Porsche and McLaren in a new theme called Speed Champions that will launch in March of 2015. Seven new sets will be available in the line and all of them are awesome. See them all for yourself, laid out below.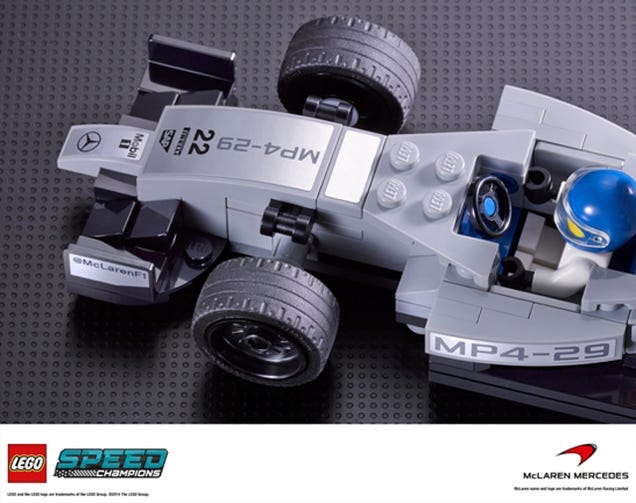 Seven different LEGO sets will be available from spring 2015, ensuring lots of racing action and squealing tyres in the children's room. A large red Ferrari truck drives up – together with the Ferrari F14 T Racing car.What's more, a McLaren Mercedes pit stop set will also be available, featuring the McLaren Mercedes MP4-29 as well as the home stretch with lights function and two Porsche cars – the 911 RSR and 911 GT3 R Hybrid. Also four sets of stand-alone vehicles wait to hit the track. Whether it is a racing car or road car – the new brick built car models will get the hearts of five- to eleven-year old as well as grown up engine fans beating faster.

In addition to typical LEGO building fun, the LEGO Speed Champions series of vehicles is particularly amazing thanks to its many authentic details: the LEGO minifigures are wearing racing car overalls, there is a winner's cup, flags and detailed tools – inspired by their big role models Ferrari, McLaren and Porsche whether you are a passionate builder or a keen car fan, there is an exciting offer. Now just one question remains: Who will be the Speed Champion in 2015?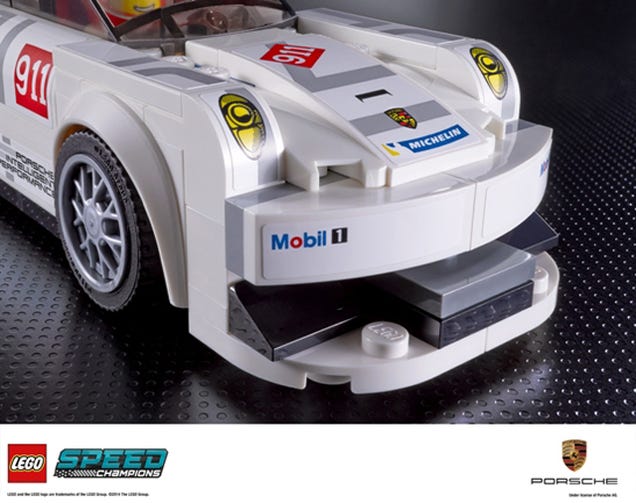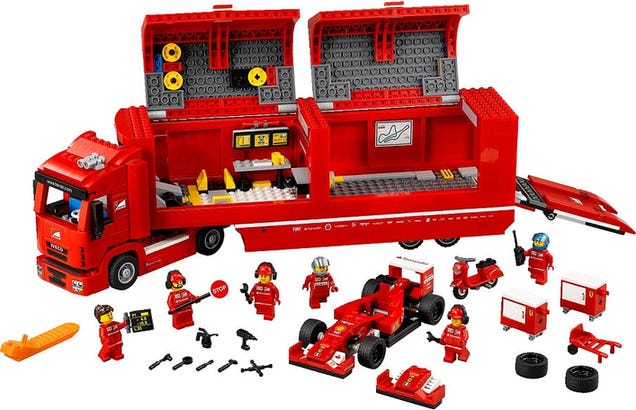 As a certified petrol head and long time Formula 1 fan, I have dearly missed the Lego Racers theme since its departure in 2012. Lego is finally utiliisng their licensing agreements with McLaren, Porsche and Ferrari in a new line called Speed Champions and I could not be more excited.
Shocking enough, all of the sets are in Minifigure scale, which was barely done in the old Racers theme. The models are welcomed, for sure, as my fairly elaborate City themed Lego display has been missing a proper race track for a few years now.
The above Ferrari F14 & Scuderia Ferrari Truck (75913) has to be my favourite, with a four-fig pit crew and Fernando Alonso and Kimi Räikkönen minis. The F14 car has accurate livery and the support truck is a spitting image of the real thing. I promise you, I will buy at least a dozen of these as the Alonso Minifigure is sure to have perfectly manicured eyebrows. I am also already designing a "Leave me alone, I know what I'm doing" custom torso for the Kimi fig.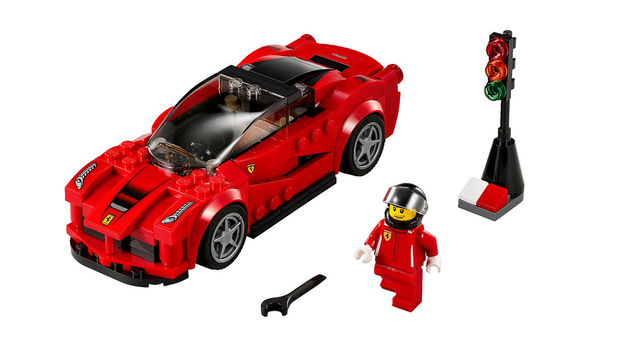 Ferrari F150 (75899) or the LaFerrari (Ferrari the Ferrari) as it is more commonly known, is a decent model for this scale. A few stickers adorn the model (let us all just say it now, we hate stickers) to get the model looking about as close as you are going to get at this scale. I'm excited that the wheels on these are not the generic Lego wheel/tire combination and that for once the wheels are actually flush with the fender arches instead of poking out like some sort of 1980s low rider.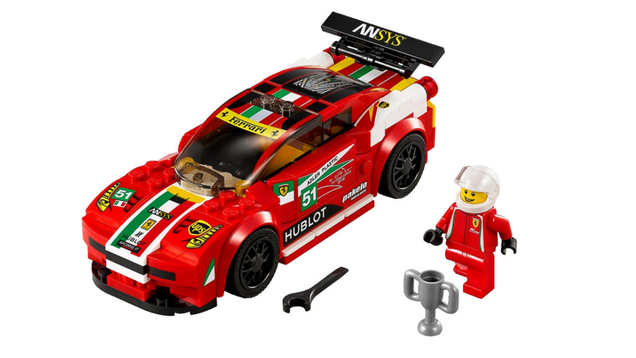 Ferrari 458 Italia GT2 (75908) is virtually identical to its LaFerrari counterpart, with just subtle differences in the front splitter, a different set of wheels, an adjustable wing on the back and a trophy, no doubt for taking the 24 Hours of Le Mans.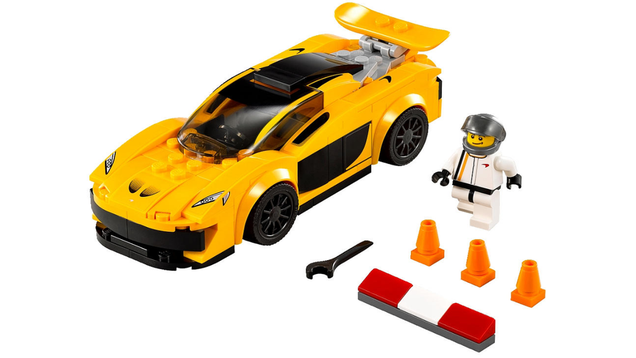 McLaren P1 (75909). If money were no object, I would be driving one of these right now. The cones and kerbing are a nice touch but the best thing about this model is the use of the snowboard element as the rear wing.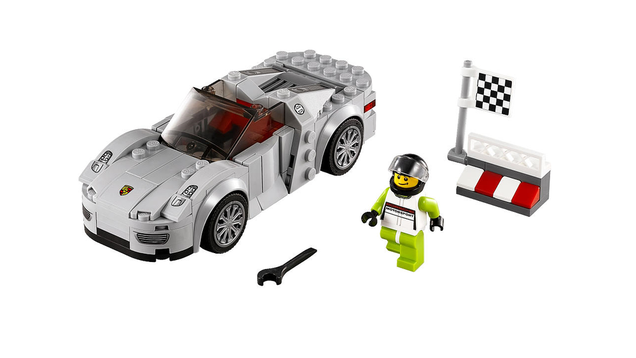 The Porsche 918 Spyder (75910) is quite a good take on the car. Again with the custom wheels which are a spitting image of the exact wheel that comes on the 918. I will be pretending that the driver fig is Mark Webber after just dropping off Maria Sharapova.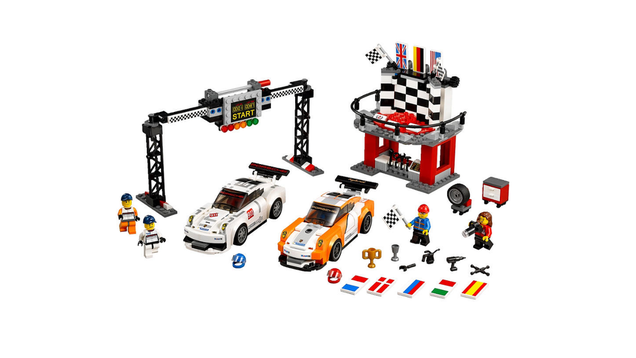 Porsche 911 GT Finishing Line (75912) is brilliant. The two 911 GT3s are a beautiful design with what looks like specific wheels for the left Cup Car and the GT3 R Hybrid on the right. The start line is a nice touch, but that podium is especially good with the flag tiles for the UK, Germany, USA, France, Denmark, Russia, Italy and Spain. I'm guessing these are stickers and hopefully there are flags for Australia, New Zealand, Switzerland and Austria so that they can cover all of the Porsche factory drivers.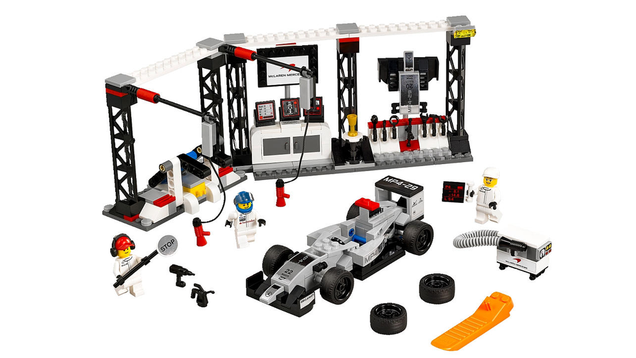 Last, we have the McLaren Mercedes Pit-Stop (75911) and the MP4-29. It's good, of course, but the driver is neither Danish Kevin Magnussen or Jenson Button which is upsetting. I've wondered this entire season why there isn't a Lego advertisement livery on the MP4-29 and for some reason they aren't acknowledging that one of the drivers for McLaren is from Denmark, the home of Lego. I'm going to have to find a Pink Helmet for the Button car.
[Leg Godt]