You can't ride a bicycle in a traditional suit. The wear and tear on that fabric will be enough to tear holes in the trousers and rip the shoulder seams. Not a good look! You could keep a suit in a bag and change when you get to work, but you'd have to show up early. And smelly. Clothes designer Parker Dusseau has a different idea: formal dress specifically made for cyclists.
Last year, Dusseau introduced a fine cycling suit made of merino wool that got some rave reviews. But they sent me the latest model to take for a spin.
Design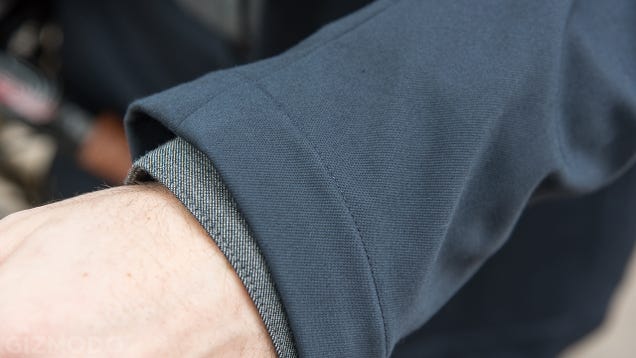 Made from a cotton, nylon, and elastic blend, the commuter suit takes its cues from the synthetic athletic clothing you've probably seen at your local Halfords. You're paying the price of a decent suit for those materials, though: $620 (£395 excluding shipping to the UK) for the blazer and trousers combined.
Unfortunately, just like any other athletic wear, the suit's ugly as sin in person. The four-way stretch material makes it incredibly comfortable to ride in, letting you reach for handlebars and pedals, but it doesn't look all that great. It looks cheap, particularly after all the wrinkles that accumulate by the time you reach your destination.
Compared to a typical suit, the Commuter uses stretchy nylon and cotton for shedding sweat and staying cool. It doesn't keep your back completely dry though; there was still sweat on my undershirt after riding with it for a bit. And once it's nice and disgusting after a few rides, you won't be able to wear it for a while. You can machine wash cold, but you'll need to hang-dry it to avoid wearing out the materials.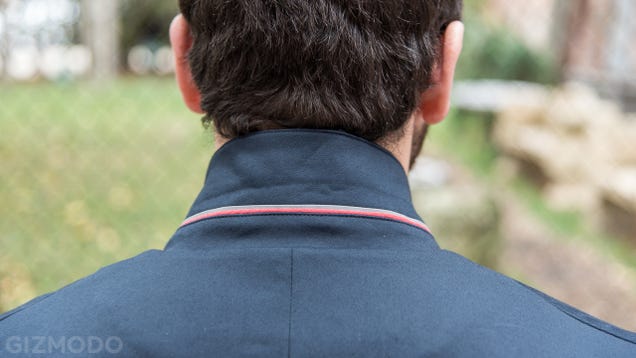 There's reflective trim inside the collar of the jacket and on both bum pockets of the trousers, which actually complements the style well. But I can't see how the reflective trim would ever actually be useful when riding. Since the collar faces forward and the jacket usually covers the flaps, the trim is pretty useless. This is what drivers behind you will see: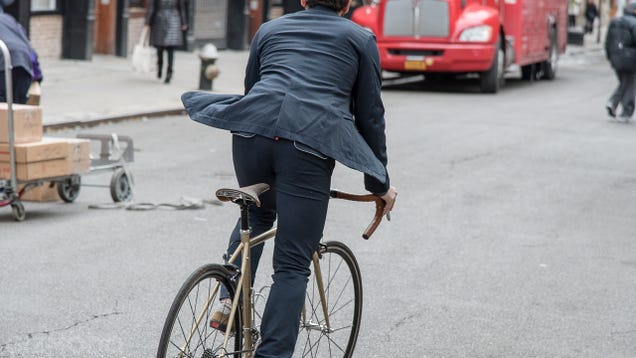 Two snap buttons on the chest allow a breaking point if the suit stretches too much while riding, but they look very cheap. And then there's the suit's biggest dealbreaker to consider: I simply couldn't find one that fitted me. The default sizes didn't fit, and the suit's stretchy blend of materials isn't meant to be tailored.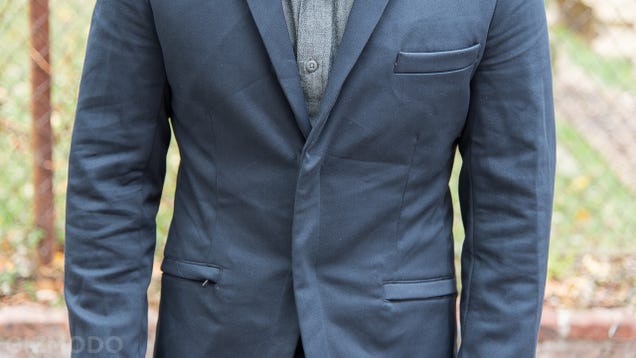 Originally, Parker Dusseau sent me a medium size suit where the fit was baggy and the lengths were all too long. (I'm 5' 9" and 11 stone, so I found that a little odd.) I then received a small where the length on the jacket was good but it pinched around my waist, and the trousers were still too long. Those chinos were also pretty tight, which led to bunched up junk and stretching around my thighs. Maybe if you were a very tall, very skinny person with short arms and long legs, that would be perfect.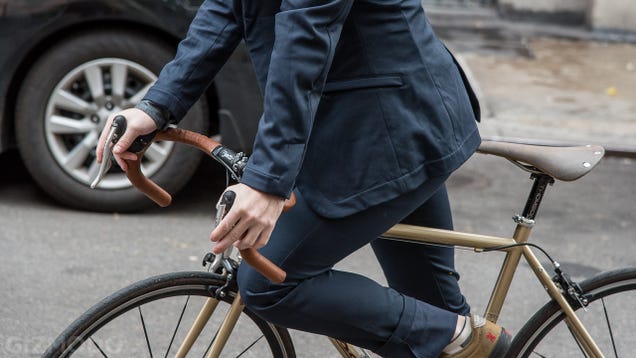 Parker Dusseau also let me try one of their merino dress shirts. Having a stretchy suit still leaves you at the mercy of what you've got underneath, so it was nice to have an athletic dress shirt to go with the jacket. Unlike the suit, the shirt was excellent. It looks good and stretches in all the right places, allowing air to vent out the back with little slits behind the armpits. Why the same design philosophy wasn't applied to the suit, I'll never understand.
Like
It's comfortable to wear when you're on a bike. No tension or pull occurs when reaching for handlebars. The suit stretches fine, but if you have a suffocatingly tight shirt on underneath then you're out of luck.
It keeps you comfortable and cool better than any other suit would in the same situation.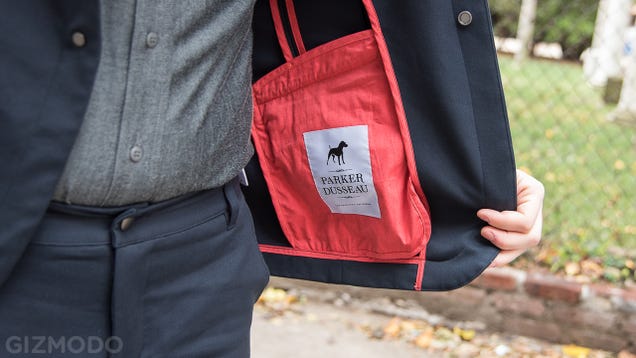 The pink trim on the suit is a really neat design choice. The Parker Dusseau dress shirt is really well-designed: great style, very comfortable, and it feels like great quality.
Dislike
The thing fails as a suit. It's not professional looking. It feels cheap. It didn't fit me like it should, no matter what size I picked. The reflective trim is in some pretty strange, almost useless spots. For something so expensive it's hard to see why it's worth the money.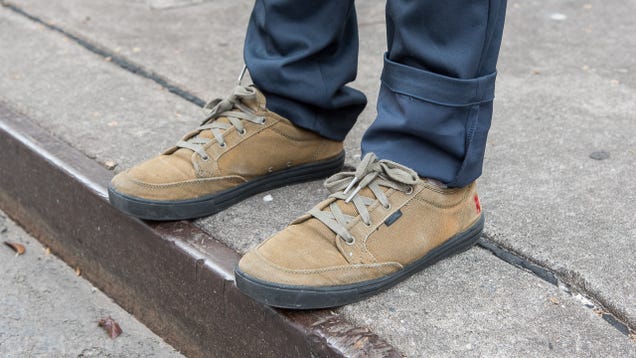 Should You Buy It?
Not unless you're in the extremely niche category of being able to wear shitty suits to work and ride a bike too. It doesn't serve as a suit and as cycling clothing it's pretty comfortable... but if you want cycling clothing, why not wear a professional cycling jersey to begin with?
High praises to Parker Dusseau's dress shirts, but skip the suit. It's just not that good.