Our weekly round-ups of all the newest and best apps are as much a part of Giz UK's furniture as Mr. T telling us to get some nuts in the comments. So after a year's investigation, here is a selection of the best Windows Phone apps from each month, spanning the crazy 52 weeks that was 2014.
January
BBC Radio: Many phones have FM Radios these days, but many do not. Either way, you may want mobile access to ad-free radio without having to buy a pocket radio. BBC Radio gives you instant access to all the radio stations the BBC has to offer through the power of the internet. [Free]
February
Poki: An unofficial app for the app Pocket, this makes reading on the web a smidge easier. Find an article, or video that you like online but want to come back to it later? Rather than bookmarking it you can store it in the app for later use. You can completely customise your reading view, as well as storing said webpages offline for use in those hard-to-reach signal-less areas. Best of all, it will record your progress through an article in case you aren't able to read it all at once. [£1.49]
March
Office Lens: Designed to act as a scanner you can carry in your pocket, Office Lens is used to take picture of your surroundings and then turn them into an editable document. Whether it's a brainstorming board in a business meeting, a classroom blackboard, or even something as simple as a shopping list -- Office Lens and OneNote integration will make sure you always have them with you. [Free]
April
RingGo: Paying for parking is a pain, especially if you forgot to bring some change with you. RingGo is a pay-by-phone service that is currently in use at over 4,000 parking sites across the country, put in place by 60 local authorities and numerous private parking companies. In-app, you can register your vehicles, pay, and top-up. [Free]
May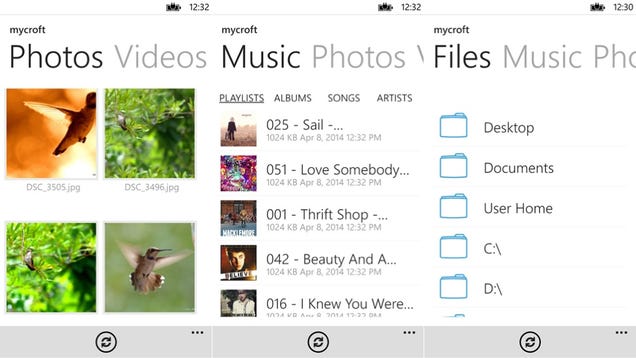 Tonido: Going off somewhere and realising you forgot to pull a file from your computer is a nightmare. Luckily if you have Tonido installed on your phone and your computer, you can access your files remotely. Not only does this mean you can get hold of your files wherever you are, you can also download files to your phone without the need for pesky files. [Free]
June
Kobo Books: One for the readers out there, Kobo gives you access to over four million free ebooks and comics from your phone. With cross-device syncing and a customisable style, it's a nice way to improve your reading library with little effort. [Free]
July
Photoshop Express: This is Photoshop on your Windows Phone, what's to explain really? You won't have any of the complicated stuff you get on the full PC version, but you have the basics and that's more than enough for editing on the go. [Free]
August
Who Called Me UK: Keep getting random calls and have no idea who's trying to pester you for whatever stupid reason? Who Called Me UK has an extensive list of numbers belonging to telemarketers, debt collectors, banks, and interviewers. All so you can find out exactly who's disturbing you in the middle of your dinner. [Free]
September
Untapped: A social network for lovers of the glorious nectar of the gods: beer. With Untapped you can easily find your nearest craft beers and bars, see which beers are popular, as well as a personalised recommendation system that helps you find somewhere to drink.
October
PhotoMath: Calculators are fantastic because they've pretty much negated the need to work out minor mathematical problems in our head. Don't you wish you had something suitable for more complex things, though? PhotoMath is just that, functioning as a calculator-like device that can solve equations using your phone's camera. Just snap a picture and let it do it's work. [Free]
November
ReadAloud: Left your glasses at home again, did we? ReadAloud has you covered because it will read out webpages, files, and text that you enter in to the app. Handy, but sadly it can't be used to read out your emails or text messages. [Free]
December
Fitbit: Anyone with a Fitbit device could do with using this app, but even those without one can use this app thanks to a new update. MobileTrack is a new feature in the app that will estimate your progress using the phones own sensors, meaning you don't always need a Fitbit tracker. Also included is a beta version of Cortana support that will let you log your food intake without fiddling in any menus. [Free]