If you happened to type Google.com into your browser yesterday you saw a wintery doodle by one Eleanor Davis, a illustrator who created four seasonal doodles for the search giant this year. These were all fantastic doodles, but her sketches that Google didn't run are pure gold.
Davis is an illustrator who's drawn two graphic novels and illustrations for a long, long laundry list of clients. Her first three Google doodles ran this year to commemorate spring, summer, and autumn, culminating in yesterday's "winter" doodle:

It's only natural that each doodle goes through multiple rounds of brainstorming and edits — after all, that's a pretty standard process for an artist working on commission with a client. But we rarely get to see the ideas that were left unfinished, and yesterday Davis tweeted some of her unseen sketches, which were later picked up by Slate's Dan Kois.
"Gonna tweet some sketches i did for the doodles," Davis tweeted of this summer doodle, adding, "they did not go for any of my ideas where the OOs were tits:"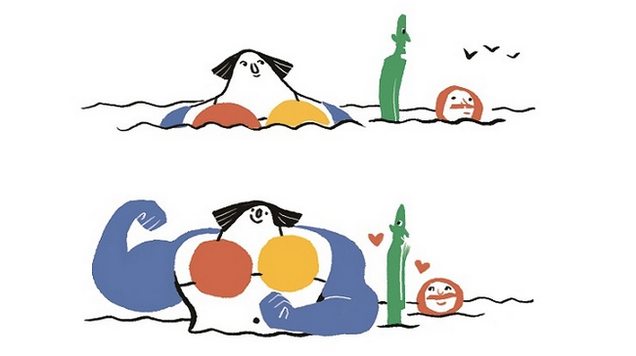 Meanwhile, this sketch — another summer doodle — shows people cutting loose and revealing their Google tattoos:
haha how about a bunch of straitlaced people get hot & get naked & are secretly covered in tattoos spelling GOOGLE pic.twitter.com/sgUPIDEV3Z

— Eleanor Davis (@squinkyelo) December 21, 2014
Back to winter, with a series of facial hair-related doodles:
man google just wasn't into the facial hair thing like I was pic.twitter.com/N7QUMqOna2

— Eleanor Davis (@squinkyelo) December 21, 2014

And my personal favourite, a sketch for what seems like an ace autumn doodle: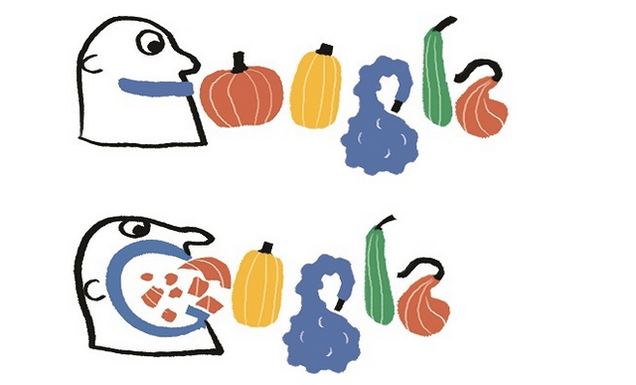 Check out more of Davis's work on her website, or head over to Slate to see more of the doodles that didn't make the cut.
All images courtesy of Eleanor Davis, used with permission.