"We fly like nobody else in the Army," Col. Michael Musiol, commander of the 82nd Combat Aviation Brigade, recently told Stars and Stripes magazine. He's right. The OH-58 Kiowa family of helicopters has been serving on the front lines, both as an advanced scout and emergency evacuator, for nearly 50 years. But as its tenure in Afghanistan comes to a close, will the Kiowa Warrior finally retire?
The OH-58 Kiowa is a lightly armoured military helicopter employed primarily by the US but which has also been exported to a number of allies including Australia, Taiwan, and Saudi Arabia. Development began in 1960 as part of the US Army's Light Observation Helicopter (LOH) program. Over the next four years Bell Helicopter and Hiller Aircraft battled for the lucrative defence contract, with Bell eventually underbidding Hiller for the win. Bell's 206A design became the OH-58A Kiowa (named in honour of a Native American tribe).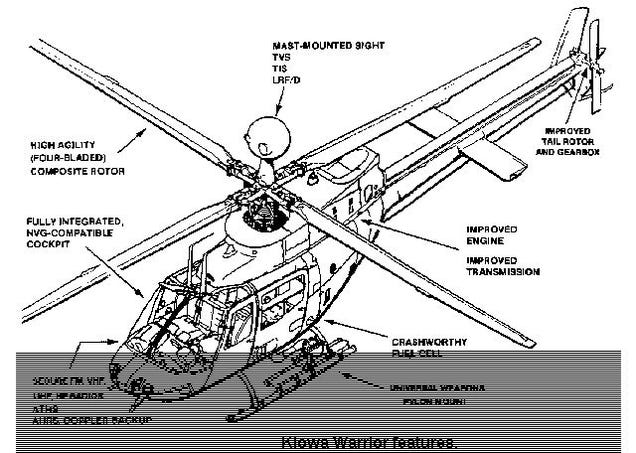 The Kiowa platform received an engine and avionics upgrade in the 1970s to become OH-58A/C (the B variant was exported to Australia). It was upgraded again in the 1980s as part of the Advanced Helicopter Improvement Program (AHIP) which sought to counter the presence of armed gunboats in the Persian Gulf with armed interdiction helicopters—specifically, armed OH-58D Kiowas, known as the Kiowa Warrior. Amazingly, Bell and the DoD were reportedly able to develop the new variant in less than 100 days, though the first Kiowa Warrior wasn't actually delivered to the Army until 1991. Still, it served as a highly functional replacement for both the older AH-1 Cobra and earlier OH-58 A/Cs.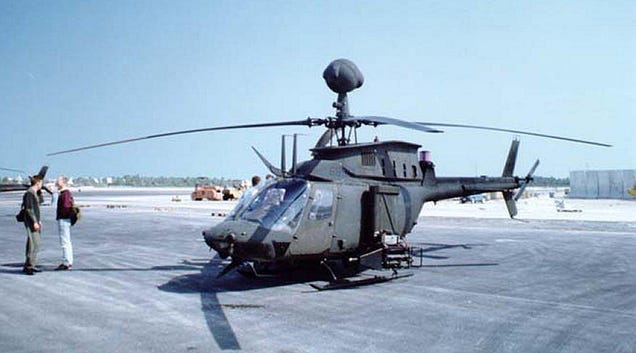 Image: FAS
The OH-58D measures 42 feet (12.8m) long and 12 feet (3.6m) tall with interior space for a pair of pilots. Powered by a single 650 HP Rolls Royce turboshaft engine driving a single 35 foot (10.6m) main rotor, the Kiowa has a top speed of 149 mph and can remain airborne for up to two hours (or 161 miles, whichever comes first).
The OH-58D also incorporated a pair of very unique features: A Mast Mounted Sight (MMS) and its forward Wire Strike Protection System (WSPS). The MMS is that little ball you see sitting atop the rotor in the image above. It's a gyro-stabilised optics system that includes visual and thermal spectrum cameras and an integrated laser range finder/designator. The WSPS, on the other hand, are those little knife-like protrusions around the upper edge of the cockpit. They're designed to prevent wire and power line strikes (like what happened to that chopper at the end of Die Hard with a Vengeance). The Kiowa was the first to incorporate the WSPS system but it proved so successful that the Army subsequently adapted it to virtually every helicopter in its fleet.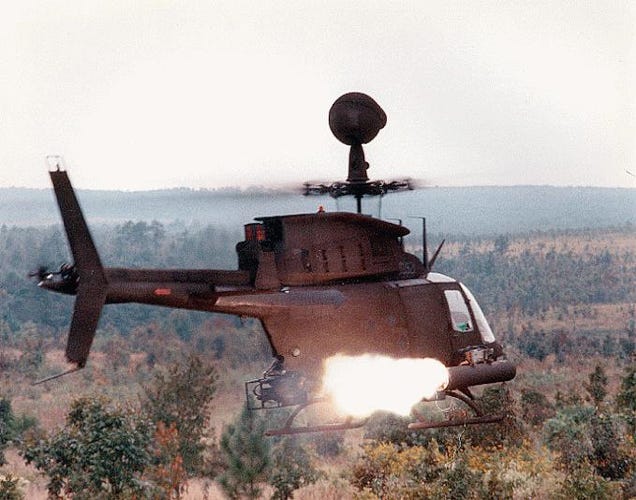 Image: FAS
The Kiowa Warrior, the armed version of the OH-58D, also incorporates a pair of fuselage-mounted weapons pylons which can each hold a Hellfire missile, a 7-round LAU-68 rocket launcher armed with Hydra 70s, and a .50 cal machine gun. Additionally the Warrior has received upgraded comms, better visibility at night and in adverse weather, and an integrated, partially automated cockpit.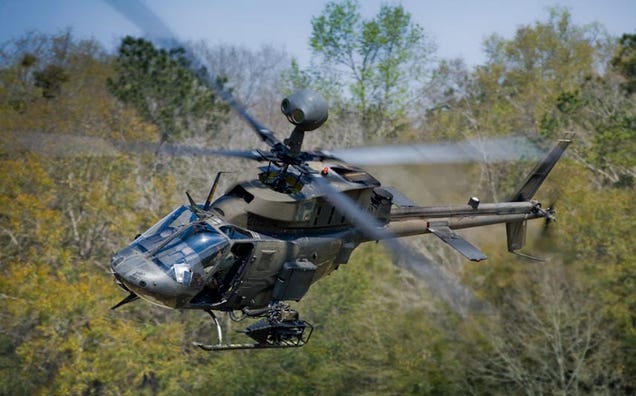 Image: Bell helicopters
All these systems work together to help the Kiowa Warrior do what it does best: troop support and forward scouting. Able to get off the ground far faster than the larger (but better armed) Apache, the Kiowa Warrior acted as a rapid response force—flying into active firefights to help soldiers on the ground. As Stars and Stripes points out:
Despite having little armor, Kiowa pilots were known to hover so close to enemies and allies alike that pilots could make out the difference between an apple and a grenade with their own eyes.

During fights, it wasn't unheard of for OH-58 pilots to turn their own rifles on the enemy if they ran out of ammunition on their helicopter's guns, and pilots always carried grenades that they could lob as needed.
There are currently more than 300 Kiowas on active duty in the US Army and another 30 protecting the skies of America as part of the Army National Guard, but for how much longer? Facing increased political and financial pressure to streamline and modernise its force, the Army is considering retiring the venerable OH-58—potentially replacing it with the larger AH-64E Apache Guardian for the near term, or supplementing the Kiowas duties with the RQ-7 Shadow UAV. That prospect doesn't sit very well with forces still serving in the Middle East. "Losing the 58s is going to hurt the fight," Musiol told Stars and Stripes. But after so many years maybe it could use a rest. [Stars and Stripes - Bell - FAS - Army Tech - Military]