Being the primary stream of consciousness for the internet, Twitter faces the herculean task of trying to remain open but also protect people from vicious trolls and online abusers. In the wake of Gamergate and other online hotbed topics, Twitter has often been criticised for how they handle online safety leading some people to find their own solutions. But starting today, Twitter is implementing an improved safety strategy.
The bulk of the safety update includes streamlining the process required to flag offending content and requiring less information to submit complaints, as Twitter's Shreyas Doshi describes in a blog post:
We're improving the reporting process to make it much more mobile-friendly, require less initial information, and, overall, make it simpler to flag Tweets and accounts for review. These enhancements similarly improve the reporting process for those who observe abuse but aren't receiving it directly. And to enable faster response times, we've made the first of several behind-the-scenes improvements to the tools and processes that help us review reported Tweets and accounts.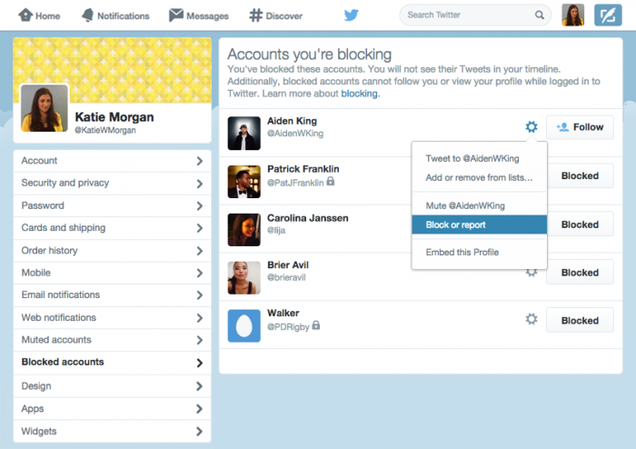 This also includes a new blocked accounts page, which you can access from Twitter's settings menu, which gives you a dashboard view of all the arseholes and exes you've had to block over the years. Now, anybody who finds themselves on your Twitter shit list won't be able to look at your profile.
As is true with most rollouts, only a small group of people will see any changes today or in the coming days, but Twitter promises these new features will be available for everyone in the coming weeks. [Twitter Blog]