What do you get for the retro-futurist who has everything? Forget the boring book and DVD sets. How about a real flying car? Or a robot butler? These wonders can all be yours! Provided you have a hundreds of thousands of pounds lying around.
Aerocar Flying Car (1954) — £621,700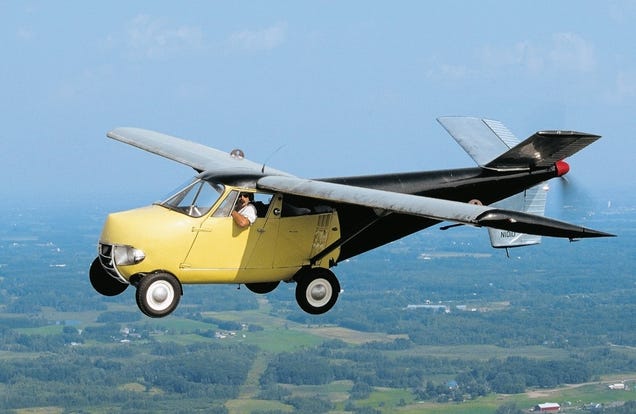 We keep hearing that the flying car is just two years away! But we've been hearing that for decades. So why not buy that special someone a real flying car — from 1954!
This Aerocar vehicle has been up for auction repeatedly over the last decade. And nobody seems to want to hold onto it for long. If you've got £700,000, you can play George Jetson in one of the world's first real flying cars. Just don't forget that you'll need both a driver's license and pilot's licence.
Bell Rocket Jet Pack Belt (2014, 1962 design) – POA – around £160,000
The boring morning commute getting some down? Well lift them up, literally, with this recreation of a 1962 Bell Rocket Belt jetpack, created by the clever folks at Tecnologia Aeroespacial Mexicana. For the estimated £160,000 you get a hydrogen-peroxide generator and flying lessons so you know how to control that mad thing.
Rocky IV Robot (2014, 1985 design) — £220,000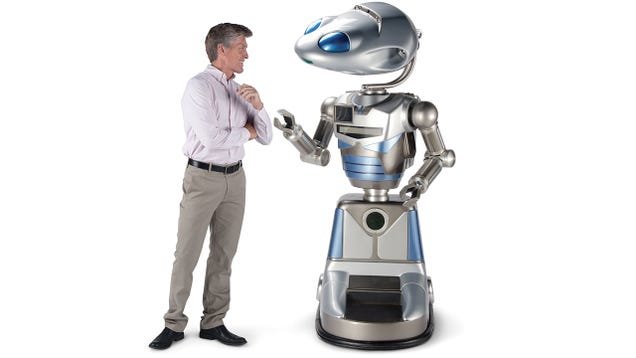 Remember the robot from Rocky IV? Of course you do. Our sister blog Toyland found this actual robot butler named Millenia modelled off that very bot. Built by International Robotics Inc., it really can't do very much without the help of a remote control operator. But who cares? Guests to your mansion will be impressed anyway.
It'll set you back a cool £220,000. But if you've got that kind of money to burn, why not buy two? You don't want Millenia to get lonely, do you?
Frank R. Paul Original Cover Art (1931) — £8,610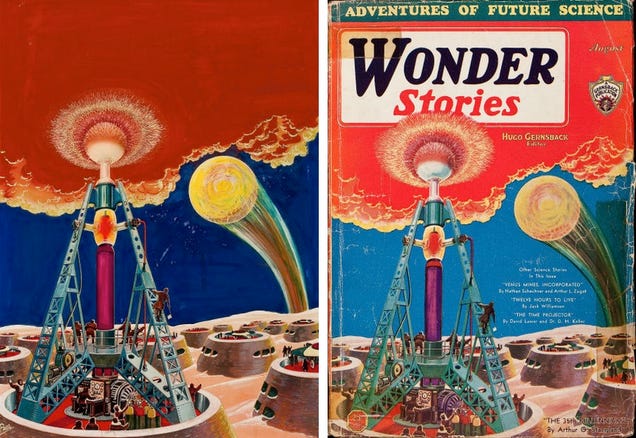 Frank R. Paul was a legendary illustrator of early science fiction pulps whose work accompanied some of the most iconic writers of his generation.
Now you can own a pretty cool piece of sci-fi history from an illustrator who helped to define the genre for generations to come. Heritage Auctions has an original mixed media board by Paul that was used for the cover of the August 1931 edition of Wonder Stories magazine. It's a lovely piece of work, if you can afford it.
Hugo Gernsback first edition (1925) — £2,510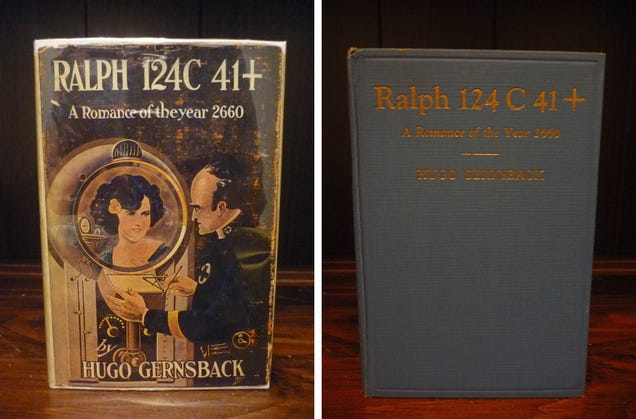 Speaking of early sci-fi, if you want a piece of futuristic history, you really need to pick up some Hugo Gernsback. This copy of Ralph 124C 41+ is a first edition and looks like it's in fairly decent shape. And the cover was even illustrated by Frank R. Paul as well.
The book was originally published in twelve parts as part of a series in Modern Electrics magazine. But the full book was finally compiled in 1925. The tale is credited with so many early visions in sci-fi that would later become staples of the genre including videophones, distant air travel, solar energy, and one of the first descriptions of a technology like radar. So if you've got a spare £2,500 lying around this is a great find.
Peoplemover Door (1990s) — £1,115

And last but not least (actually, probably least) we have a door from the Peoplemover at Walt Disney World. Yep, just a door. Not an entire pod thingy. What are you supposed to do with a Peoplemover door? Probably mount it to the wall and remember the future.