When you live in an flat or apartment block not only do you have to put up with noisy neighbours, you also have to deal with their smells sneaking into your home via the hallway. A draft blocker is one way to seal off the crack at the bottom of your front door, but those always seem to be in the way. So the Door Filter, which attaches to the bottom and rides along whenever your front door's opened and closed, seems like a good solution.
It doesn't completely block drafts, though, because you actually want your building's ventilation system to do its thing and keep a constant supply of fresh air pumped into your abode. The problem is that fresh air isn't always so fresh, especially if your neighbours fancy themselves amateur chefs, or they spark up the occasional joint.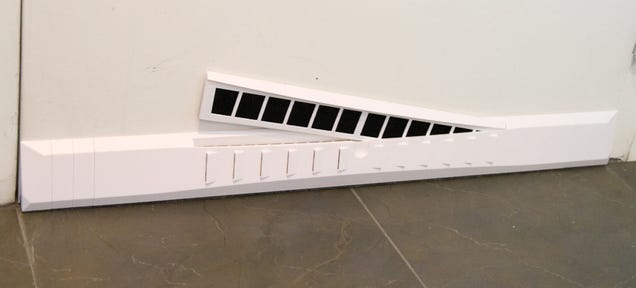 So the Door Filter seals off the crack at the bottom of your front door, but channels all of the air from the hallway through its replaceable dense particulate filter that traps odours, pests, and allergens, and prevents them from continuing on into your living space.
At £33 for the main unit, plus £8.50 whenever you need to change the filter, it's quite an expensive solution, and you have to rely on the company always supplying those proprietary filters. Either those prices would have to fall, or the company behind the design would have to open up their arms to third-party options, before it became a shut-up-and-take-my-money scenario.
Still, it's a neat idea and one that may inspire some even better competition. [Door Filter]