A smartphone company launching a smartwatch is in no way original. In fact, we saw five of them last year – and that's just counting the Android Wear crowd. So Alcatel OneTouch, a company best known for budget-friendly smartphones, is just another marching band in the continuous wearable parade.
But with the Watch, this newly announced, under-cutting, named-to-annoy-Apple smartwatch, Alcatel focuses on three things: design, simplicity and affordability. In some of these categories, Watch wins big. In others, well, not so much.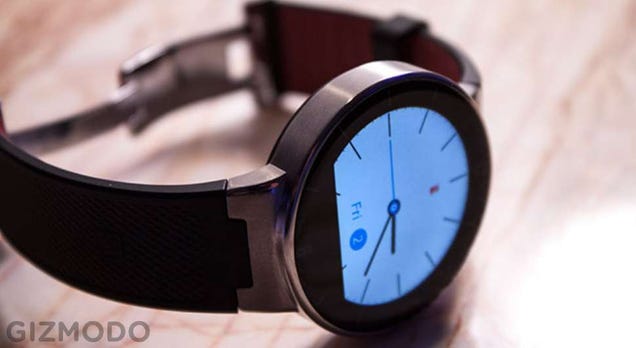 So first, there's the design. Alcatel is clearly cribbing at least a few design pointers from Motorola's great-looking Moto 360, including that maddening black bottom bezel. The standard wristband is a tough rubber material though Alcatel will be debuting metal versions in the future.
Design-wise, my complaints are minor. Looking at the Watch is almost like taking a trip into the uncanny valley. It's almost like a Moto 360, but it just doesn't quite have the industrial design polish and finish under close inspection. But from a distance, the average gadgeteer could be easily fooled.
The really unfortunate design choice is the clasp. It's just clunky, not easily adjustable and needlessly confusing. But the band isn't all bad news because Alcatel did squirrel away a USB charging point in the tip of the band so you can just plug into a computer if you need a charge – no wires required. But Alcatel says the watch can last around two to five days, depending on the user, so hopefully you won't have to charge as much as other wrist wearables out there.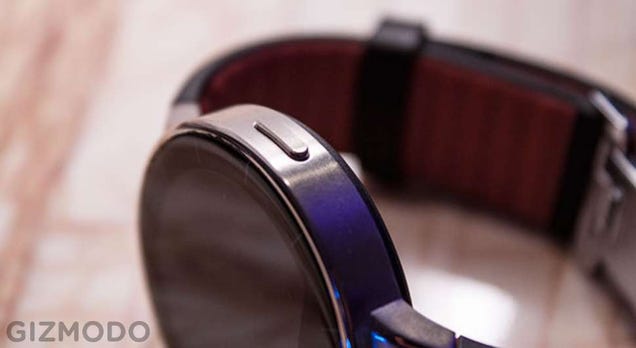 What IS going on between the screen and the bezel right there?
But it's the Watch's simplicity that shows Alcatel diverging from other watches out there. Where Pebble, Android Wear and (eventually) Apple all have dedicated app stores and developer communities, the Watch doesn't go in for any of that.
Yeah, you could say that's a bad thing, and if you're a smartwatch connoisseur, then it definitely is, but Alcatel's wants the watch to simply work without any hassle. With that goal in mind, it's a success. The Watch uses a dedicated iOS or Android app, and from there you can fine-tune the settings, track your fitness and tweak other options.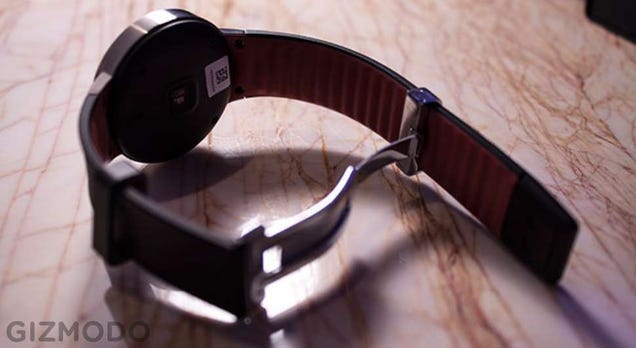 The watch comes with 14 apps – no more, no less. Hit the button on the right or rotate your wrist to power up, then swipe to the right to summon up the app drawer and swipe down to lay out all your notifications. These apps provide all the smartwatch essentials –notifications, heart rate monitor, watchface styles, etc.
You may not be able to drive your BMW with it or whatever, but if you just want a notifications window on your wrist, which is what most smartwatches basically are, then the Watch is good to go.
But is this thing really the under-cutting smartwatch that Alcatel makes it out to be? Well, while the UK price remains typically elusive, at $150 in the US (just shy of £100 if they fancied just doing a straight conversion), there's a decent gap from the LG G Watch and the mighty fine Asus ZenWatch, although you really do get what you pay for.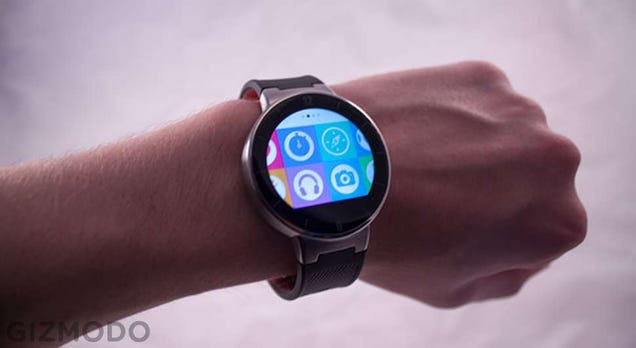 The Alcatel Watch won't win over the smartwatch devoted, and as companies begin revealing their second-generation timepieces with longer battery life and better developed app ecosystems, first-gen wearables will make for some tough competition for the budget-conscious Watch. But hey, Alcatel's going to give it a shot all the same.
---
Welcome to Gizmodo UK's coverage of all things CES 2015. For our comprehensive rundown of everything new and shiny at the year's biggest gadgetorium, check here.