Late last year, Dell announced the most interesting Android tablet in years. It has great guts in a thin body with striking design, topped off with one horrible name. But it's so much more than just a pretty face and a hot body.
What is It?
The world's thinnest tablet, running Android 4.4 KitKat on a fantastic 8.4-inch, 2560 x 1600 OLED screen with an Intel Atom processor and 2GB of RAM underneath. Only thinner than the second-gen iPad Air by a mere 0.1 mm, mind you, but still very thin. A tablet with a camera that can tell you how tall things are. Horribly, horribly named: it's known as both the Venue 8 7000 Series and the Venue 8 7840, and I'll be using that first one from here on out. The most interesting Android tablet I've seen in a long time.
Why Does it Matter?
Dell's 7000 isn't just another underspec'd, "me-too" Android tablet like so many previous Android slates. The 7000 is a weird and honestly pretty innovative rethink of what a black square touchscreen device can be. Dell's injecting a little creativity into the small tablet space right when we thought small tabs were dying off. Maybe it's reason enough for them to stick around.
Design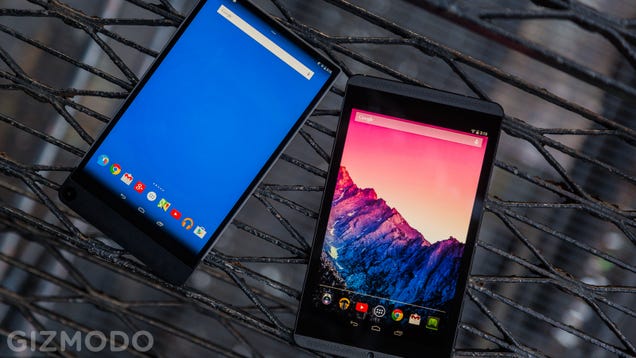 Dell Venue 8 7000, left. Nvidia Shield Tablet, right.
The 7000 is all around unique and beautiful, which is something I'm not sure I've ever said about an Android tablet. It's also really weird. At 6.1mm and weighing in at around 250g it is ever-so-slightly lighter than the similarly sized iPad Mini, and noticeably lighter than the Nvidia Shield Tablet; it's therefore extremely easy to use one-handed as any good 8-inch tablet should be. But the thing that makes it so one-hand-able is a big handle-like bezel at the bottom (or is it the top?) of the screen.
Instead of packing an equal border of black plastic on all sides, the 7000 opts to concentrate all of that stuff on one edge, including its front-facing cam and single speaker. That leaves the other three edges practically bezel-free, and makes the screen feel a bit like it's floating on air.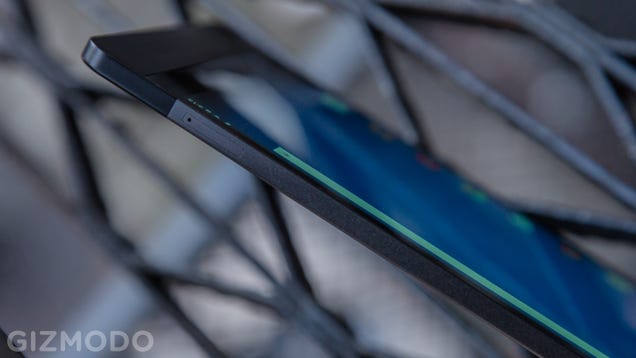 The asymmetry isn't just a gimmick to hype up an unremarkable device: the 7000 is a high-quality tab. The 8.4-inch, 2560 x 1600 OLED panel looks amazing sharp, even if it doesn't quite have the same eye-popping contrast as the one you'll find on Samsung's Galaxy Tab S. The pretty 359 PPI screen is way ahead of the Nvidia Shield Tab's 1080p 275 PPI display. And screen aside, the angular aluminium sides and the little square buttons you'll find are pleasantly minimal. Also super minimal is the microSD expansion slot, which I was surprised to find on such a slim device
The one thing I don't like about the design is the tab's back. The 7000's trio of Intel RealSense depth cameras are subtle enough, but the dead-centre Dell logo is just garish. I'm being a little nitpicky, I know; the back of the Shield Tablet is hardly better, ditto the back of any recent Nexus tablet, or any Amazon tablet. Sorry Dell, I guess I just hate your logo.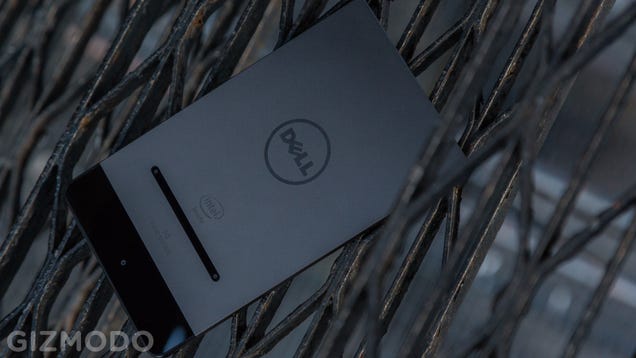 Using It
So let's talk about how that weird asymmetrical design holds up in practice.
That tight bezel on 75 per cent of the screen is great most of the time. When you're just sitting on the sofa and surfing the web or whatever it is you do with a 8-inch tablet in portrait mode, the screen feels pleasantly futuristic. It's easy to forget that there's a big, flat expanse at the bottom where a camera and speakers and all manner of circuitry live.
And the big flat expanse is great for gripping when you want to go landscape; I've never used a tablet that's easier to hold sideways. But I tend to do that when I'm watching video, and when I hold the tab by that lopsided bezel, my thumb always winds up smack dab on top of the speaker. The sound gets all tinny and distorted as it bounces off my hand. Fortunately, there are other ways to grip the tab that don't block the speaker, but they feel a little more precarious.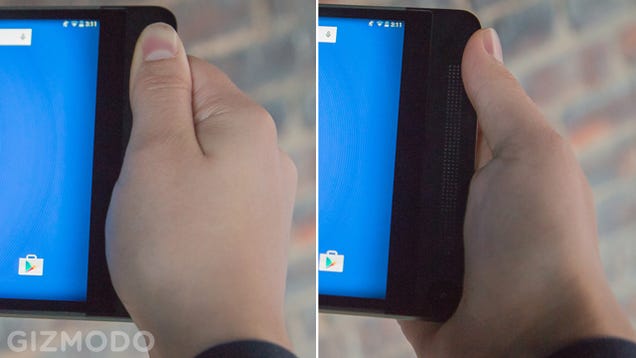 And though you don't have to worry about blocking the speakers if you plug in headphones, the placement of the jack means the plug will be jutting right into your palm if you're right-handed. Flip the thing 180° to your left hand and the problem's solved, but it's still a little annoying. And using the self-facing camera necessitates one of those 180° spins too. With the big bezel at the bottom (the "correct" portrait orientation) the front-facing camera is just raring to take the worst self-portrait you've seen in ages. Chin-fat city.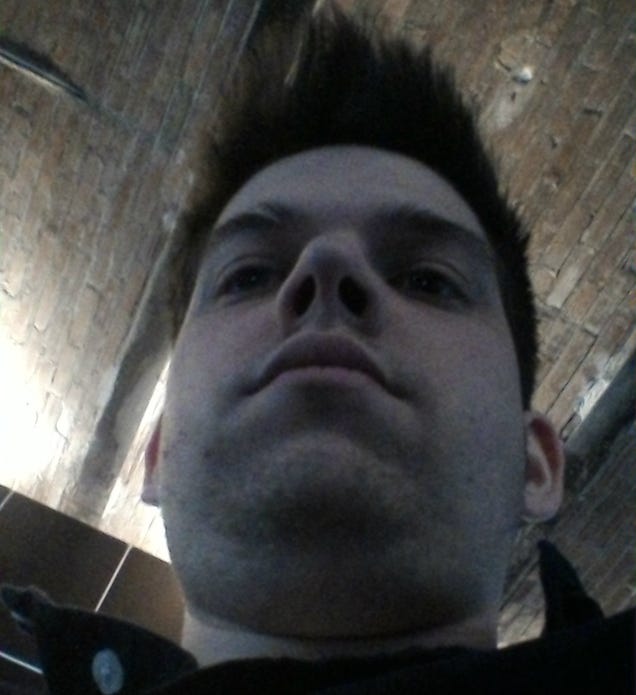 Sexy and I know it.
Of course you don't have to hold the 7000 by the big bezel. It's totally possible to hold it by any other side or corner, though you probably won't want to. My inclination was to dig a corner into my palm and use that leverage for stability, but about half the time that'll make the touchscreen stop responding to pokes and prods because it thinks I have an index finger just sitting at the most remote corner of the screen.
Every one of these gripes is pretty minor. Like I said, the design works most of the time. The reason they're worth mentioning is because they are things the 7840 does poorly that any traditional tablet can do just fine.
The 7000 runs near stock Android, albeit outdated KitKat instead of the new Android Lollipop. There's a little bit of Dell bloat packed in there, but just in the form of a few additional apps, some of which are required to make use of the RealSense depth cameras, so it's mostly forgivable.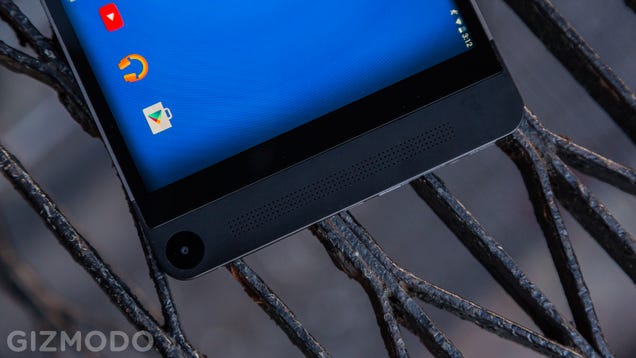 When it comes to performance, the 7000's quad-core Intel Atom processor is more than capable, if not blow-your-hair-back fast. Swiping around the homescreen is snappy, and apps load up plenty fast; It's roughly on par with the sort of speed I get out of the Nvidia Shield tablet. For day-to-day use, the 7000 is just as snappy as you could want.
But the performance falters a little when you starting throwing games at it. Simpler stuff like Hitman Go loads up just as fast as it does on the Tegra-powered Shield or my Snapdragon-powered Nexus 6, but more graphic-intensive games not so much. The graphics on Dead Trigger 2 default to low quality, and performance still stutters when there's a lot going on. XCOM: Enemy Unknown — a scaled-down Xbox 360 game that runs swimmingly on a Note 4 — is totally playable here, but with a frame rate that's noticeably choppy if you're looking for it.
Battery life, meanwhile, is fantastic. Especially for a tablet with such a slim profile. I got over 10 hours of video playback at 70 per cent brightness, and in more varied, day-to-day use I was always surprised at how slowly my battery life was ticking down. It's much better than the Nvidia Shield tablet's poor 6 hour life, and definitely better than you'd expect from something this size.
Camera
One of the 7000's big selling points is that it has Intel's RealSense tech in it. Instead of one rear-facing tablet camera, it's got a trio of depth-sensing cameras on the back.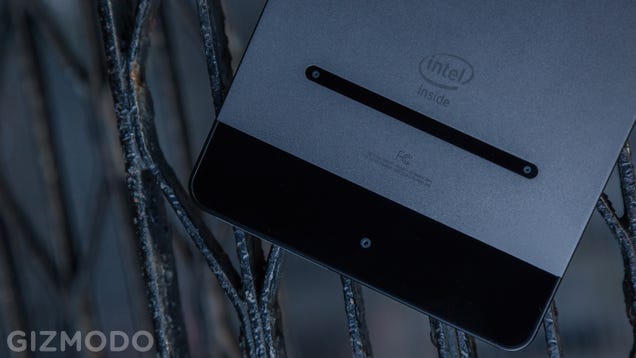 This lets it perform tricks like pretend to be a Lytro with pictures that are re-focusable after the fact, plus editing gimmicks like changing the brightness or saturation of parts of a picture based on how far they are from the camera.
It's just not that effective. The refocusing tool, arguably the most useful, did not work especially well for me. Here's a photo I took of a Sonic the Hedgehog figurine, with a crisp packet in the background (art!):
Crisps: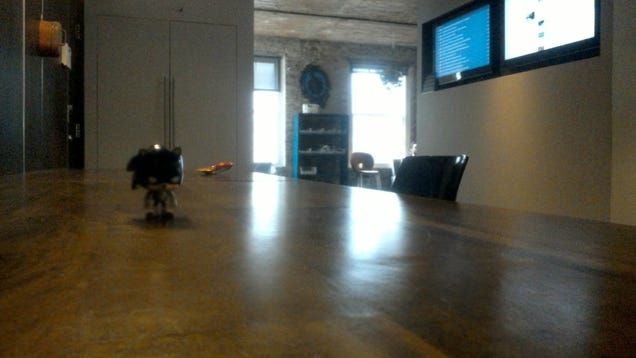 Sonic: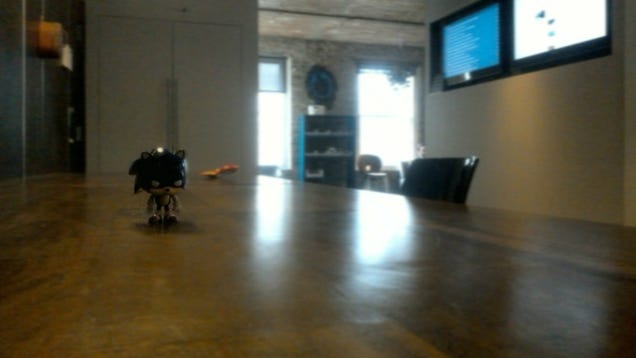 You can see how the area around Sonic is also brought into focus. It's not the figure so much as the approximate space around him. Impressive, it's just the end result isn't great. In part because the camera (an 8MP shooter) is kind of shit.
That's not to mention how hard it is to take pictures with the thing. Not blocking one camera with your hand is hard enough, but try three. You really have to pinch the 7000 around its edges to get a steady shot.
One of the cooler tricks is RealSense's ability to use that depth sensing to measure things. Unfortunately that's not part of Dell's app right now, and will apparently be added later in an update, according to a little pop-up dialogue box; an update that I hope also fixes some of the buggier bits of Dell's special RealSense-enabled apps. I had the gallery app crash on me a few times, and the Android home buttons can get stuck on the top of the camera app.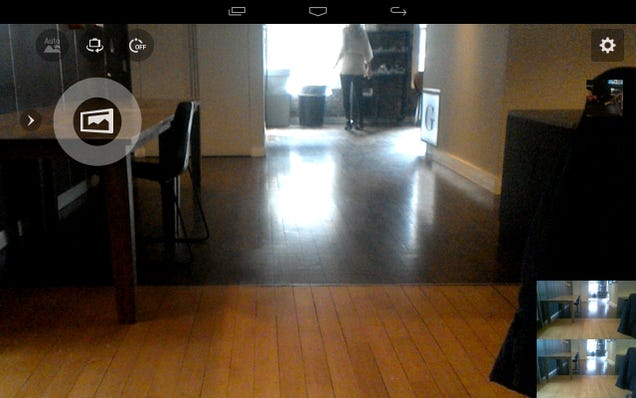 There's room for these features to get better and more useful, but it just feels like a gimmick right now, and one that's not even that much fun to mess around with. Definitely not cool enough to justify walking around and taking pictures with your tablet which — while not a mortal sin — is still generally unpleasant.
Like
– The 7000 looks good. It looks really good. I think it's the sharpest Android tablet I've ever seen. Those tiny bezels look great, and that slimness is almost beyond belief. It's not just the body: the 2560 x 1600 OLED screen is fantastic too.
– The battery life and performance are also great.The 7000's Intel Atom Z3580 is no slouch performance-wise, but doesn't chew up battery life either. I was able to get over 10 hours of video playback at 75 per cent brightness, and there was nothing I threw at the 7000 that it couldn't run well enough. Impressive for something this small.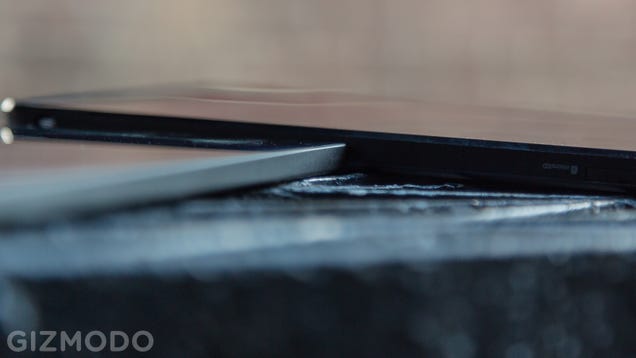 The 7000 vs the Shield Tablet
– Super light and one-hand-able.
– Mostly stock Android, even if it's KitKat instead of Lollipop. KitKat is better on tablets anyhow and an update is coming soon too.
– MicroSD expansion slot! These are getting rare.
No Like
– The 7000's asymmetrical design can be more annoying than a more traditional bezel layout at times. The RealSense cameras are a letdown. Depth-sensing Lytro-style refocusing tech in your tablet could probably be cool, but the apps and cameras are iffy. This is far from reaching its full potential.
– The battery charges pretty slow. If you're used to the quick charging that Qualcomm's latest Snapdragon chips have built right in, you're gonna miss it here. It took me about three hours to get it from zero to full, even with a high-voltage charger.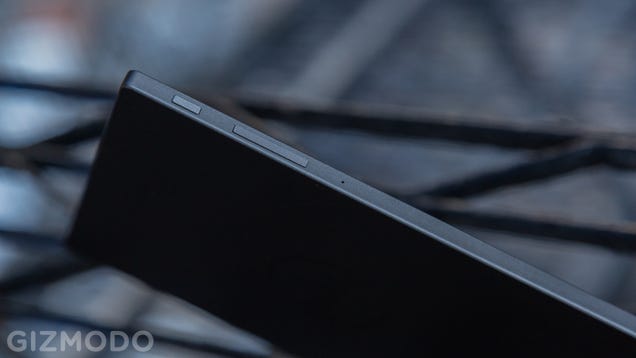 Should You Buy It?
Are you looking for a smallish Android tablet with a great screen? Then yes. The 7000 is the best one you can buy. Samsung's similarly priced Galaxy Tab S is no slouch, but loses points for its lacklustre design and Samsung's TouchWiz skin.
But mostly, the 7000 is a fantastic device with a sweet-looking design, slim profile, and no deal-breaking drawbacks. Just some things to get used to. And if an slick, small tablet is what you're looking for, you'd be hard-pressed to do better.
Dell Venue 8 7000 Specs

• OS: Android 4.4.4

• CPU: Intel Atom Z3580

• Dimensions: .24" (6mm) x 4.88" (124.4mm) x 8.50" (215.8mm)

• Screen: 8.4-inch 2560 x 1600 OLED 359 PPI

• RAM: 2GB

• Storage: 16GB

• Camera: 8MP rear RealSense array / 2 MP front

• Price: $400 (UK price TBC)

• Release Date: January 2015 (exact date TBC)