Today, HP announced a number of new tablets, and the most striking one is the Pro Slate family, which seem to be a really, really big HTC One (M8). The tablet comes in 7.9-inch size option and a massive 12.3-inch one.
The two tablets have more going for them than just size difference. The smaller version has a 2048x1536 resolution, which is comparable to most other tabs out there. However, the big brother is worse off with only a 1600x1200 resolution. Thats a pixel density of only 162 ppi.
The two tablets will also not ship with Lollipop, but will come with Android KitKat. They will also come bundled with a stylus, called the Duet Pen, and will retail for $449 and $569 respectively (UK pricing TBC)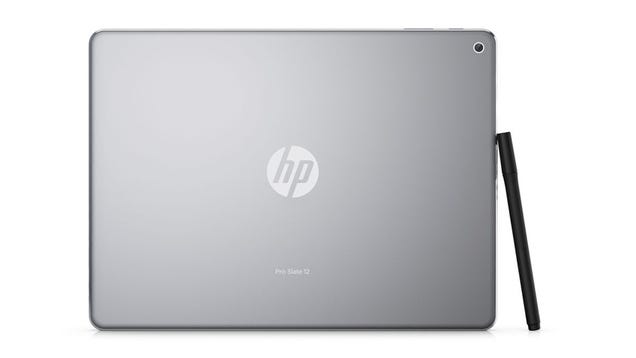 The reason for HP's decision to trend larger doesn't come as a huge surprise since several rumours have now detailed Apple's intention on getting into the giant tab game with the iPad Pro. Over the weekend, several websites reported that Apple could also be debuting its first stylus to go along with its new prosumer-focused tablet. Rumour or not HP seems to be trying to stay ahead of Cupertino with its own big tab.
But HP isn't just keep its eye on Apple. Today, the company also announced the Elite x2 1011 G1. This alphabet soup of a name is actually a tablet/ultrabook hybrid, similar to Microsoft's Surface. This 11-inch tab will be powered by different Core M processors (you choose), which is a new Broadwell family meant to push performance in tablets and hybrids and also let manufacturers create incredibly thin devices. So as a laptop in might be a little underpowered, but as a tablet it will be better than most. It will be available in late January for $900 (UK pricing TBC).
Aside from the New Slate Pro family and the Elite, HP has a few other softball tablets that are incredibly remarkable. The Pro Tablet 10 EE is a Windows tablet running on a 1.33 GHz Atom processor and 1GB of RAM with a mediocre 12800x800 display. The Pro Slate 10 EE is basically all that same hardware goodness but running on Android. That will go on sale for $350, if you're interested (UK pricing TBC).