Here it is folks, probably the coolest synthesiser reboot possible.
You can't be blamed for not knowing what the hell an Arp Odyssey is. It looks like any old synth covered in a loads of shit faders that create some crazy bleep bloop sounds. It's not immediately apparent why you should care, and Arp doesn't have nearly the name recognition of august brands like Moog.
But trust me, this thing is a legend. Head over to YouTube and type in Arp Odyssey and you'll find an endless collection of demo videos and impromptu synth jams. Vintage models in decent condition frequently go for thousands. Nerds love this thing.
The synth was made from 1972-1981, and last year, Korg announced that it would be teaming up with the Odyssey's designer David Friend to reboot the classic synth, and here at last it is.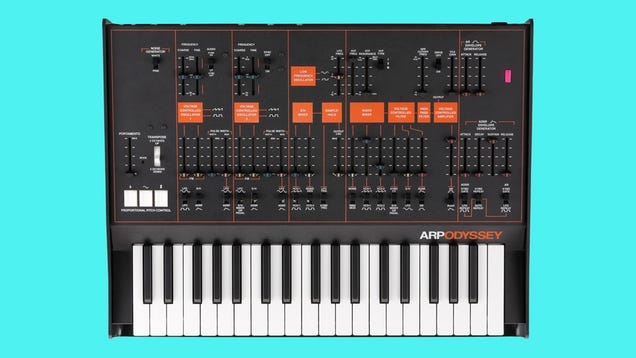 The remake is a faithful reproduction of the original, except that it's been slimmed down 86 per cent from the original. It's got 37 slim-line keys, two oscillators, and you can play it for a maximum of two-voice polyphony. The Arp is distinct for being such a good performance synth, the faders that control the filters and effects are designed to be played quickly on the fly.