With their now-iconic rubber orange armour, LaCie's rugged external drives have become the go-to choice for professionals in the field looking for a reliable place to store and transport photos and footage. And while LaCie's new Rugged RAID might be a little larger than its predecessors, it provides even more protection with a pair of hard drives inside that ensure your data is perpetually backed up.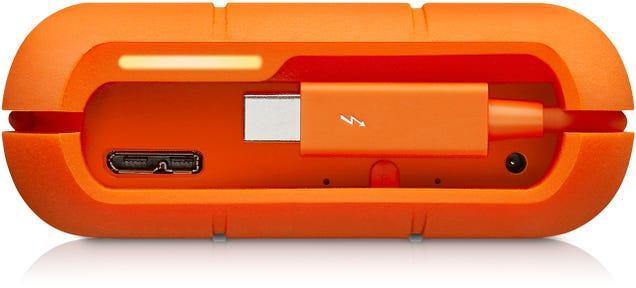 If you're more concerned about capacity you can configure the drive to RAID 0 giving you four terabytes of external storage that's accessible through a USB 3.0 connection, or the drive's built-in Thunderbolt cable at transfer speeds of up to 240 MB/s. But most users will probably opt for the RAID 1 configuration which halves the storage to two terabytes mirrored across both drives to help minimize the risk of data loss were one of them to get damaged and fail in the field.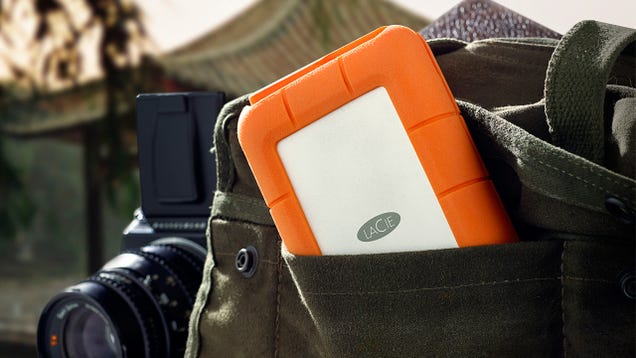 But with shock resistance tested to withstand falls up to five feet and pressures of up to one ton, when the Rugged RAID's available sometime in the first quarter of 2015 for $450 (£294 d/c, UK price still unconfirmed), its rubber armour should minimise the risk of those two drives being damaged altogether. It's even IP 54-rated for surviving splashes and dust, so no matter where your photoshoot takes you, your data should safely arrive home alongside you. [LaCie]
---
Welcome to Gizmodo UK's coverage of all things CES 2015. For our comprehensive rundown of everything new and shiny at the year's biggest gadgetorium, check here.