Washing clothes is boring, which is precisely why you should be excited about LG's new Twin Wash System. It saves you time, money and water, with a built-in mini washer that slides out in a drawer below the main washer.
The new Mini Washer isn't just available bundled with the new line of LG washing machines. You'll also be able to buy the new Mini Washer separately and add it on to your existing washing machines system. That's handy! Don't have a lot to wash? Don't waste water! Want to wash your sexy undies ultra delicate? Now you can!
And of course, LG's got a bunch of crazy sounding wash technology. We won't pretend to be experts, but hey, check out this slide from the press conference: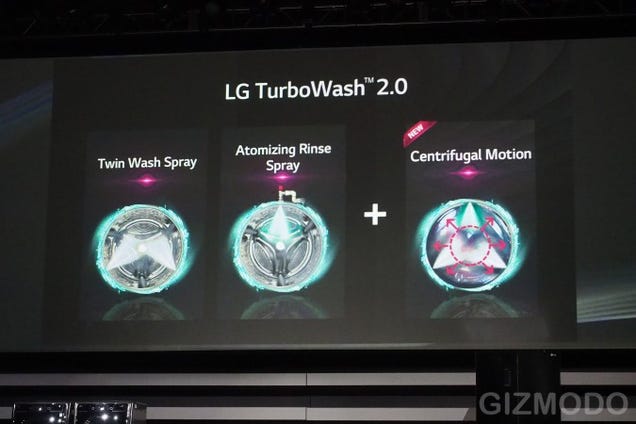 Twin Wash Spray! Atomizing Rinse Spray! Centrifugal Motion! We're truly living in yesteryear's future dream, folks.
---
Welcome to Gizmodo UK's coverage of all things CES 2015. For our comprehensive rundown of everything new and shiny at the year's biggest gadgetorium, check here.