Waze's community-curated real-time traffic network includes keeping tabs on nearby peelers. And cops aren't very happy about it, claiming it makes it easier to stalk the police.
The Guardian reports that a few US sheriffs are accusing Waze of aiding cop stalking and even being a potentially powerful tool for would-be cop killers since the app essentially geolocates police positions.
Officers like Sergio Kopelev, a reserve deputy sheriff from California, and Sheriff Mike Brown from Virginia are asking Google to completely scrub the cop-tracking feature within Waze.
But this feature isn't a recently added update to Waze, which has been around for years, so why now? Well, it all basically circles back to this: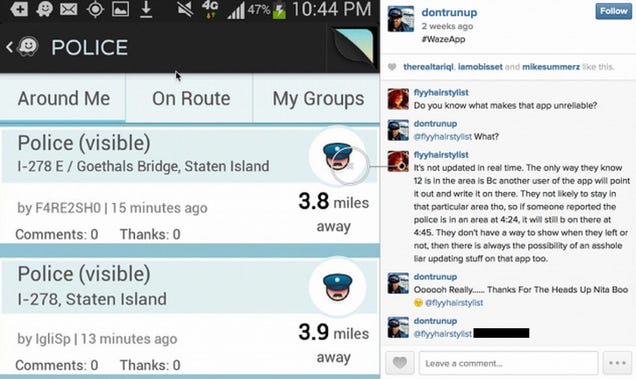 On the left, you're seeing Waze's police reporting page, giving a heads up that another Waze user spotted a cop — whether a speed trap, just aimlessly driving by, or eating a donut — on the interstate road I-278. But what makes this Instagram post so important is the username: dontrunup is the Instagram handle for Ismaaiyl Brinsley, the cop-killer responsible for the death of two cops in NYPD in December, supposedly for revenge against the death of Eric Garner, himself dead at the hands of a police officer.
Although those cops' deaths are unacceptable and tragic, blaming Waze is a complete misfire — even Brinsley's follower @flyyhairstylist, aka Nita Boo, knows pegging Waze as a cop tracker is inaccurate. The app operates on user-based information, so when someone spots a cop, they make it known on Waze. If police officers move 0.2 seconds later, the marker is no longer pinpoint accurate. It's not like rogue Waze users are tagging police cars with GPS trackers or something.
A Waze spokesperson told the Guardian that the company keeps safety a high priority and that Waze shares information with the NYPD and other police outfits around the world. It's also worth noting that all information shared on Waze is visible and public, no police officers' homes are tagged in the app for example.
So to a certain degree, the police are asking for a gag order on simple peer-to-peer communication. [The Guardian]