As you may have noticed, it was CES this week, that eternal springboard for the year's gadgetry that vaults a random collection of up-and-coming inventions into our faces and asks us to remember to buy them at a much later date when all the lovely companies have decided when they can actually make them for.
But amid all that tech, talk and totally-unlikely-to-happen try-ons, there are a smattering of shining lights in the me-too sludge. And they're not that neck-problem-waiting-to-happen headset up top. Here's what got the Giz UK team excited…
GERALD LYNCH, News Editor
With Oculus Rift and new Fallout and Half Life games coming out this year (this year, LOLZ), I'm already eyeing up a few sickie days (sorry Matt!) with which to spend some quality time PC gaming. And while my eyes may primarily be bulging at one VR headset or another, when they eventually do return to meat space I want them to be staring at something like CyberPower's Fang Trinity.
Though built as a traditional gaming PC (none of this streaming Steam Machine malarky), it looks anything but. Like a Bond villain's superbomb, it's made of three individual chambers, housing a full-size GeForce GTX 980, 4GHz Intel Core i7 4790k processor and five (count 'em) SSDs. In prototype form now but eyeing a release in the spring, I might just have enough time to save the inevitable thousands it will cost.
The Eternal Promise of a Colour eReader
Whether e-readers are dying or not, it's only innovation that will prevent them from sliding into eventual redundancy. E-ink still has massive benefits that LCD and OLED displays just can't match, namely in terms of battery conservation and easy-on-the-eyes...ness. Readability, even.
While a colour screen isn't revolutionary, I'd massively appreciate an e-reader that'd be friendly to my colourful collection of comic books and graphic novels, while the little 'uns enjoy some picture books.
It's still a long way from becoming a reality (if ever) but E Ink Holdings once again had promising colour e-ink tech on show at CES this year. It itself has admitted to having no plans to put it into an e-reader (*sigh*), but I can continue to dream, right?
JACK TOMLIN, Production Assistant
The new Withings Activité Pop is my kind of watch. It looks good, in that nice, simple, refined way that a good watch should, with none of that over-the-top poor-man's-Rolex pretence. Best of all? It has fitness-tracking nous built in, with none of the clunky, oversized heft of most smartwatches, so that I can keep an eye of my health while keeping an eye on style.
I'm not someone who particularly wants a fully fledged smartwatch to fling notifications to my wrist, so the simplicity is a step in the right direction.
I love that tech has got to the point where nearly anything seems possible, it's just a matter of when it happens. A few years ago I could easily see myself thinking, "I do hope that in future, my bike pedal will be smarter." Well, the future is now.
This new pedal by Connected Cycles hides all sorts of clever tricks, with the standout being its GPS functionality, which gives me the peace of mind knowing that if my bike were stolen, I could simply watch a blip on the iPhone-based tracking app to show me where to hunt down my appropriated wheels.
TOM PRITCHARD, Evening and Weekends Production Assistant
It's a USB stick that has connectors for USB, microUSB and Lightning all in one – and for some reason that just blew me away. It's another simple gadget, but you can't help but wonder why we didn't have it sooner. It's also nice that the developers didn't opt to ignore iOS users simple because the ecosystem isn't very friendly to file management.
I don't remember having ever seen a storage solution that's compatible with everything before. I'd like to see more of that – or at the very least I'd like to see more USB connections with pop-out microUSB. That's just cool.
This may have been knocking around in concept form for a while, but it's not quite at market at yet – so it was out in force at CES again. For pet owners wanting to know what sort of hijinks their pets get up to when they're home alone, this lets you find out via the internet.
What's even greater is that it has a built-in laser pointer that you can control via a smartphone app, so you can taunt your pets with the magic red dot whenever you fancy. Sure, it's a little bit mean, but it is amusing and simple. We need more gadgets like that.
SPENCER HART, Features Writer
This gadget would have come in handy at Christmas: a motorised belt buckle that will loosen or tighten depending on how much food you've eaten or exercise you've done – effectively allowing users to eat an entire turkey yet still feel comfortable enough for Christmas pud.
Unfortunately, it's only a prototype for now – CES's mantra – but the device also includes step counting, automatic adjustment for sitting and standing, and vibration alerts for when you've been seated too long. We'll just tuck into this pile of pies while we wait for it…
Forget flimsy mobile phones and slightly upgraded tablets, the automotive industry is where all the exciting action's at. One of the leaders in car tech is BMW, and it's been throwing around spy-tech bombs all over CES, from smartwatch-controlled cars to futuristic touch-screen key fobs.
This fob features a 2.2-inch LCD screen that can display electric battery range, service information, weather or simply whether or not your doors are locked. Of course, there's an ulterior motive when it comes to choosing this key: I'd also need the excellent i8 to use it with.
JAMES LAIRD, Associate Editor (Lifehacker UK)
Normally when it comes to headphones and other AV products, I'm a believer in substance over style. These Star Wars-themed cans from SMS Audio, though, threaten to bring out my inner geek diva. Seriously, just look at them! Can you actually not say "WANT" when you look at those? Yeah, that's right... that's what I thought.
Think breathalysers, think plods pulling morons over on the side of the road, right? That's not the only use for breath-sensing technology these days. At CES, we discovered the MINT Breathalyser, which apparently does loads of gnarly scientific shit I don't understand to tell you something infinitely more useful: whether or not you've got stinky breath. Unconfirmed reports indicate a tie-up with Tinder is in the making…
MATT HILL, Editor
Yep, another tech conference and another tweak to Oculus's ever-evolving VR headset does just enough to keep me more interested in what the firm's up to than seemingly anybody else. In this case it was to replace the previously peripheral headphones on the Crescent Bay prototype with bolted-on 3D audio earpieces, which our man Sean was rather taken with.
Of course, no more news when the Rift will be a proper going commercial concern, but sometimes it feels like I only have so much "future tech" brain love to divide up and until it's out -- the Rift is frankly taking up more than its fair share.
Except I've decided this year is also the year I finally get a robovac. Having moved out of my former stair-ridden flat, I now have a nice, smooth test ramp of a surface to let one of these bad boys loose.
Well, I'm certainly more interested in putting my feet up playing Far Cry 4 while a robot tidies up for me than running around while a bleeping manacle around my wrist flings my vital statistics to a database somewhere. But then I guess I want the future to be more Jetsons than Battle Royale.
---
And how about the US team?
Our ever faithful Gizmodo US writers were at the scene and pick their favourite products.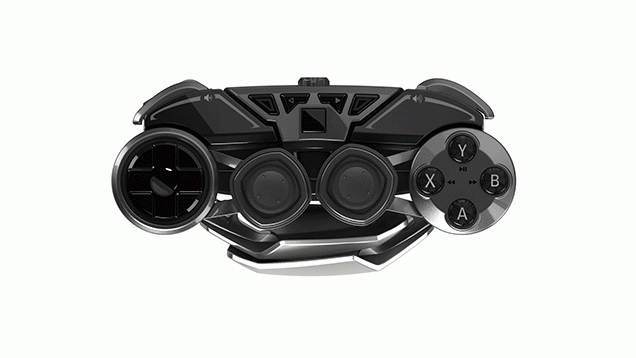 I love physical gizmos that SNAP and CLICK and bend. I live for overengineered products designed for any scenario you can imagine. I'm a born gamer. So for me, there was nothing that said CES quite like this utterly insane transforming gamepad from Mad Catz. —Sean Hollister
---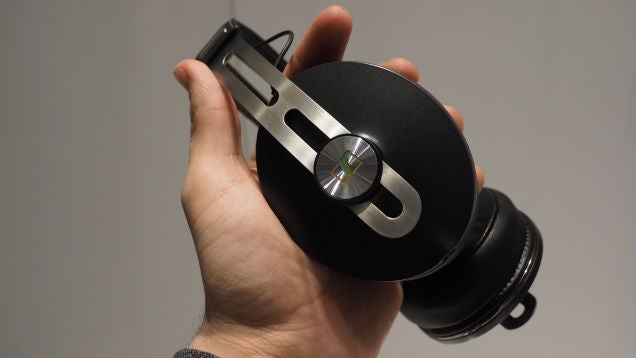 OK, so maybe I'm a little transparent. I like headphones, and my favourite headphones got a wireless, noise-cancelling upgrade. There's a lot of flashy stuff at CES, but when I think about something I actually want that I would pay for with money and would make my life better, I think about these Momentums. — Mario Aguilar
---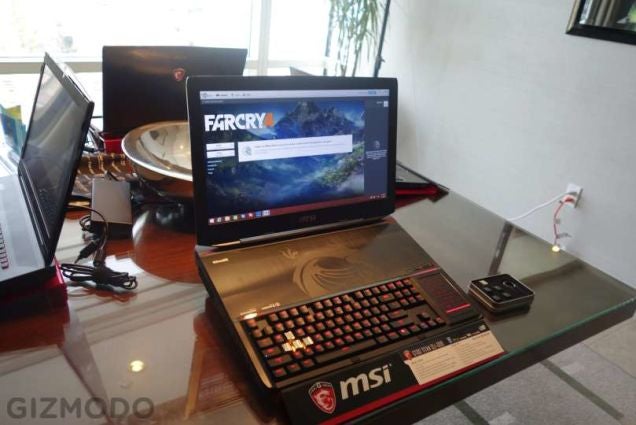 This thing is so nuts. When you consider the price and the size and the fact that you could just easily plug a mechanical keyboard into a laptop, the MSI GT80 Titan is certainly impractical. But MSI went and made it anyway because it could. Because it's bonkers. That's the kind of innovation I like to see. – Eric Limer
---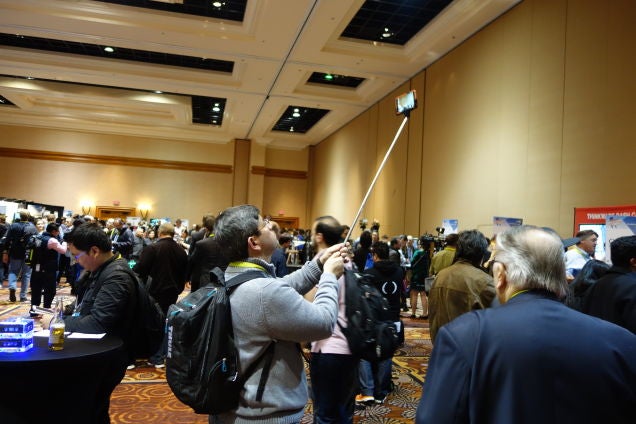 This really applies to the World At Large right now, as well as CES. I love that, with all the insane, expensive, mind-blowing gadgets, the most consistently riled up and impassioned cries are over selfie sticks. No one's opinion about the direction of VR or curved TVs or smartwatches is stronger than their opinion about the selfie stick. Stop making NFC toilet-compatible smart rings and just give the people sticks. – Ashley Feinberg
---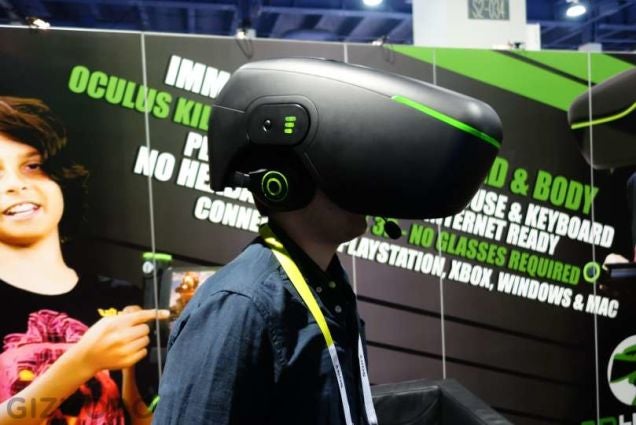 My favourite thing at CES was Eric trying on every VR headset he could get his face on. He judged them ruthlessly, of course, but with extraordinarily sincere hope in his face-screen-loving heart. — Kelsey Campbell-Dollaghan 
---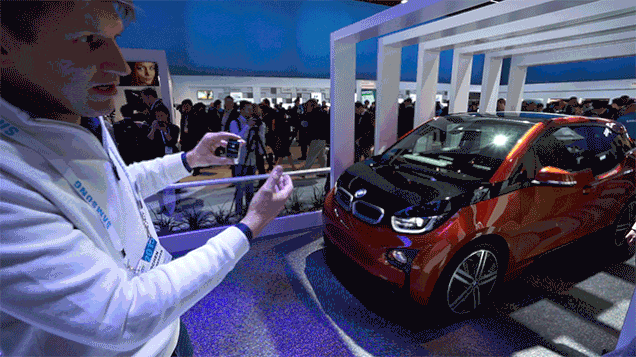 When I saw the BMW dude dart out in front of a moving car, I was genuinely impressed. Not because I didn't think this kind of tech was possible, but the confidence and nonchalance he had in performing the unplanned test (we challenged him to it) tickled me. — Michael Hession
---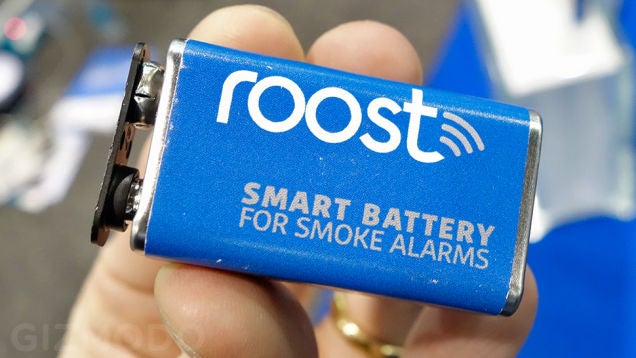 I feel like I should be going with an ultralight laptop or a massive TV or some sort of autonomous car fantasy, but my favourite thing out of CES this year was a tiny little battery that turns any smoke detector into a smart device.
It's a simple solution to a simple problem, and a much more appealing vision of a practical, useful, achievable connected home than anything else we saw. – Brian Barrett
---
OneWheel Bagpiper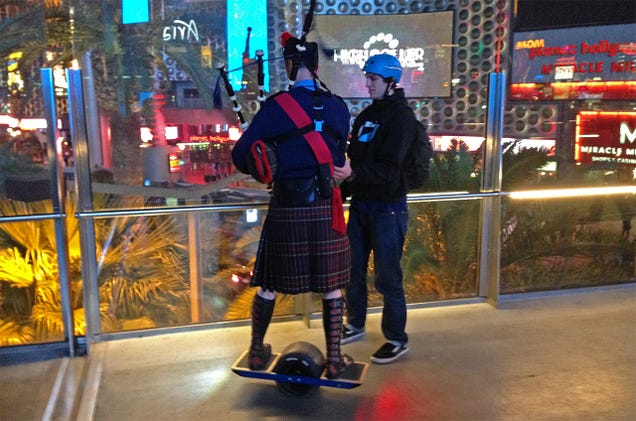 The creators of the OneWheel, a self-powered one-wheel skateboard, were demoing their creation all over Las Vegas during CES. Getting the hang of riding a regular skateboard is hard enough, but the challenge seemed to be considerably harder with three wheels missing.
Watching reporters and other novices trying to keep their balance on it (and failing) was surprisingly entertaining, but nothing compared to a bagpipe-playing busker (complete with kilt) trying the OneWheel for the first time. Not only was he up and running in minutes, he also kept playing his bagpipes the entire time. I can barely walk and text without falling. — Andrew Tarantola
---
Parrot Drone Show
My favourite thing that I saw from afar is the Parrot Drone Pen, because dads across the world should be using these so that they don't hurt others/themselves. — Adam
---
Welcome to Gizmodo UK's coverage of all things CES 2015. For our comprehensive rundown of everything new and shiny at the year's biggest gadgetorium, check here.