For more than a century, the incredible neoclassical turret that crowns Amsterdam's oldest department store has sat unused. Today, an artist moved in, becoming the tower's very first resident and the lucky first guest of a project that's turning the empty structure into a tiny apartment for artists.
This is the city's largest department store: De Bijenkorf, meaning literally "the Beehive" in Dutch. This neoclassical hulk was finished in 1915, and it's said that its two staid architects, Jacques van Straaten and B.A. Lubbers, modelled it to look a lot like the nearby Royal Palace, right down to the windowed cupola that crowns each of the buildings.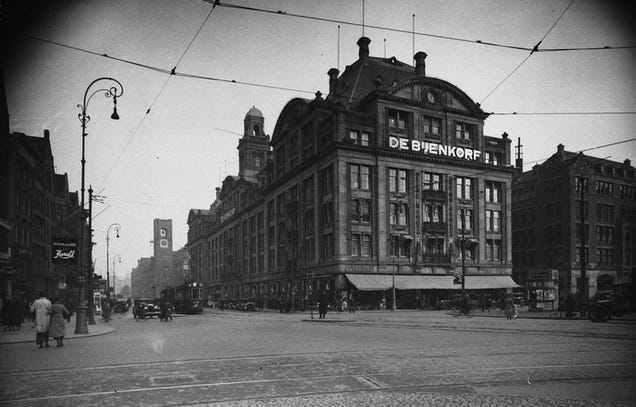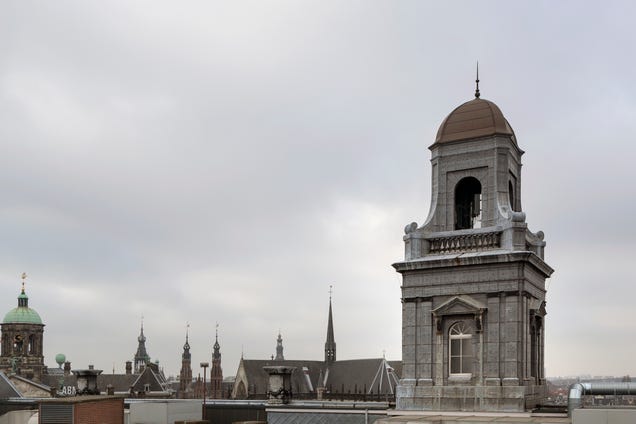 De Bijenkorf in the early 20th century (above) and its turret today.

In De Bijenkorf's case, the tower was mostly ornamental – a fondant crown for this huge cake of a building. But this year, a group of designers took on a project to turn it into something useable. Their idea being a studio that artists and writers could apply to use for months at a time. The project, called a Room on the Roof, opens officially today, when the Dutch artist Maarten Baas moved in to become the first resident of the studio.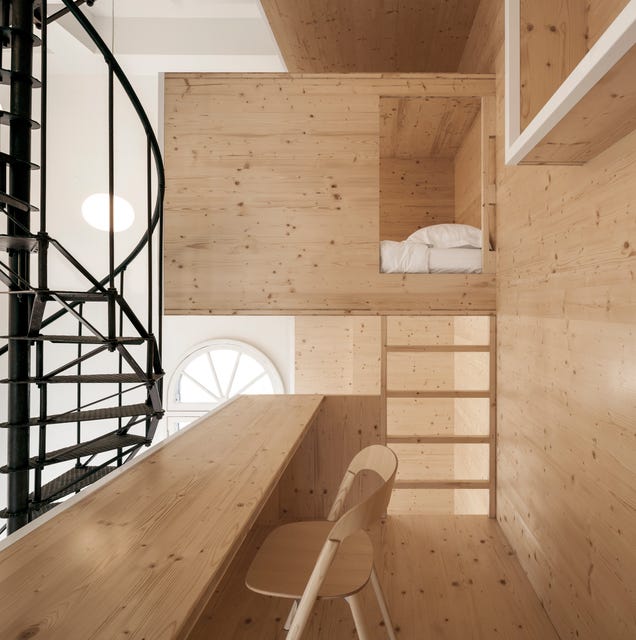 Building a fully functional studio apartment inside a tiny, 100-year-old stone tower only accessible by a spiral staircase was, unsurprisingly, a bit of a challenge. The entire footprint of the turret is only 16 square metres (172 sq. ft), according to Vosges Paris, which is about half the size of a normal studio by many cities' standards.
The architects — i29 Interior Architects — came up with a pretty clever solution. Since the tower itself was high enough but very skinny, they took all the pieces they'd need to fit into the space and stacked them, almost as you'd stack the floors in a tower. Everything, from the captain's bed, to a desk and work space, to a small kitchen, to storage areas, is arranged vertically along a tall wooden box frame, with each compartment accessible via a simple wood ladder.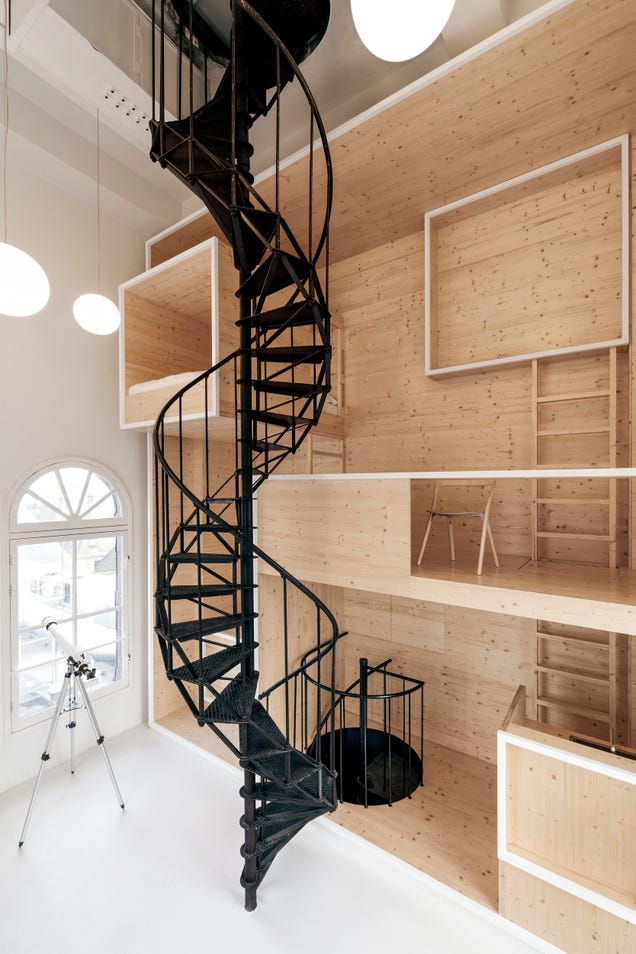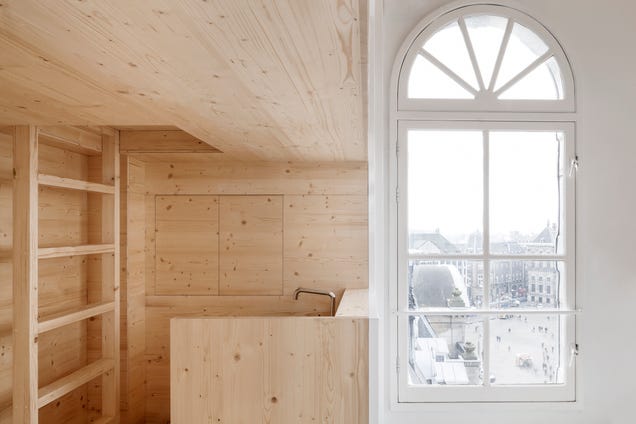 The architects describe it as a "living cabinet", and that's a perfect metaphor. It's almost like a dollhouse or miniature, where the user is turned into another object in the diorama. There's even a telescope by one window, so you can peer down onto the busy square below the store.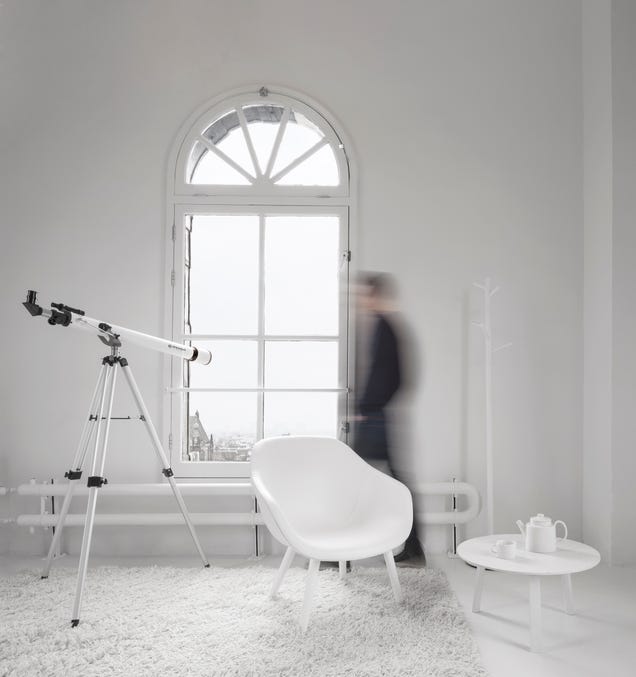 The ultimate goal of the project is for artists to create work inside the studio, and hopefully show it within the confines of De Bijenkorf. Some might argue that this is a way for a corporation to underwrite art that it can associate with its name, but it's also a bit like the patronage system: in exchange for room and board, you get a place to make whatever you want, sponsored by the company.
Either way, it's a beautiful little project and according to Amsterdam Next, you might even be able to visit if you're nearby. More info over here.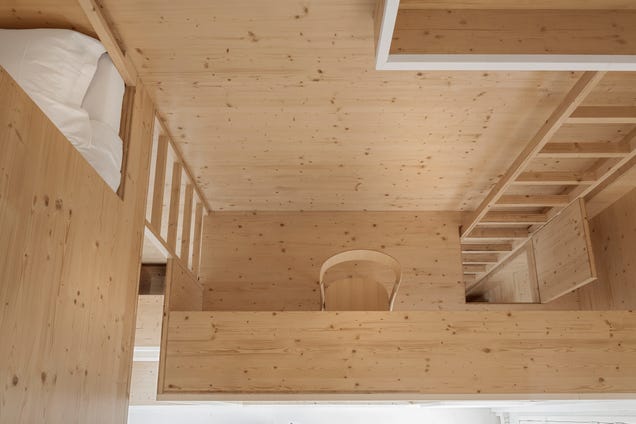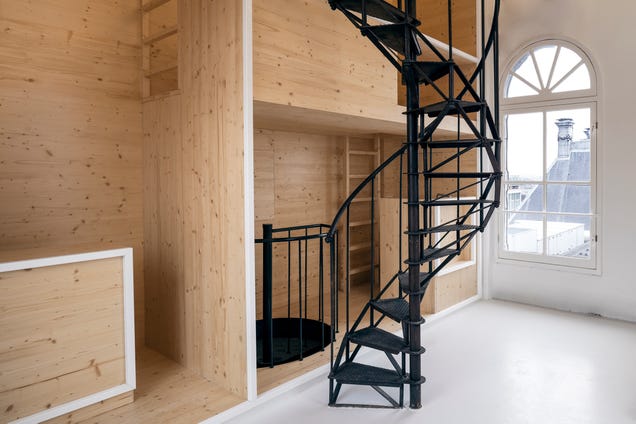 All images used with permission from i29 Interior Architects.