The technology that would enable us to 3D-print electronics along with the circuits that make them work has been around for a while, but a team of Harvard researchers has now announced a new 3D-printer that could change the game. Soon, you could 3D print a drone in your living room – which, when you think about it, is insane.
The Voxel8 looks a bit like a Makerbot Replicator except it costs three times as much, at $9,000 (just shy of £6,000). Why? Because in addition to being able to plastic filaments, this desktop-friendly gadget can also print complex circuits using a revolutionary conductive ink.
Again, technology like conductive ink has been around a while. There are even add-ons that enable existing 3D printers to print conductive ink. Voxel8, however, claims to be "the world's first 3D electronics printer". At the price, the developer's kit is certainly not cheap. In the grander scheme of pricey 3D-printing technology, however, that's actually pretty competitive.
This represents a bold new era for 3D printing, one where consumers could personalise and customise their electronics. "Multi-material 3D printing holds the promise of the mass customisation of electronics and the ability to truly print your imagination," Jennifer Lewis, the Harvard professor behind the Voxel8, said in a statement.
At this point, the Voxel8 can't print any complex gadgets, but it does a lot more than existing 3D printers. The machine can print the body of a little quadcoptor, for instance, but you have to attach the motor and propellors after.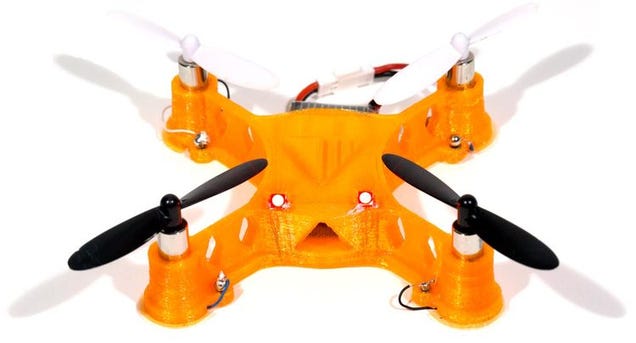 Those in the States can now pre-order a Voxel8 developer's kit (shipping in late 2015) that comes with the printer itself as well as 4kg of PLA filament and enough conductive ink to print 600 metres worth of circuits. We're guessing shipping a £6k printing beast is a bit trickier to the UK, as there's no details of it heading here just yet. 
Voxel8 has also partnered with Autodesk to produce special software for 3D printing electronics. Updates to the system will make the Voxel8 capable of printing electronics as tiny and complex as a custom-fitted hearing aids.
All images via Voxel8