There's a moment you reach in every Jenga game, when the weight of an entire tower balances precariously on a single middle block. A moment where everything can be ruined by a particularly violent cough. Residents of this new Austrian skyscraper will live in perpetual fear of that moment.
The 30-storey, 360ft tower in Vienna is the work of Netherlands-based architecture firm MVDRV, which has pedigree with messing with the laws of physics in the name of architecture.
In all fairness, the twist has an actual purpose: thanks to the unique shape of the building, surrounding residential properties will only be in the shadow for two hours a day, rather than spending all afternoon sunless. Also, the thinner profile should alleviate the effects of the wind, which can have a dramatic effect on tall buildings.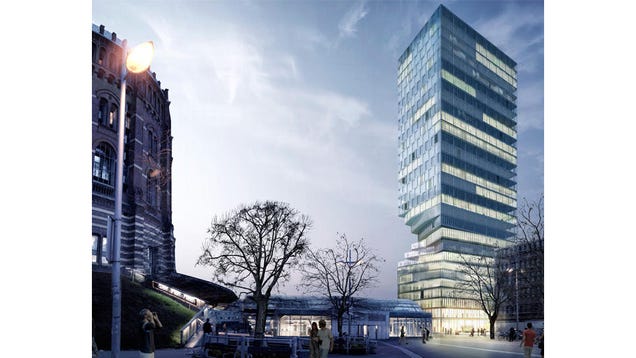 The well-planned design doesn't end with the building, either: the entire surrounding plaza is a gigantic sundial, on which the shadow of the tower shows the passing of time. Inside, the space will be mixed-use, with housing, retail space and offices all featuring in the mix.
Construction is expected to start in 2016; hopefully a few different engineers will have taken a look at the plans by then, just to be safe. [MVRDV via Gizmag]