It's hard enough to find the motivation to go a gym, but it's even harder when you have to use exercise gear in a cramped flat where space is limited. So the creator of the Ram & Row engineered their rowing machine to transform into a stylish piece of living room furniture, allowing you to store it in plain sight when not in use.
Designed by Patrick Saint-Martin, it's all but impossible to tell what the Ram & Row's true purpose is when it's disguised as a monolithic side table; it will sit alongside and easily blend into your existing furniture. But when it's time to get off the sofa and get active, it quickly transforms without you having to drag some monstrous contraption out of the closet.
It's even cleverly engineered with a built-in tablet support so you can stay entertained while you endlessly row without actually going anywhere.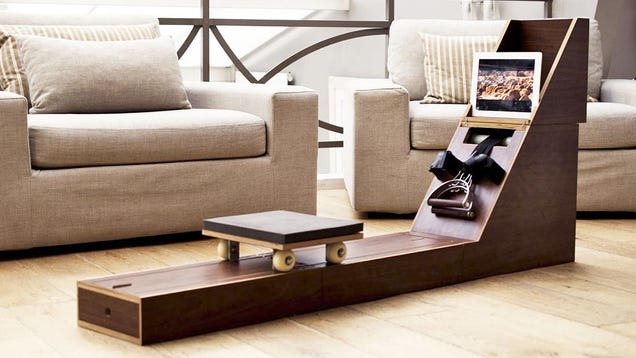 The company reckons this thing will sell for between €2,000 and €3,000 (around £1,500 – £2,400). That's enough to pay for the best gym membership many times over, so the appeal perhaps start to wane. I'd like to see how well it would stand up to some serious rowing training too – those wooden joints had better be sturdy.
Still, it's certainly a sleek design. Something that you would want to own?
[RAM & ROW via Home Crux via Yooko]