CastAR's projected augmented reality specs have come a long way. Back in May 2013, the headset was little more than a hacked together idea by ex-Valve engineers, formed under the new company Technical Illusions. Then that idea grew with a hugely successful Kickstarter campaign, and now the company has shipped out its first developer headsets.
To celebrate the hardware milestone, CastAR put together a little video to get developers, backers, and any AR-curious types, excited about what's coming. But CastAR works a little differently than other face-hugging headsets and goggles out there: the glasses need a projection screen and use two tiny 720p projectors mounted on top of the glasses to send out the image. Mounted LEDs then track head movement, so the experience isn't a motion sickness nightmare. CastAR also plans to create a virtual reality attachment that would turn the glasses into a more typical VR experience.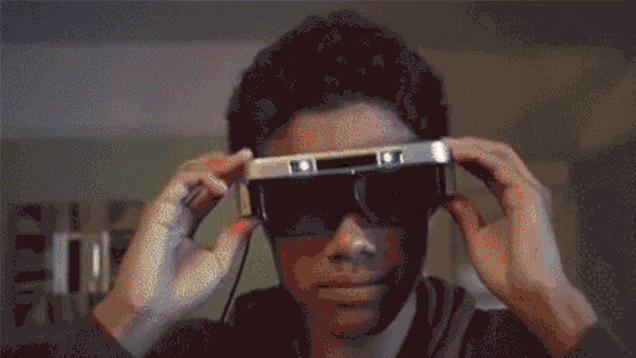 Speaking with Road to VR, Jeri Ellsworth and Rick Johnson, the tag team behind CastAR, mentioned that they ran into a few hardware issues along the way but they've now finished shipping dev models that move beyond the prototype. The team has also integrated CastAR's SDK into Unity, a popular game engine, and is now looking to include Unreal Engine 4 in the future, which would essentially bring very realistic graphics-rendering abilities into the mix.
So like almost every VR headset out there, CastAR's first ideas involve gaming, but the video, below, shows how it can also be a part of the work place and even an at-home productivity tool. The video does have a little wishful thinking included: One backer says the dad with the virtual desktop and the girl using the paper plane flight simulator are pretty true to life, but the gaming and architecture examples, while possible, look a bit better than they would in reality.
The projection-based technology could also be a setback, limiting exactly where all the AR action happens. Conversely, the reflective mats are just light material, so you can roll up and take with you wherever you go. Hackaday has a great hands-on look at the newer headsets, specifically the hardware and explaining some of the tech's strengths and weaknesses.
With more and more developer units seeding out into the wild, the CastAR team expanding, and the startup already planning the next hardware version, it looks like this quirky AR headset could become another Kickstarter success story. [Engadget]